Be Here. Be Inspired. Be Safe.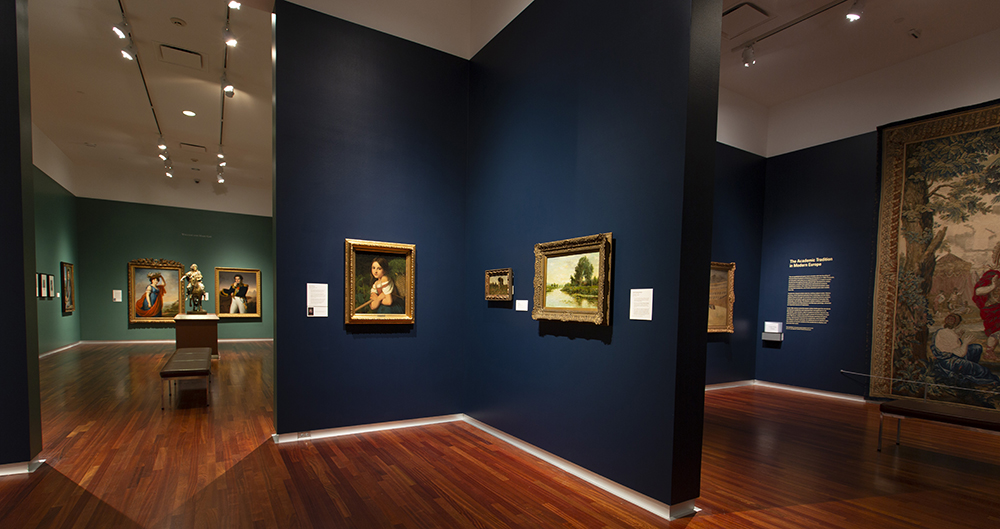 Our top priority is to keep you, our staff, our campus, and our community healthy. In accordance with University of Utah policy, visitors must continue to wear face coverings now until further notice, social distancing will be required, and advance tickets are required because visitor capacity is limited, among other safety precautions. Because circumstances can change at any time, please return to this page for updates before you visit and sign up here to receive the UMFA enewsletter.
Admission
You must reserve tickets in advance, including on the Museum's free first Wednesdays and third Saturdays. Questions? Call 801.581.7332 or email fiona.marcelino@umfa.utah.edu.
Required Safety Precautions
Everyone must wear face coverings, now until further notice, in accordance with the University's COVID-19 policy. Please remember that the primary purpose of wearing a face covering is to prevent the spread of disease by those with the virus and to protect those around you. 
You may enter the building only if you're healthy. ALL of the following must be true for any visitor or staff member to enter the building:

You have had no fever for at least 72 hours (three full days of no fever without the use of medicine that reduces fevers). 
You do not have any other flu-like symptoms, including cough, shortness of breath, muscle aches, nausea, or others. Please review the complete list of COVID symptoms here.
At least 10 days have passed since your symptoms first appeared. 
You have not had contact with anyone who is COVID positive (including the five days before that person was positive) for 14 days. 
If you've experienced any of the above, please come back when you feel better or when the appropriate amount of time has passed. We'll all be safer—and you'll enjoy the visit that much more! 

You must maintain social distancing of six feet between yourself and other visitors and/or between household groups.
No groups larger than 10 will be admitted. Larger groups will be asked to divide themselves into smaller groups before entering the building. (Please keep reading for information on group tours and new digital options.)
No more than 100 visitors will be allowed in the building at one time.
Touchpoints have been minimized. Point-of-sale transactions will be largely touchless. All hands-on materials have been removed or covered for your safety, including interactive stations, gallery guides, large print label guides, iPads, books, and the like. You may access many of these materials, including large print labels and gallery guides, through our audio guide here. 
Cleaning protocols are enhanced, including increased sanitizing of common areas and restrooms and making hand sanitizer readily available to guests and staff.
The building's HVAC system exceeds all Centers for Disease Control (CDC) guidelines, according to an assessment by U facilities experts.
Should a positive case of COVID occur in our building, we will follow U policy for reporting and mitigation.
Our staff will ensure that everyone is following the precautions listed above. We so appreciate your cooperation!
UMFA at Home
Not quite ready to visit in person? Click here for digital art-inspired content and art-making activities. 
Events & Programs
All UMFA events and programs will continue to be held online only until further notice. Please visit the event calendar for details.
Group Tours
We're sorry, but no in-person group tours are being facilitated by UMFA staff or otherwise permitted in the galleries or collections storage area. No groups larger than 10 are admitted into the Museum; larger groups will be asked to divide themselves into smaller groups before entering the building.
While in-person group tours are on pause, the UMFA is offering educator- and docent-guided digital tours and programs. Groups may request Zoom tours or other virtual programs at least two weeks in advance. Due to limited availability, these tours are offered on a first-come, first-served basis. For adults, click here to schedule a virtual group visit. For K–12 programs, click here.  For pARTners, a tour program for fourth-grade students in Salt Lake City Schools, please click here.
Questions? Please email tours@umfa.utah.edu. 
Support for K–12 Classrooms Statewide 
While classroom visits and Museum group tours are on pause, the UMFA is excited to offer new digital resources, virtual museum tours, and distance learning opportunities to connect art and creativity to schools and learning across the state of Utah. We also offer a wide array of educator resources to enhance classroom experiences. Please click here for details.
Support for U Teaching and Learning
For the fall 2020 semester, the UMFA is providing University tours online and digital classroom visits, rather than in person. Educators, docents, and curators are available to help you plan a virtual experience that supports your course goals and content. Click here for details.
The Museum Store and Café 
Yes, they're open too! But expect a few changes: The Museum Store is open during the Museum's new hours. Click here for more details before you visit. The Museum Café is open Monday through Friday for beverage service only. Click here for details on café hours and offerings.
What's On View
Click here to see all current temporary exhibitions.
Thank you! We look forward to seeing you in the galleries or online soon.
Art matters to you. You matter to us. Let's stay safe together.
The UMFA periodically sends out information via e-mail regarding upcoming exhibitions, events, lectures, films, classes, and more.