Art + Wellness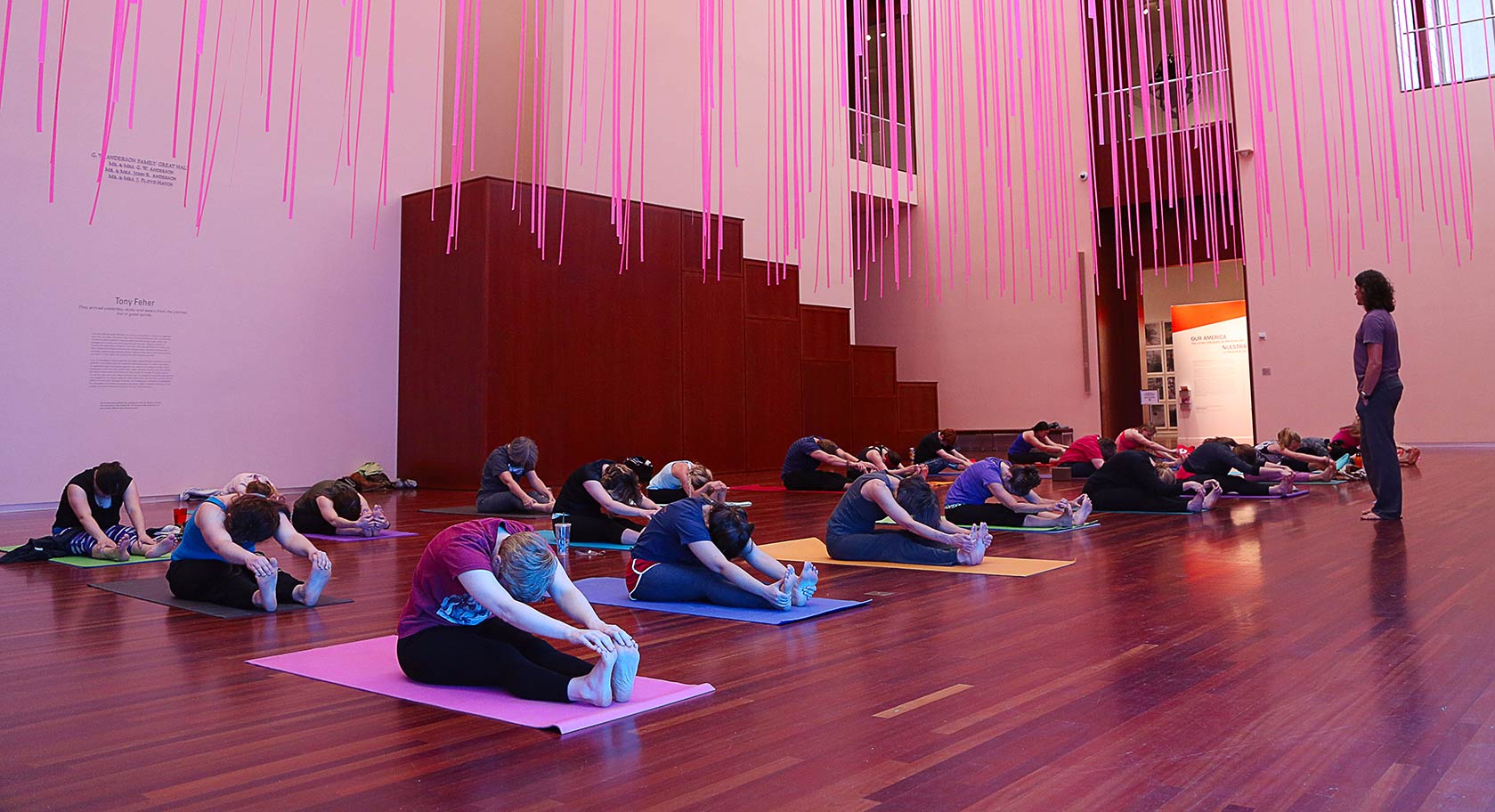 This new UMFA initiative aims to integrate art into larger conversations about how to live better. Art + Wellness encompasses ongoing programs such as free yoga in the Great Hall and monthly chamber music in the galleries as well as pilot programs including meditation and writing in the galleries.
The initiative is grounded in thoughtful collaborations with organizations like the University of Utah School of Medicine and is situated in a larger conversation on campus about how the fine arts can contribute to healing and wellness. Through programming for general and specialized audiences, the UMFA is thrilled to be an early adaptor of new and exciting work done at the intersection of arts and medicine. 
Yoga in the Great Hall
Thursdays | 1 – 2 pm | FREE
January 25–March 15
G. W. Anderson Family Great Hall
Take a mid-day break with a rejuvenating yoga session at the UMFA. All levels are welcome and a limited number of mats are available. 
Sponsored by University of Utah PEAK Health and Fitness.
Mindfulness at the UMFA
Tuesdays | 3 pm | FREE
March 6–April 24
G. W. Anderson Family Great Hall
Join instructor Gloria Pak and explore the reimagined galleries of the UMFA as we seek to find stillness within ourselves. Practice slow and mindful looking at artwork as well as traditional, guided meditation. This free meditation practice is perfect for beginners—everyone is welcome.
Chamber Music Series
Wednesdays: February 28, March 28, April 18
Come explore the intersection of music and visual art. You are invited to explore the galleries while you listen to the program and discover parallel expressions in the music and the art. 
Visual Thinking Strategies with the Medical School
The UMFA has partnered with the University of Utah School of Medicine since 2011 on a series of "visual diagnosis" events. The medical students are guided through the museum while learning the basic techniques of Visual Thinking Strategies (VTS)—an object-based method of viewing art focused on close-looking skills. Students then examine medical images with new insight using the strategies learned in the galleries.
Group Visits
Click here to learn about group tours—guided, self-guided, or sketching—for 10–60 visitors.