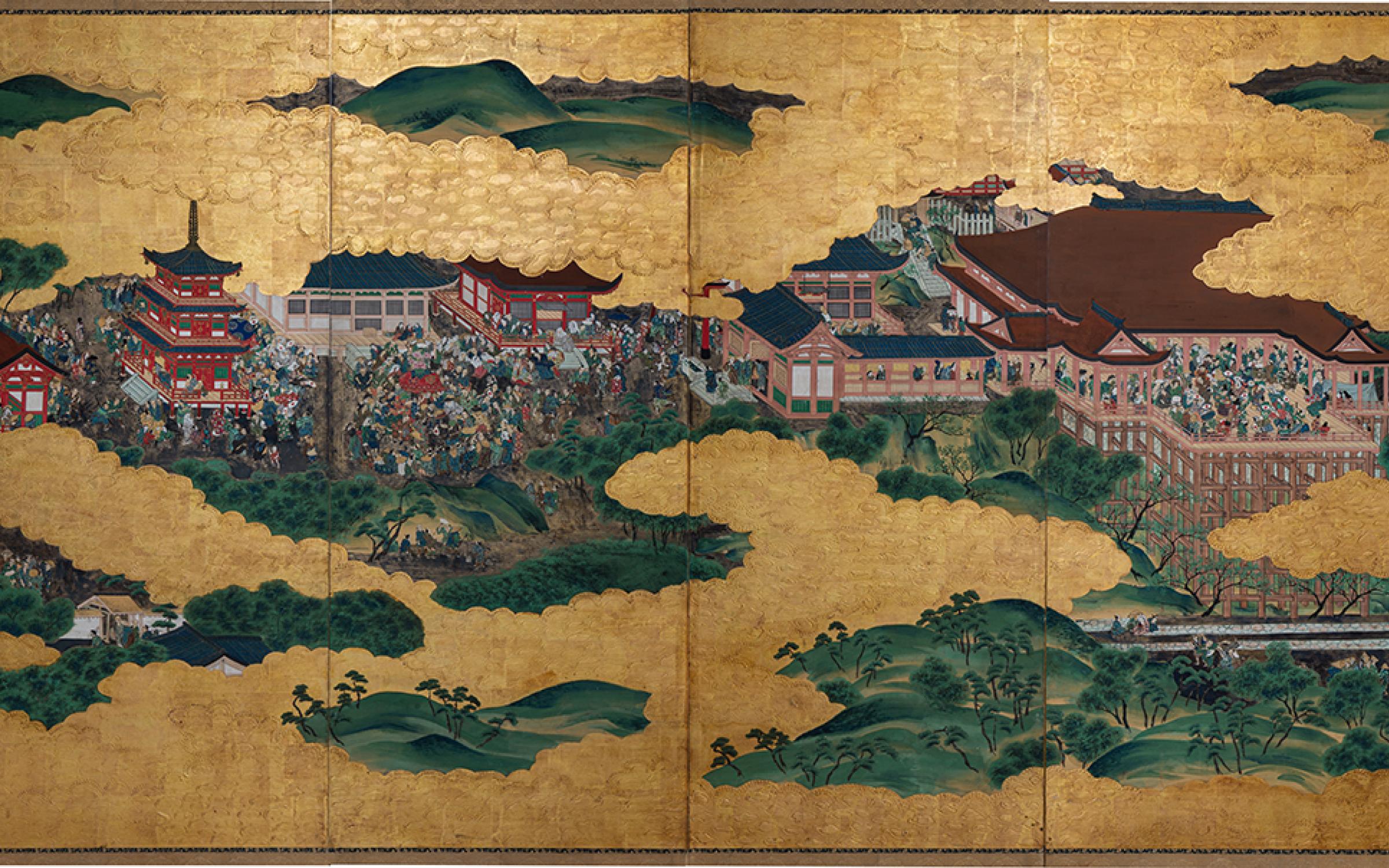 February 6, 2020
to
November 8, 2020
Beyond the Divide: Merchant, Artist, Samurai in Edo Japan
Experience Edo-period Japan and its beautiful scrolls, screen dividers, sculpture, prints, and samurai armor and weapons from the UMFA's vibrant collection of Japanese art. Edo artists filled residences of elite samurai and rising merchant classes alike with artworks that fused old and new inspiration, effectively defining this storied era (1603–1868). Such objects were typically hidden from public view behind decorated screen dividers—called byobu—in private homes during this time. Beyond the Divide is the first major presentation of Japanese objects from the UMFA's collection in more than a decade. 
Curated by Luke Kelly, UMFA associate curator of collections and antiquities. 
Beyond the Divide is supported locally by presenting sponsor George S. and Dolores Doré Eccles Foundation, conservation sponsor McCarthey Family Foundation, and programming sponsor Gift in Memory of Hayden H. Huston. With additional support from the Ann K. Stewart Docent Conservation Fund. 
apan's Edo period (1603–1868) was a time of rapid cultural expansion. Its growing cities and cash economy led to a high patronage of the arts. Within Japan's strict class system, supporting the arts became a way to distinguish oneself.
Samurai, the highest class, embraced art with traditional subject matter that reflected their philosophy to balance arms and culture. Merchants, who held the lowest social status but gained great wealth in this age, began supporting new artistic movements alongside established schools to demonstrate their own rising status. Artists and artisans, occupying a middle-ranking, enjoyed greater prestige from increased support. Some even became more famous than the studios that trained them.
The screen and scroll paintings, arms and armor, sculpture, and color woodblock prints in Beyond the Divide represent a coming together of the three classes to create one of Japan's most diverse periods of artistic expression.
Below you can watch a virtual tour, led by curator Luke Kelly, of Beyond the Divide and Seven Masters: 20th-Century Japanese Woodblock Prints, which was on view spring 2020.
---
| | | | |
| --- | --- | --- | --- |
| Presenting Sponsor: | Conservation Sponsor: | Programming Sponsor: | Additional Support: |
| | | Gift in Memory of Hayden H. Huston | Anne K. Stewart Docent Conservation Fund |
Image credit: Kano School (Japanese) The Kiyomizu Temple, Edo period circa 1825, Japanese ink, gouache, paper, wood, silk, gold leaf, 67 in; open: 150 x 3/4 in; closed: 25 1/8 x 4 1/2 in, Purchased with funds from the Marriner S. Eccles Foundation for the Marriner S. Eccles Collection of Masterworks, UMFA1980.045_A.
---