Sketching in the Museum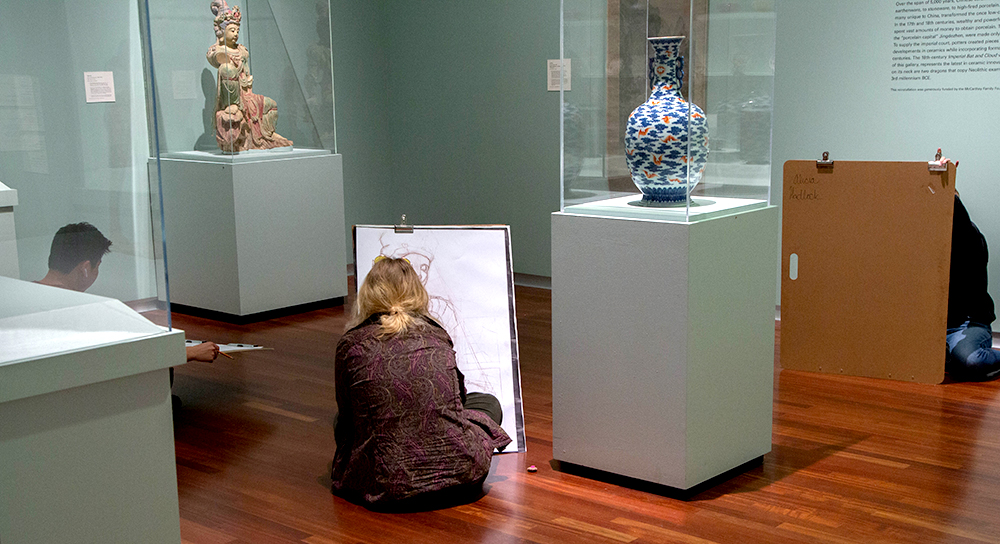 Sketching and note-taking in the galleries
If you are planning a University class visit that involves sketching at the museum, please contact our tour coordinator at tours@umfa.utah.edu. to make a reservation and to discuss any special requests. The use of the UMFA and its collections are part of the educational mission of the University of Utah, and our staff will facilitate your curriculum needs as best we can to make your class a success. 
For individuals who want to sketch or take notes in the gallery, please review our policy below:
Individuals are welcome to sketch or take notes in the galleries. Please inform the welcome desk staff when you arrive that you wish to sketch in the galleries during your visit.
Sketching of works of art is allowed in all galleries, provided there are no restrictions by lenders. 
Please ask a museum security staff member to confirm that sketching in that space is permitted.
Only graphite pencils are allowed in the galleries for note-taking and sketching.
No other media are allowed in the galleries.
If individuals need to sharpen their pencils, they must collect the shavings.
Paper and pads must be no larger than 13 x 17".
Please maintain a distance of at least four feet from the art to protect the work and ensure that other visitors are still able to appreciate it.
Stools may be borrowed from the welcome desk if needed. Remember to position the stool at least four feet from the artworks and to avoid obscuring the object from others' view. 
Museum staff have the discretion to disallow sketching if the galleries are crowded or if sketching is creating a disturbance.
Easels are not permitted in the galleries.
In the event of an accident, please alert a security staff member immediately so that an incident report may be prepared. Individuals are responsible for any damage to works of art or building surfaces. 
The UMFA periodically sends out information via e-mail regarding upcoming exhibitions, events, lectures, films, classes, and more.