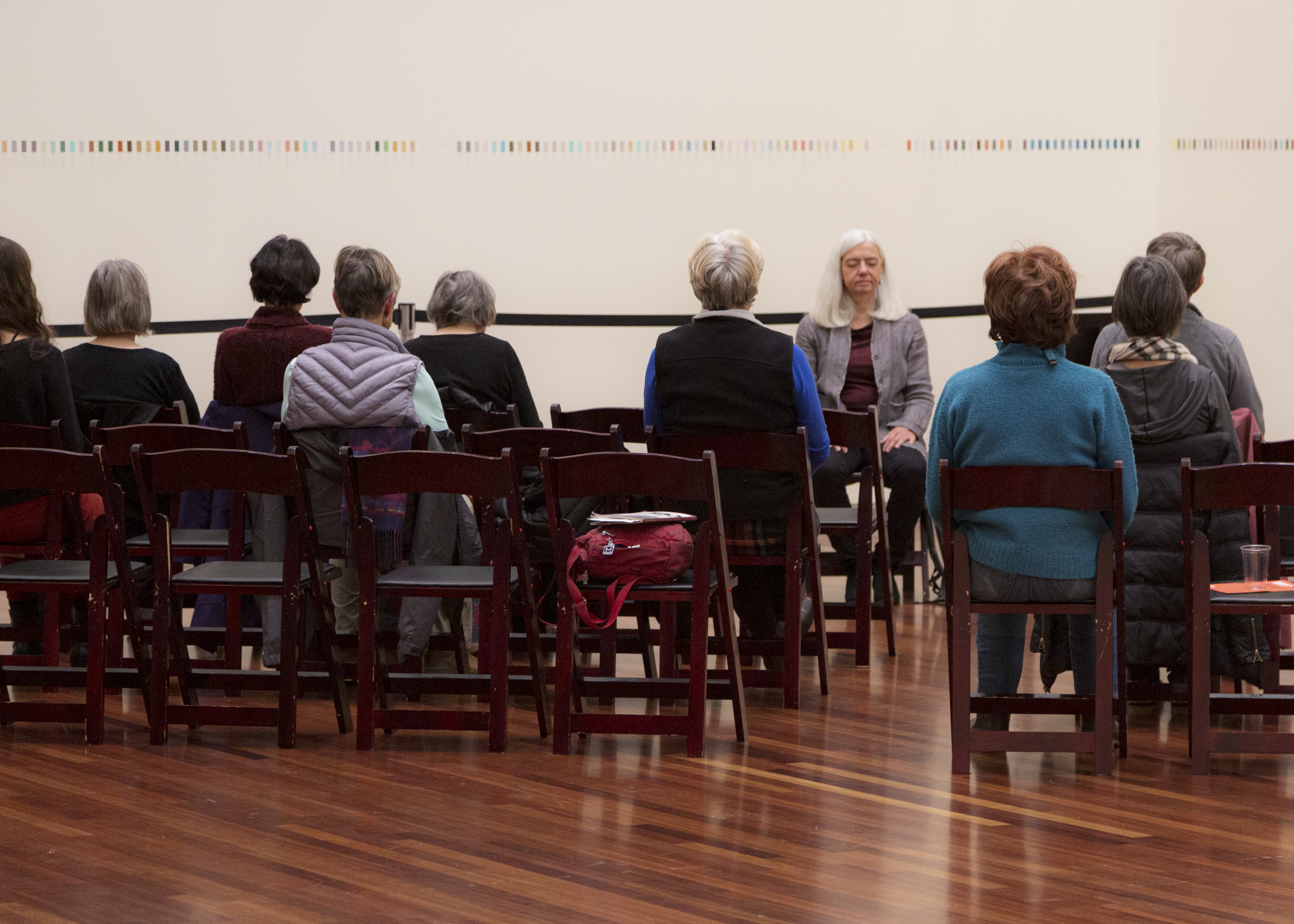 Charlotte Bell's weekly program at the Museum had be cut short this spring, but she has graciously agreed to host video meditations to guide us through the art of slowing down. Stay tuned for new dates for mindfulness in the galleries this fall.
In this time of immense change and unpredictability, it may feel that aspects of your life have been uprooted. It's unnerving to be unsure of what's ahead, particularly when what's looming is potentially a threat to your holistic well-being. It is my hope that by continuing to garner a sense of support, empathy, and intention within our community that perhaps we can begin to find our roots amid this messy terrain. It hasn't been easy to feel grounded lately—especially when even that is shaking!—but we are not enduring these struggles alone.
As we find alternative ways to connect, our mindfulness program in particular may be of value during this strange and stressful time. Fortunately, the UMFA's instructor Charlotte Bell is no novice to finding calm to balance these intense moments in life, and she is here to help by offering her program digitally while we're closed.
When asked to give advice to amateur yogis and meditators, Bell responds, "It's important, but not serious… be gentle on yourself." Bell was hesitant to embark on her first silent retreat in 1988 but was drawn to meditation from feeling "even, calm, and alive" in her ongoing yoga practice of six years. After two days filled with doubt and physical pain from a surprisingly rigorous schedule—sit, walk, practice yoga, repeat—she had a transformative experience during a usually overlooked task: turning a doorknob. As she began to turn it, she noticed every element of the motion as if it were the first time.
"It's really just paying attention… The things you take for granted feel like magic."
It ignited child-like wonder within her for all of the new experiences she could have through living mindfully.
Since her first, Bell has participated in silent retreats of up to thirty days almost every year and notices feeling more energized, creative, and less reactive. One goal she's achieved through meditation is less dramatic thinking. The day before an eighteen-day retreat began in 2016, she received a diagnosis for early-stage cancer. She felt a sense of relief that her (then) twenty-five years of meditation kept her mind from filling with panic, fear, and what-ifs. Instead, she was able to make the necessary calls and appointments and sit with the news in peaceful acceptance.