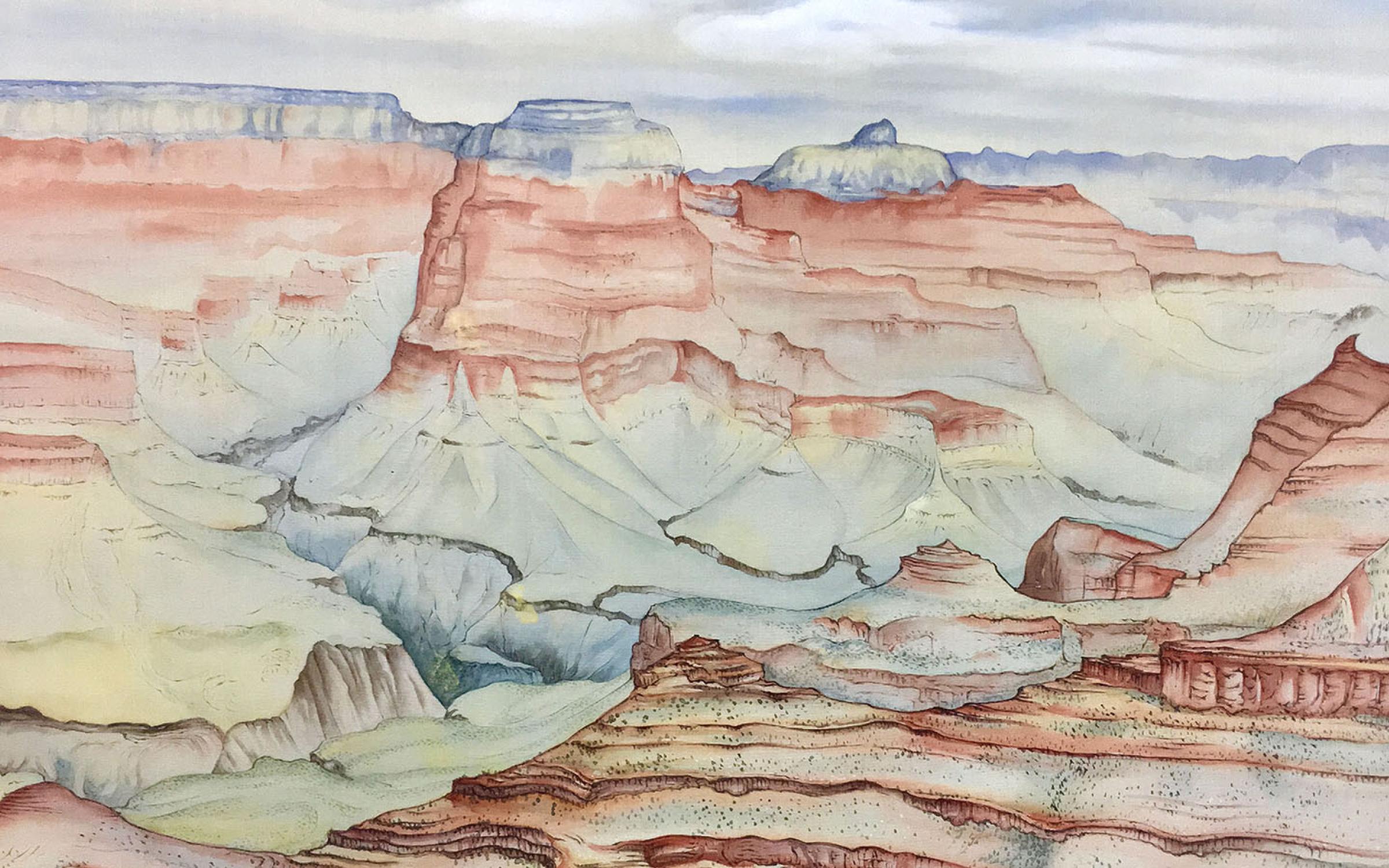 May 25, 2018
to
September 2, 2018
Chiura Obata: An American Modern
Chiura Obata was one of the most significant Japanese American artists of the twentieth century. Chiura Obata: An American Modern, a major retrospective of his work, features more than 150 watercolors, paintings, prints, and screens, including images he produced during internment at the Topaz War Relocation Center, located sixteen miles from Delta, Utah. Many of these works have never been on public display.
Born in Okayama, Japan, and working primarily in California, Obata emigrated to the U.S. in 1903 and embarked on a seven-decade career that saw not only the growth of an international American art but also xenophobic laws and the mass incarceration of Americans of Japanese descent during World War II. Obata emerged as a leading figure in Northern California's art scene, serving as an influential art professor at the University of California Berkeley for twenty-two years, and as a founding director of art schools at the Tanforan Assembly Center in California and the Topaz Relocation Center in Utah during the Japanese American Internment (1942–45).
Drawing from private and public collections, the retrospective showcases representative works from every decade of Obata's career and presents them under thematic groupings in a loosely chronological order. These include:
elite art training and nihonga (Japanese-style painting) studies dating back to his youth in Japan; 
drawings and paintings of superlative design from his years as an artist-reporter and magazine illustrator in San Francisco, including first-hand views of the 1906 earthquake;
deft and playful sumi-e (Japanese ink painting) of animals, plants, people, and places;
splendid California landscapes, ink scrolls, and woodblock prints of Yosemite National Park, for which he is most famous; 
iconic ink drawings and paintings documenting the mass relocation and life in the Japanese American assembly centers and internment camps; and 
vibrant paintings from the post-WWII period that further affirm his stature as a modern artist in command of a multitude of painting styles and techniques. 
The many smaller, never-shown works in this retrospective illustrate Obata's tireless pursuit of better techniques and devoted appreciation of the detail of everyday life. His loving studies of ikebana (flower arrangement) by his wife, Haruko Kohashi (1892‒1989), an accomplished ikebana artist in her own right, illustrate their relationship and marriage of sixty-three years. The large variety of intimate works featured in this retrospective brings to the fore many personal moments of Obata's intense engagement with life's vitality, captured and interpreted through visual means, which demonstrate the artist's unadulterated joy and dedication to painting.
Curated by ShiPu Wang, professor of art history and visual culture at the University of California, Merced. Luke Kelly, UMFA associate curator of collections and antiquities, organized the exhibition for Salt Lake City. Organized by the Art, Design & Architecture Museum at UC, Santa Barbara, where the exhibition is on view through April 29.
After the UMFA, the exhibition will travel to the Okayama Prefectural Museum of Art in Okayama, Japan (January 18–March 10, 2019); the Crocker Art Museum in Sacramento, California (June 23–September 29, 2019); and the Smithsonian American Art Museum in Washington, DC (November 1, 2019–April 12, 2020).
Read reviews of the exhibition in Hyperallergic, the International Examiner, and The Bottom Line, the University of California, Santa Barbara, newspaper. Download the DigitalObata app (available for iOS devices only) to augment your viewing experience.
Please visit the calendar for information on related events, including member preview, talks & lectures, sumi-e ink painting activities for adults and families, and a community meet-up with Topaz Museum, 55 West Main Street in Delta, where the museum's collection of Obata paintings will be on view. 
To learn more about Obata's life, watch these videos:
The National Parks: America's Best IDEA | Chiura Obata
Oriental Brushwork, 1956 (clip of Obata painting sumi starts at 9 minutes)