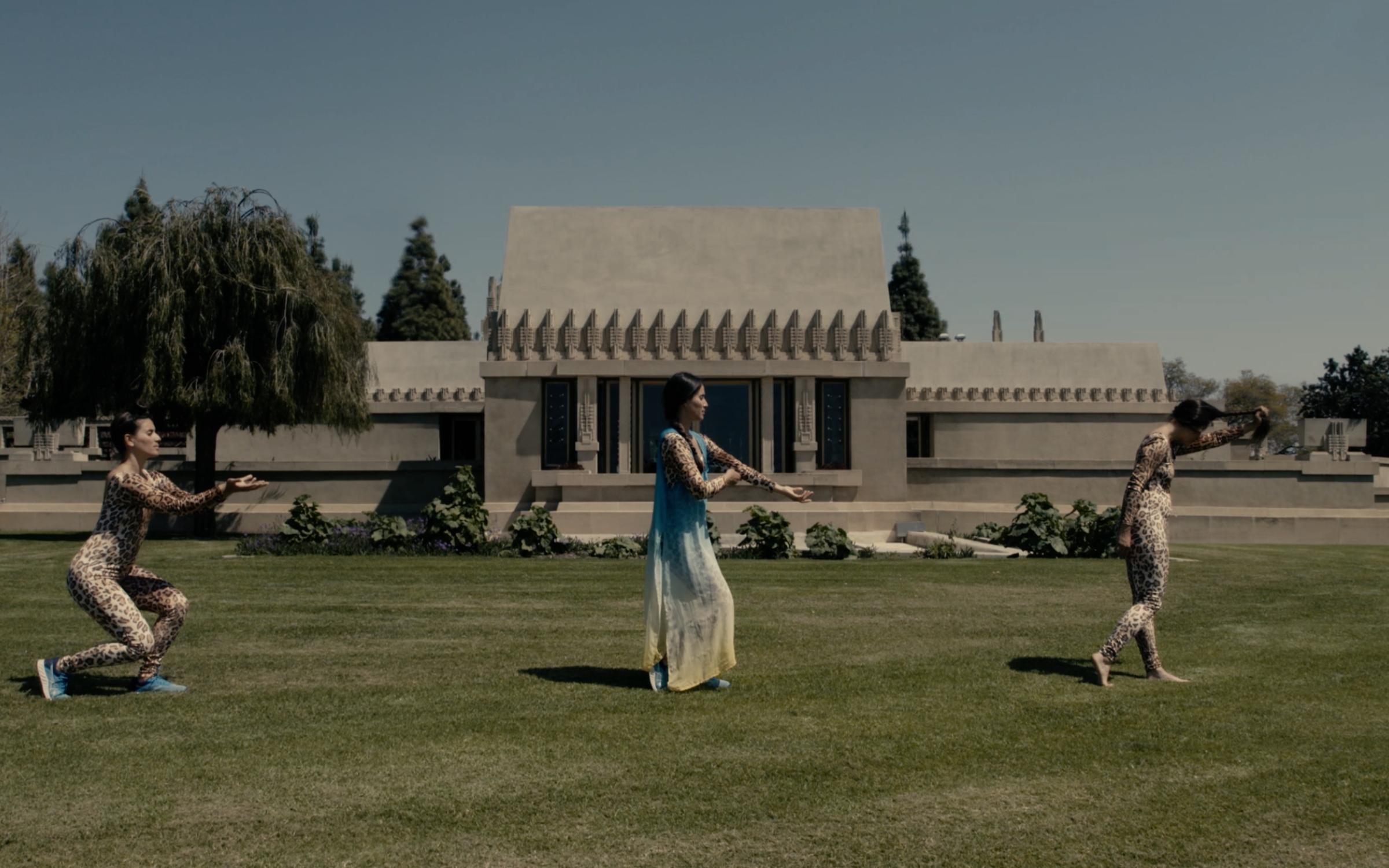 Clarissa Tossin: Artist Talk
Warnock Artist in Residence 
February 24, 2022 | Katherine W. and Ezekiel R. Dumke Jr. Auditorium
Artist Talk: 5:30-6:30 pm | Reception: 6:30-7:15 pm 
Watch the recorded event here. 
FREE
Come early to see Tossin's work before the discussion!
In Clarissa Tossin's video Ch'u Mayaa (2017), on view Feb 24––June 26, 2022, a long-haired figure in leopard print and an ethereal blue sheath moves in and around the exterior structure and grounds of Hollyhock House, her movements, gestures, and poses incorporating the architecture. Hollyhock House was designed as a private home by Frank Lloyd Wright and built in Los Angeles between 1919 and 1921.

It is one of the earliest examples of Mayan Revival, a modern architectural style popular in the Americas in the 1920s and 1930s that drew inspiration from the architecture of Mesoamerican cultures that thrived pre-European invasion. Working with the choreographer and performer Crystal Sepúlveda, Tossin based Ch'u Mayaa's choreography on the iconography of ancient Maya murals and artifacts. 
The title, Ch'u Mayaa, translates to "Maya Blue," which is a pigment found in Mesoamerican ceramics and murals that is renowned for its resistance to weather and the passage of time. In the video, under a cloudless sky, the performer's blue dress and shoes caress and consecrate the concrete building and surrounding green grass. This re-signification of the modern structure with dance highlights the historical appropriation of Mesoamerican motifs, honors Mesoamerican cultural resilience and endurance through time, and recasts the building as part of a Mesoamerican architectural lineage. 
Clarissa Tossin's work in installation, video, photography, sculpture and performance explores complex issues of displacement, cultural exchange, and appropriation. Her work often reveals unacknowledged narratives implicit in the built environment and material culture and re-contextualizes historical narratives with an eye toward de-centering Euro-centric perspectives. Her work addresses the legacies of global power imbalances, often examined through specific connections between the United States and Latin American countries. Clarissa Tossin is the Department of Art and Art History's Marva and John Warnock Endowed Visiting Artist in Residence at the University of Utah in spring semester 2022. 
CLARISSA TOSSIN, BRAZILIAN, BORN 1973, CH'U MAYAA (FILM STILL), 2017. HD SINGLE-CHANNEL DIGITAL VIDEO, COLOR, STEREO SOUND, 17:56 MINUTES. ORIGINALLY COMMISSIONED BY THE CITY OF LOS ANGELES DEPARTMENT OF CULTURAL AFFAIRS FOR THE EXHIBITION CONDEMNED TO BE MODERN AS PART OF GETTY FOUNDATION'S PACIFIC STANDARD TIME: LA/LA. CHOREOGRAPHY/PERFORMER: CRYSTAL SEPÚLVEDA. CINEMATOGRAPHY: JEREMY GLAHOLT. © CLARISSA TOSSIN.