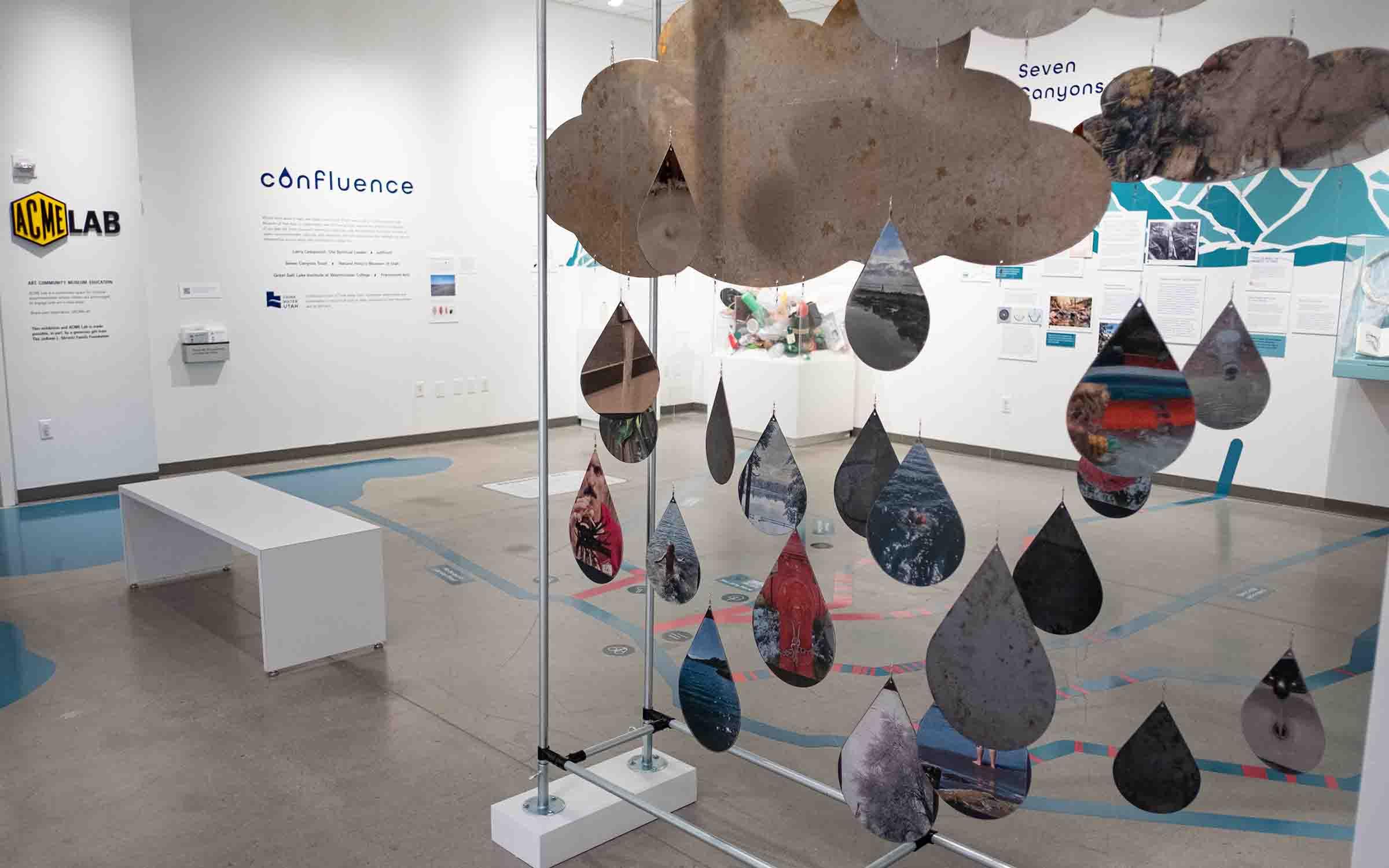 February 18, 2021
to
December 4, 2021
Where does water in Salt Lake Valley come from? Where does it end up? In Confluence the Utah Museum of Fine Arts, in collaboration with six local organizations, explores this essential component of our daily life. From mountain streams to Great Salt Lake, the exhibition illuminates the idea of water—environmentally, culturally, and historically. Discover perspectives from Ute Spiritual Leader Larry Cesspooch, saltfront, Seven Canyons Trust, Natural History Museum of Utah, Great Salt Lake Institute at Westminster College, and Framework Arts that highlight our diverse relationship with water.
 Water, a film by Larry Cesspooch, enjoy it here or in the Confluence exhibition. 
Think Water Utah is a statewide collaboration and conversation on the critical topic of water presented by Utah Humanities and its partners. The Utah Museum of Fine Arts is honored to participate in this important dialogue with Confluence. Throughout 2021, you can explore the essential role of water in Utah's past and future at Smithsonian exhibitions, local exhibitions, and events across the state. What role does water play in your life?
The exhibition is presented in the ACME Lab, an innovative space in the Museum's Emma Eccles Jones Education Center dedicated to community engagement and art experimentation. 
Curatorial Sponsor: Marriner S. Eccles Foundation
Exhibition and Lab Sponsor: The JoAnne L. Shrontz Family Foundation
Before You Visit 
Exhibition Self-Guide 
Explore water in the Salt Lake Valley from different perspectives and think about your connection with it. This self-guide uses the art in Confluence and throughout the UMFA to help inspire you to continue exploring once you leave the museum. Self-guides will also be available to pick-up in the Confluence exhibition.
Water by Framework Arts 
This exhibition features Water by Framework Arts. This multi-media sculpture has an audio component that should be listened to while viewing it in the gallery. 
Framework Arts engaged a community practice to understand the importance of water as both a biological necessity and a carrier of symbolic content. This art-making practice begins by inviting others to tell their stories and providing the tools to do so confidently. It culminates in reproducing the stories in the exhibition space for you to experience. You can listen to the audio here.