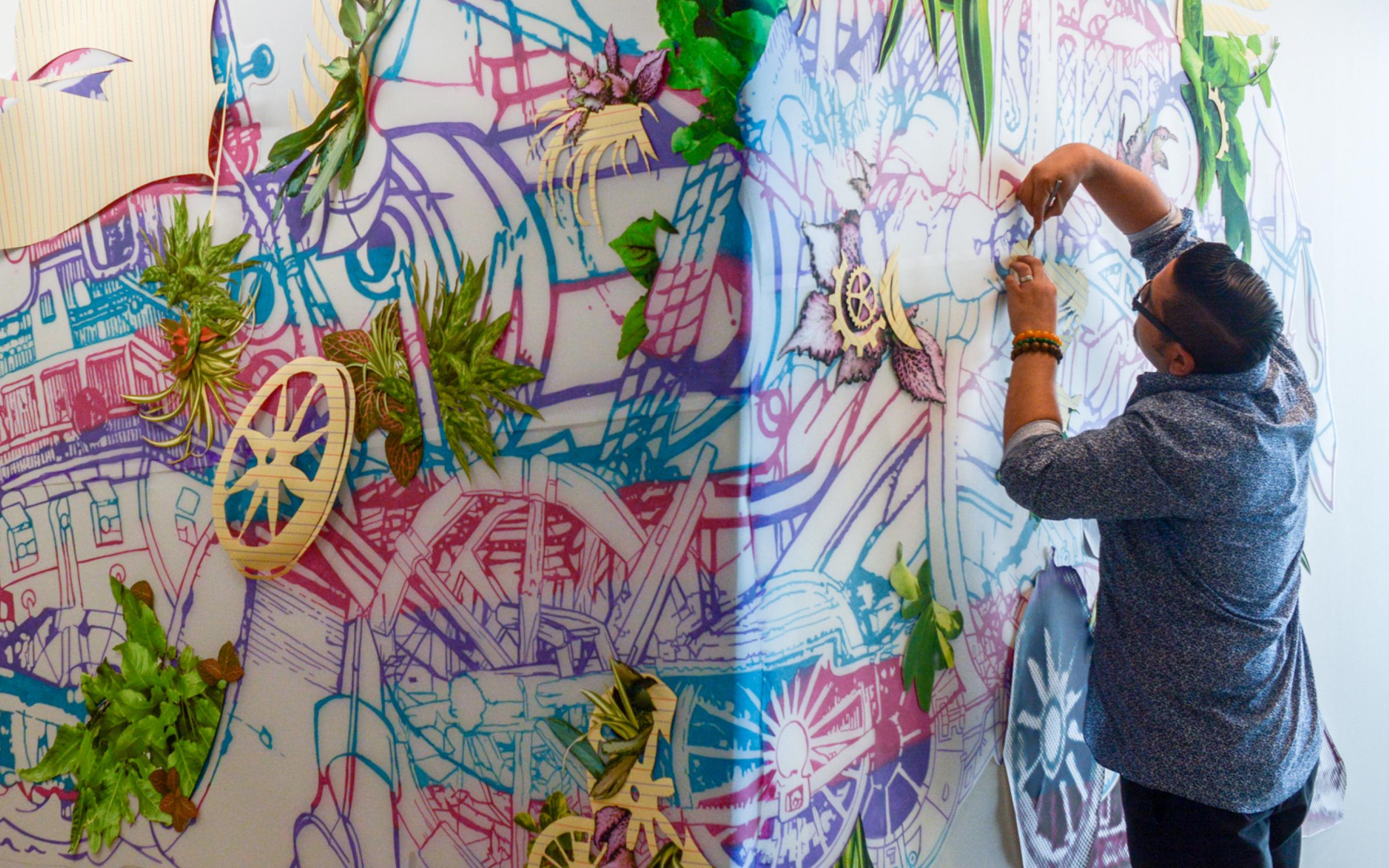 Artist Talk and Conversation: David Rios Ferreira and Denae Shanidiin
Friday, March 18 | FREE 
Preview: 5–6 pm 
Discussion Moderated by Jorge Rojas: 6–7:30 pm 
Katherine W. and Ezekiel R. Dumke Jr. Auditorium & ACME Lab
Register today
Also available online via livestream! 
Join David Rios Ferreira as he discusses his work and the ACME Lab exhibition Transcending Time and Space at UMFA. Merging science fiction with cultural and spiritual traditions, Transcending Time and Space is an exhibition of work by David Rios Ferreira with additional works in collaboration with local Diné and Korean artist, Denae Shanidiin.
Throughout the exhibition, the artist presents a collection of abstracted drawings, collages, photographs, and video representative of gateways and portals. Ferreira was moved to create this work based on the ever-growing tragedy of missing and murdered Indigenous people—something he explores in collaboration with Denae Shanidiin and Restoring Ancestral Winds, a Tribal coalition responding to the violence perpetrated on Indigenous communities within the Great Basin and strengthening the traditional values of Indigenous relations.
Following Ferreira's presentation, the artist will be joined by Denae Shanidiin to talk about their process, collaboration, and how the project evolved through their dialogue. Local artist, curator, and educator, Jorge Rojas, will moderate the conversation and a Q&A.
Located in the Emma Eccles Jones Education Center, ACME Lab is an exhibition space for art experimentation and exploration. Visitors of all ages are encouraged to ask questions, make connections across disciplines, and engage with art in new ways. The lab promotes collaboration between museum and community through active participation—providing an avenue for mutual learning, discovery, and understanding. Register today!
David Rios Ferreira: Transcending Time and Space is on view in the UMFA ACME Lab March 19–December 4, 2022.