U of U Faculty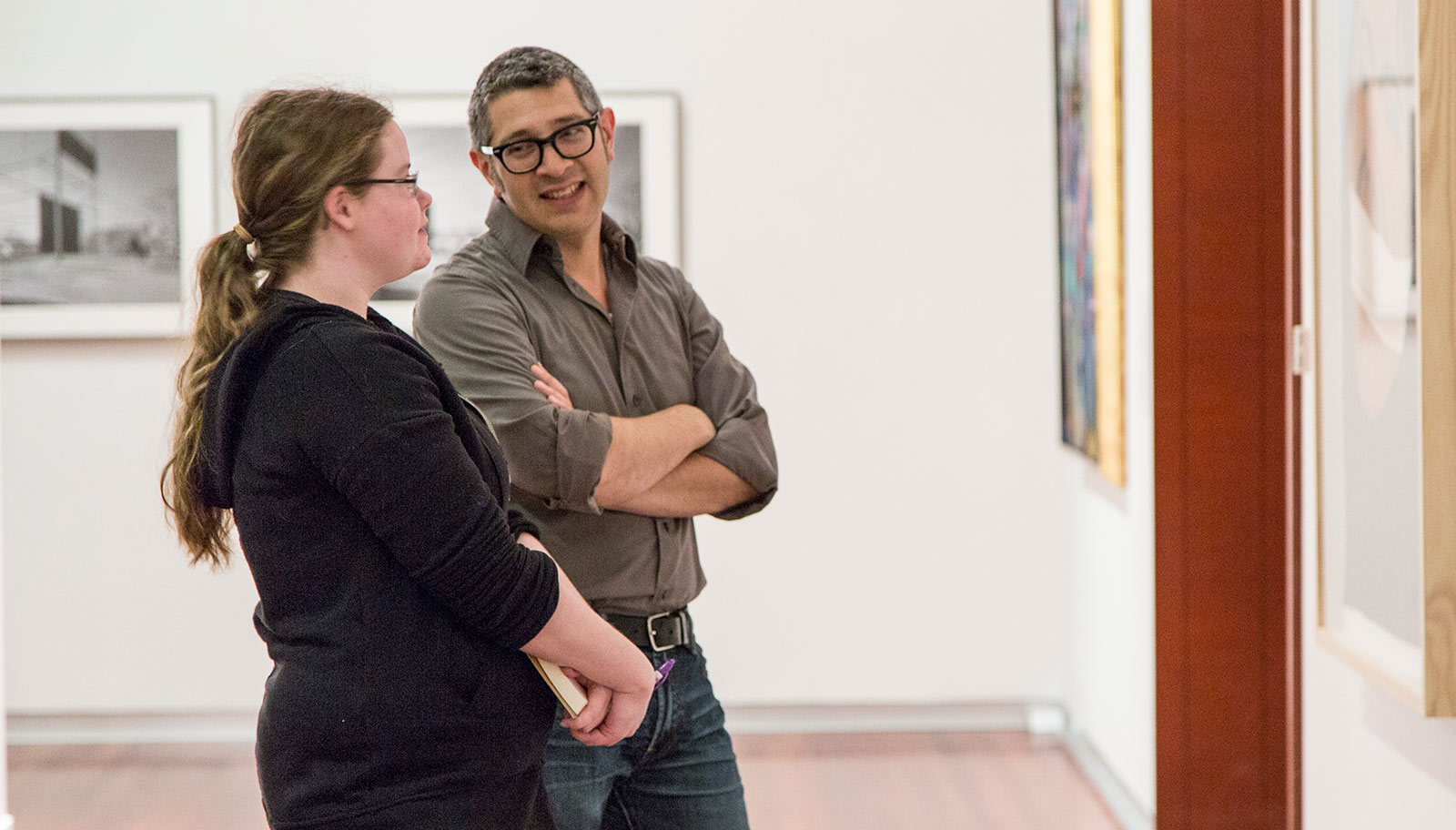 The UMFA is a great starting point for integrating visual art into your courses or illuminating your own research. 
Group Tours and Visits
Click here for tour details—guided, self-guided, and sketching—for groups (10–60 visitors).  
Schedule a Collections Visit
We welcome scheduled visits for students, teachers, and researchers to view objects in the permanent collection for educational and research purposes. Submit your request at least three weeks in advance; four weeks' notice is required for groups of 10 or more. Visits are currently limited to 15 people to view a maximum of 5 objects.
Click here to submit the Collections Visit Request form; you will be contacted by the collections manager to schedule your visit.
Programming
The UMFA is your destination for a wide variety of campus- and community-focused programs including the chamber music series, Writing in the Galleries, ACME Sessions, Creativity in Focus film screenings, and Art + Wellness. Click here to view the event calendar.
Collections Database
The entire permanent collection is at your fingertips. In addition to browsing the collection, you can log in and create your own slide shows of objects for personal research or the classroom. Prepare for Museum visits by searching for objects tagged "on exhibition," or encourage your students to find gems from the collection not on view. Click here to browse the collection. 
Education Collection
The UMFA education collection includes more than 2,000 authentic art objects from around the world representing creativity from diverse cultures and time periods. Objects from this special collection can be loaned to educators for up to 2 weeks. Contact schoolprograms@umfa.utah.edu or call 801.585.5168 to reserve your classroom object loan. 
Reproduction Requests
The UMFA offers reproduction images of objects from the permanent collection for research, publication, and personal use. Fees may apply for image use in publications.
The Museum is committed to protecting the copyright of artworks which may be held by individuals and entities other than the UMFA. You are responsible for obtaining reproduction permission from the copyright holder if the object is copyright protected. Click here to review the UMFA reproductions and copyright policy.
Click here to request image reproductions. Please allow three weeks to process your request. Contact the UMFA registrar for more information. 
Private Event Rentals
University of Utah departments receive reduced rates for event rental at the UMFA. Contact events@umfa.utah.edu or call 801.581.5643 for details.
Membership
The UMFA offers professional educators a $10 SEAMS* discount on Individual and Dual memberships. Benefits include: 
Free admission to UMFA galleries and temporary exhibitions 
Invitations to members-only events and special discount days
10% discount on purchases in The Museum Store and Museum Café
Complimentary subscription to quarterly, the UMFA member publication. 
Visit our membership page or call 801.585.0464 for more information. 
*SEAMS discount applies to students, professional educators, artists, military personnel, and seniors.
Contact our campus engagement coordinator or call 801.581.4405 for more information about collaborating with the UMFA, utilizing the collection in your curriculum, and student internships and engagement.