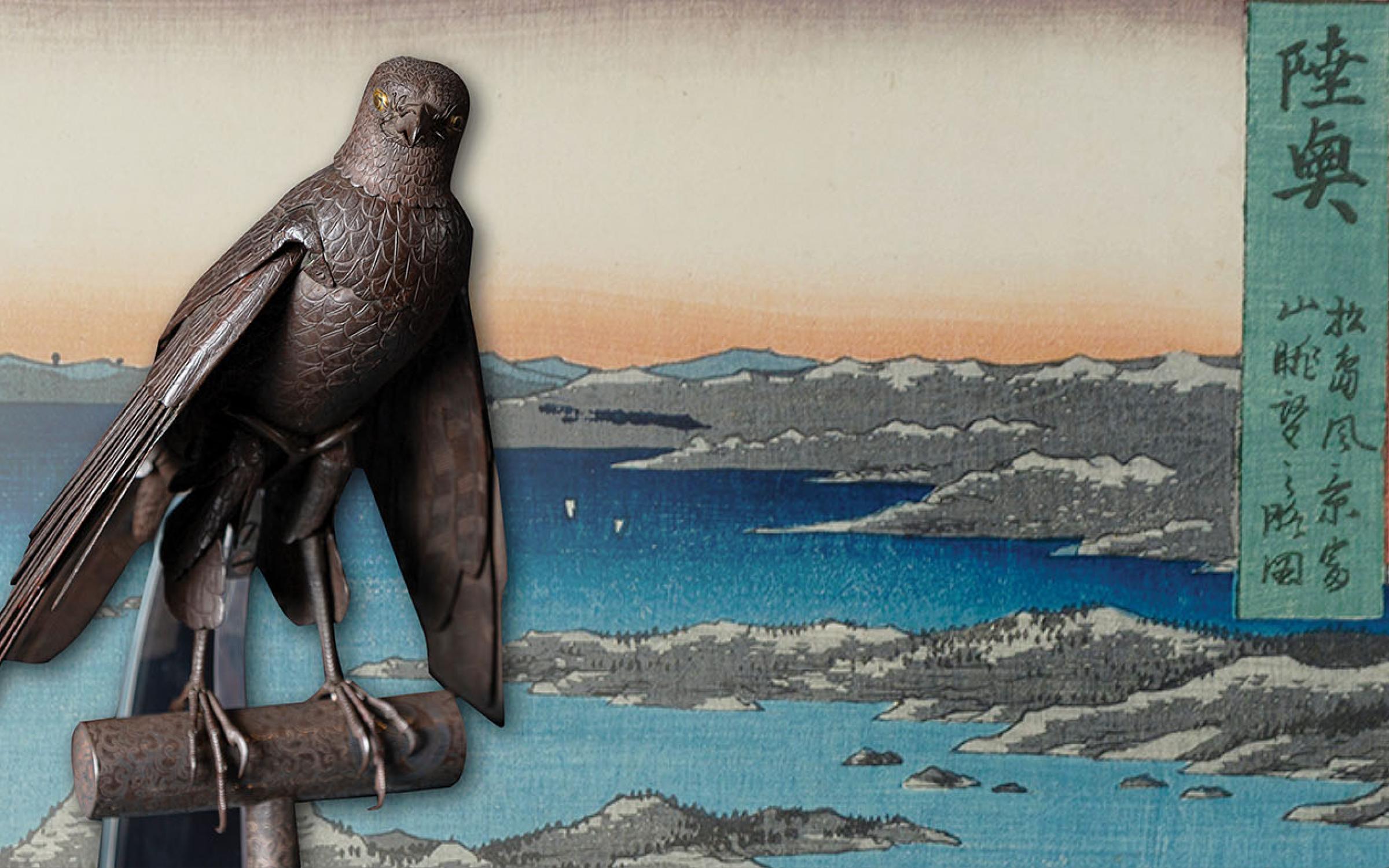 Japanese Art: Adaptation and Transformation
Adaptation and Transformation is the newest UMFA permanent collection exhibition devoted to Asian art. This new gallery of Japanese art joins Greater Merit: The Temple and Image in South Asia and Chinese Art: Emulation and Innovation. Adaptation and Transformation explores how Japanese artists over the last thousand years have responded to internal and external events and influences in their art making. 
Visitors will find a striking suit of samurai armor whose plates were designed to absorb firearms introduced to Japan in the 1500s. They'll also see an impressive articulated raptor that demonstrates how a maker of armor transformed his skills to create an intricate moving sculpture. Also on display are a katana and a wakizashi that reflect the 1000-year-plus tradition of Japanese sword making. 
Visitors will see regular rotations of the Museum's growing woodblock print collection. These rotations will feature works from various eras from well-known artists like Hiroshige, Hokusai, and Hasui. 
The beginning of the UMFA's collection of Japanese art dates to 1938, when Mr. and Mrs. James Franken donated more than thirty Edo period (1603–1868) woodblock prints to the University of Utah and its Park Building art gallery, which ultimately became the UMFA. Since then, gifts and purchases have added paintings in scroll and screen form, calligraphy, netsuke, ceramics, prints, swords, and a set of samurai armor. 
This gallery is funded in part by the Robert and Evelyn Rosenblatt Enrichment Fund. 
Watch and listen as curator Luke Kelly shares insights into works on view, and other objects in the UMFA's Japanese art collection, in this fascinating virtual presentation. 
Make a kite inspired by Japanese woodblock prints from the UMFA collection in this Third Saturday activity.
See all of the UMFA's education resources on Japanese art here. 
Unidentified artist, Japan, Articulated raptor, 19th century, Steel and silver, Purchased with funds from Friends of the Art Museum, UMFA1981.025; Utagawa Hiroshige (Japanese, 1797–1858), Settsu Province: Sumiyoshi, Idemi Beach, from View of Sixty-Odd Provinces, 1858, Color woodcut, Purchased with funds from Friends of the Art Museum, UMFA1979.268.