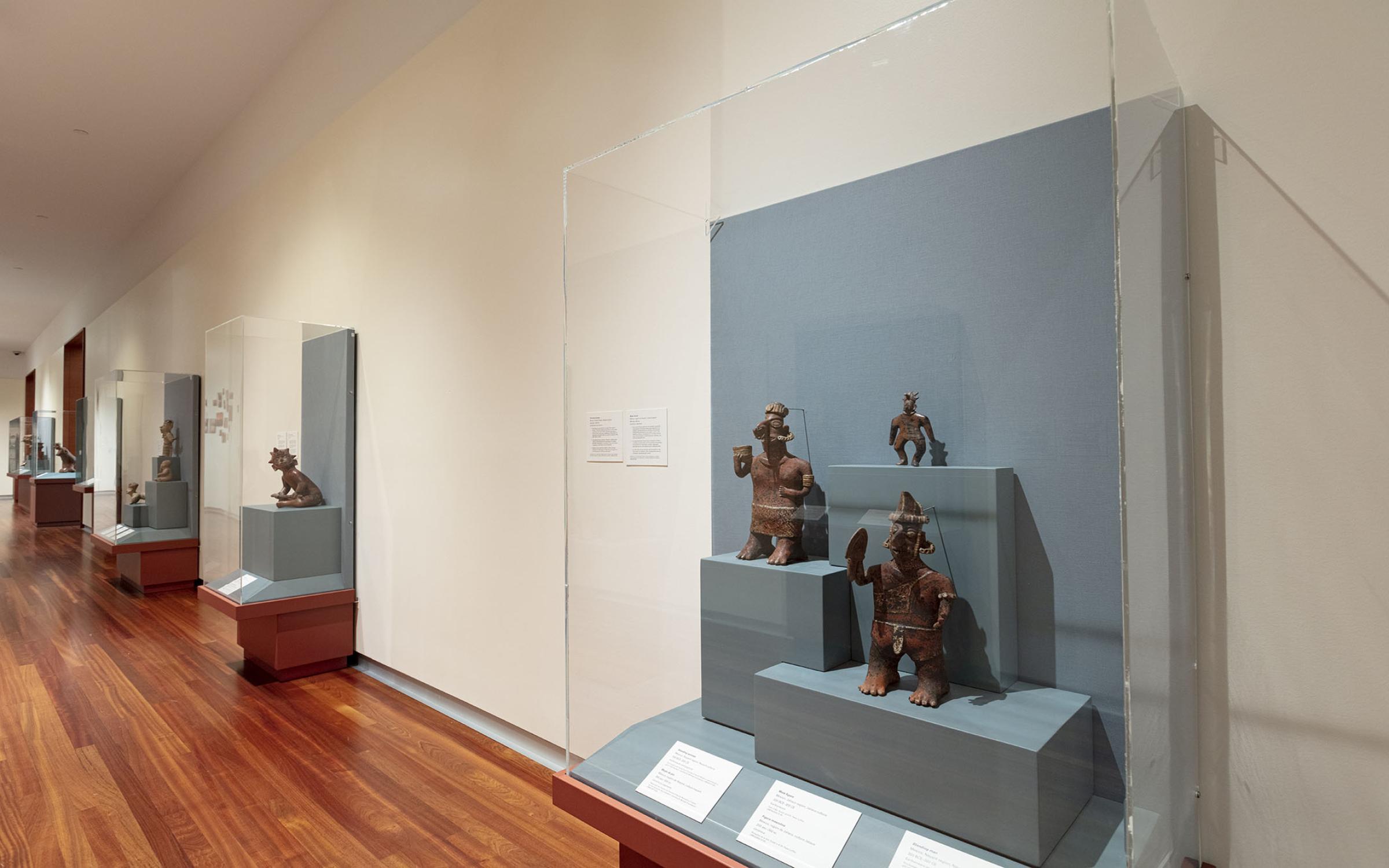 The Ancient Mesoamerican gallery celebrates the diverse arts and traditions of peoples who lived in what is now Mexico and central America. Among the cultures represented are the Maya, Olmec, Zapotec, and shaft tomb culture of western Mexico in present-day Colima, Jalisco, and Nayarit. These societies existed from the 1200s BCE to 1300 CE. 
Objects currently on display include a large Maya jade ornament dating from the 700s to 900s. It depicts the Maya Jester god who was associated with elite power. Drilled holes allowed the piece to be attached to a headdress. Also on view are hollow figures that accompanied burials in the shaft tomb culture of western Mexico (300 BCE–300 CE). A Nayarit standing woman holding a cup and jar may reflect feasting traditions, while a Colima sitting figure armed with a club may have served as a guardian figure.
In the 1970s and 1980s, museum director E. Frank Sanguinetti built this collection working primarily with dealer W. Douglas Hague. Following that, key gifts have augmented the Ancient Mesoamerican collection. Research is ongoing into the collecting history of objects before they entered the Museum. Any future loan, gift, or purchase to this collection must meet the 2013 AAMD guidelines on the acquisition of archaeological objects.
---
Transformatión Cultural: Nuestro pasado es presente
Work in Progress
Exciting changes are happening with this collection!
In collaboration with Artes de México en Utah and a dedicated group of community creatives, we are re-envisioning UMFA's collection of art from México and Central America to reflect the richness of living cultures, identity, and art, past and present. Beginning Spring 2025 it will move to two spaces currently dedicated to European art (those adjacent to Art of Japan) into what we're currently calling: 
Arte de México y Centroamerica: Nuestro pasado es presente. 
Goals for re-envisioning UMFA's Mexican and Mesoamerican art:
Elevate and infuse community perspectives and voices into UMFA's exhibition space.  
Highlight and discuss objects in the present, not past, tense.
Create an installation that celebrates the living, vibrant cultures from which these works of art originate. 
Acquire contemporary artworks by artists who identify as Latine / Hispanic and support narratives of art and culture, past and present, as a continuum. 
Community work-group members:
Clara Amezcua 
Pablo Ayala 
Hazel Rodriguez Coppola 
Monique Davila 
Kathleen Garcia 
Stephanie García 
Ana Martinez 
Luis Novoa 
Alejandra Quechol 
Horacio Rodriguez 
Jorge Rodriguez 
Laura Ruiz 
Esmeralda Torres 
Karina Villalba 

UMFA's staff is grateful to Fanny Guadalupe Blauer, Executive Director of Artes de México en Utah, her colleague, Andrea Silva, and many community voices for their passion, support, and trust throughout this process. Please visit our website and this gallery for updates.
 
Trabajo en curso
¡Esta colección está experimentando cambios muy interesantes!
El UMFA está encantado de colaborar con Artes de México en Utah y un dedicado grupo de creativos de la comunidad para reformular la exposición del arte de México y América Central con el fin de enaltecer la riqueza de las culturas vivas, la identidad y el arte, pasado y presente. Durante la primavera del 2025, la exposición de la galería mesoamericana cambiará de lugar al espacio donde actualmente se encuentra la colección de arte europeo (junto a la galería del arte Japonés) como parte del proyecto de transformación cultural, Artes de México y Centroamérica: Nuestro pasado es presente.
Objetivos para replantear el arte mexicano y mesoamericano del UMFA:
Elevar e infundir las perspectivas y voces de la comunidad en el espacio expositivo del UMFA.   
Replantear y destacar los objetos en tiempo presente, no pasado. 
Crear una instalación que celebre las culturas vivas y vibrantes de las que proceden estas obras de arte.  
Adquirir obras de arte contemporáneo de artistas que se identifiquen como latinos / hispanos y apoyar las narrativas de arte y cultura, pasadas y presentes, como algo continuo. 
Miembros del grupo de trabajo comunitario:
Pablo Ayala 
Hazel Rodríguez Coppola 
Monique Davila 
Kathleen García 
Stephanie García 
Ana Martinez 
Luis Novoa
Alejandra Quechol 
Horacio Rodríguez 
Jorge Rodríguez 
Laura Ruiz 
Esmeralda Torres 
Karina Villalba
El personal de UMFA agradece a Fanny Guadalupe Blauer, directora ejecutiva de Artes de México en Utah, a su colega, Andrea Silva, y a muchas voces de la comunidad por su pasión, apoyo y confianza a lo largo de este proceso. Visita nuestro sitio web y esta galería para conocer la información actualizada, plazos y próximos pasos.