Jodi Patterson, UMFA's graphic designer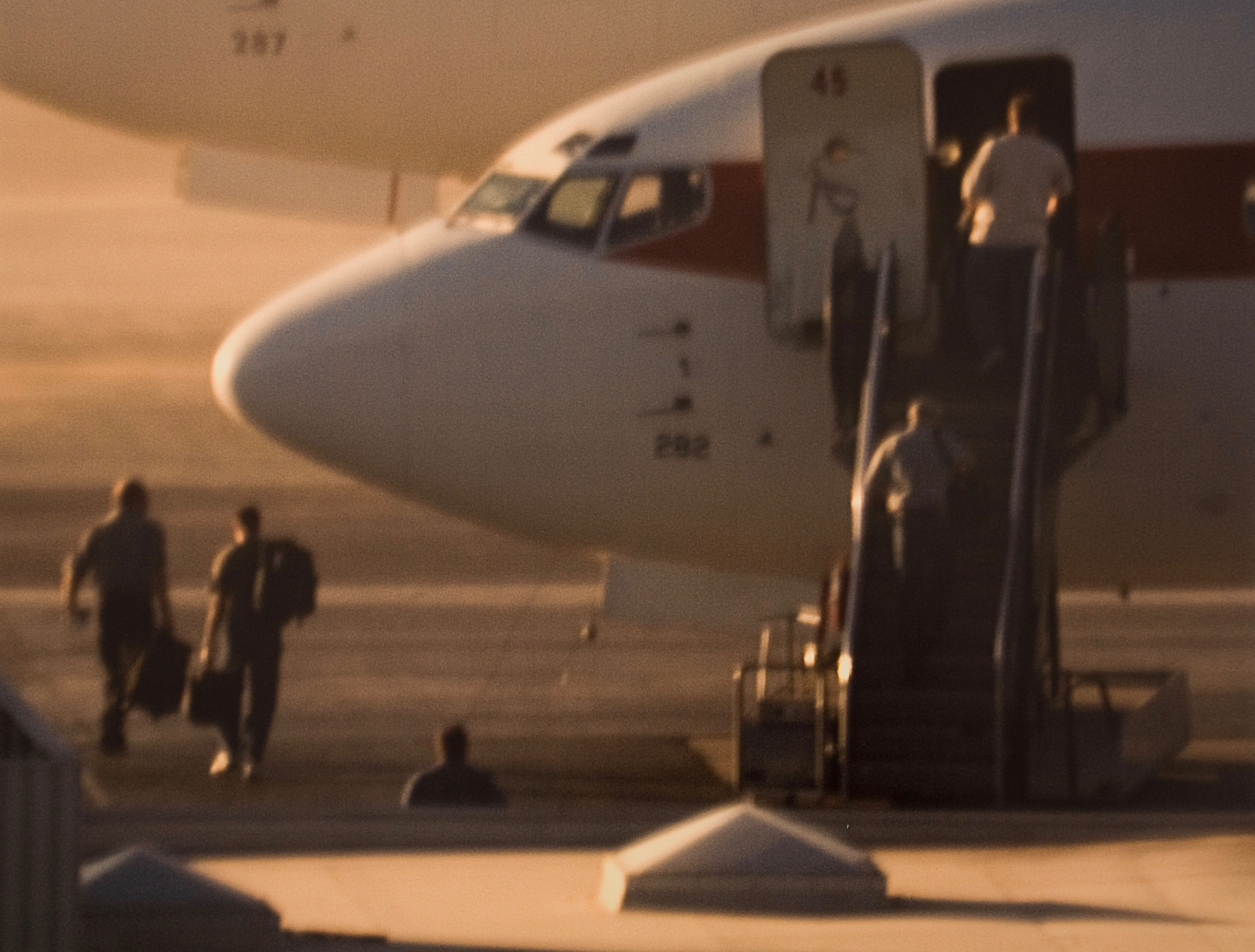 Trevor Paglen is an American artist, geographer, and author whose work tackles mass surveillance and data collection. His series Limit Telephotography employs high-powered telescopes with focal length ranges between 1,300 and 7,000 millimeters to photograph classified military bases and installations in the United States, hidden in deserts and buffered by dozens of miles of restricted land. While the images show little – what is seen may look banal – they suggest top-secret activities to which no civilian can gain access. 
My father worked for Lockheed Martin during the 1950 through the 1980s. He worked on some projects for Lockheed during that time that required his commuting from the airport in Burbank, California to places unknown for the week, returning on the weekend. He could not tell us anything about where he was going or what he was working on. It was classified. I told my elementary school friends that he was a secret agent. I was really into The Man From U.N.C.L.E., a 1960s secret agent tv show at the time. 
In 2005, a freedom of information act request led to its declassification (not acknowledged by the CIA until 2013), but he was reluctant to talk about it even then. It turns out that he worked at Area 51, a US Air Force facility located within the Nevada Test and Training Range, designing and building the Lockheed SR-71 "Blackbird" is a long-range, high-altitude, Mach 3+ strategic reconnaissance aircraft that was operated by the United States Air Force. It was developed as a black project from the Lockheed A-12 reconnaissance aircraft in the 1960s by Lockheed and its Skunk Works division, of which he belonged. I have inherited a Skunkworks baseball hat! 
I didn't discover this until the UMFA presented an exhibition of Trevor Paglen's photographs. He came to the Museum and gave a talk about his work relating to "black sites" and mentioned that he had spoken with a number of people who had worked on projects at these locations. He spoke about a kind of camaraderie these people developed from their experiences, but also how alienating it was for them to be unable to share their experiences with their friends and families. I had never even considered how my dad must have felt. This artist talk connected me to my dad's experience in a deeply personal way.   
I didn't expect that when I went to the talk. I think that's why people talk about art creating connections, inspiring conversations and opening possibilities. 
---
Trevor Paglen (American, b.1974), Morning Commute (Gold Coast Terminal); Las Vegas, NV; Distance ~ 1 mile; 6:26 a.m., 1990, photograph, 29 7/8 x 36 in, purchased with funds from The Paul L. and Phyllis C. Wattis Fund, UMFA2008.34.1.