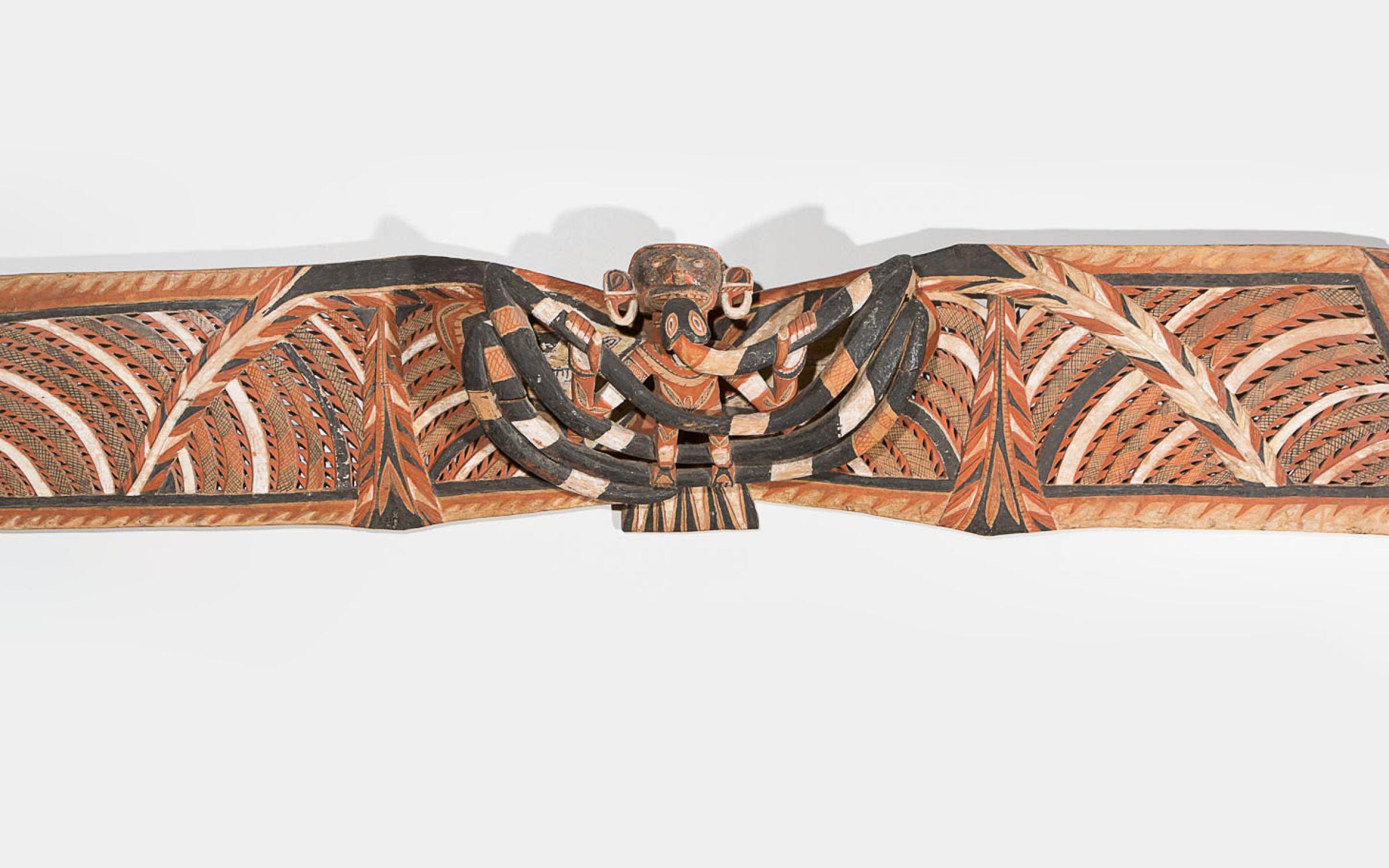 The Arts of the Pacific gallery will look a little different next time you visit. New objects have been rotated into the gallery, including the late nineteenth-century Fijian Barkcloth (Masi) fragment from the UMFA permanent collection and the nineteenth-century Hawaiian Figure 'aumakua, on loan from the L.D.S. Museum of Church History and Art.
The arts of the Pacific exhibition will take visitors on an artistic journey through a dynamic region. Often called Oceania, earth's largest geographic region encompasses an ocean area of extensive distance interspersed with large and small land masses. The continents, islands, and archipelagoes are home to people of astounding creativity.
The diversity of Pacific cultural beliefs, climates, landscapes, flora, fauna, religion, and language foster myriad art forms—alive and ever changing. Many sculptural forms have disappeared as contact with outside cultures altered inhabitants' daily lives and beliefs. Other practices survive in renewed forms despite persistent colonial occupations, world conflicts, and environmental challenges spanning several centuries.
The UMFA's captivating and wide-ranging collection represents numerous cultures and locations throughout the Pacific. The reinstallation will reflect the diversity in the Museum's collection and illustrate both historical and contemporary art practices. Favorite works from previous installations will return, complemented by objects on view for the first time, as well as loans from private collections.
The gallery was guest-curated by Virginia-Lee Webb, a former research curator and senior research scholar in The Metropolitan Museum of Art's Department of the Arts of Africa, Oceania, and Americas, where she organized twenty exhibitions. She has published several monographs on the arts of Oceania and Africa, and her research has appeared in many museum catalogs, international journals, and anthologies.
This reinstallation was made possible by the John and Marcia Price Family.