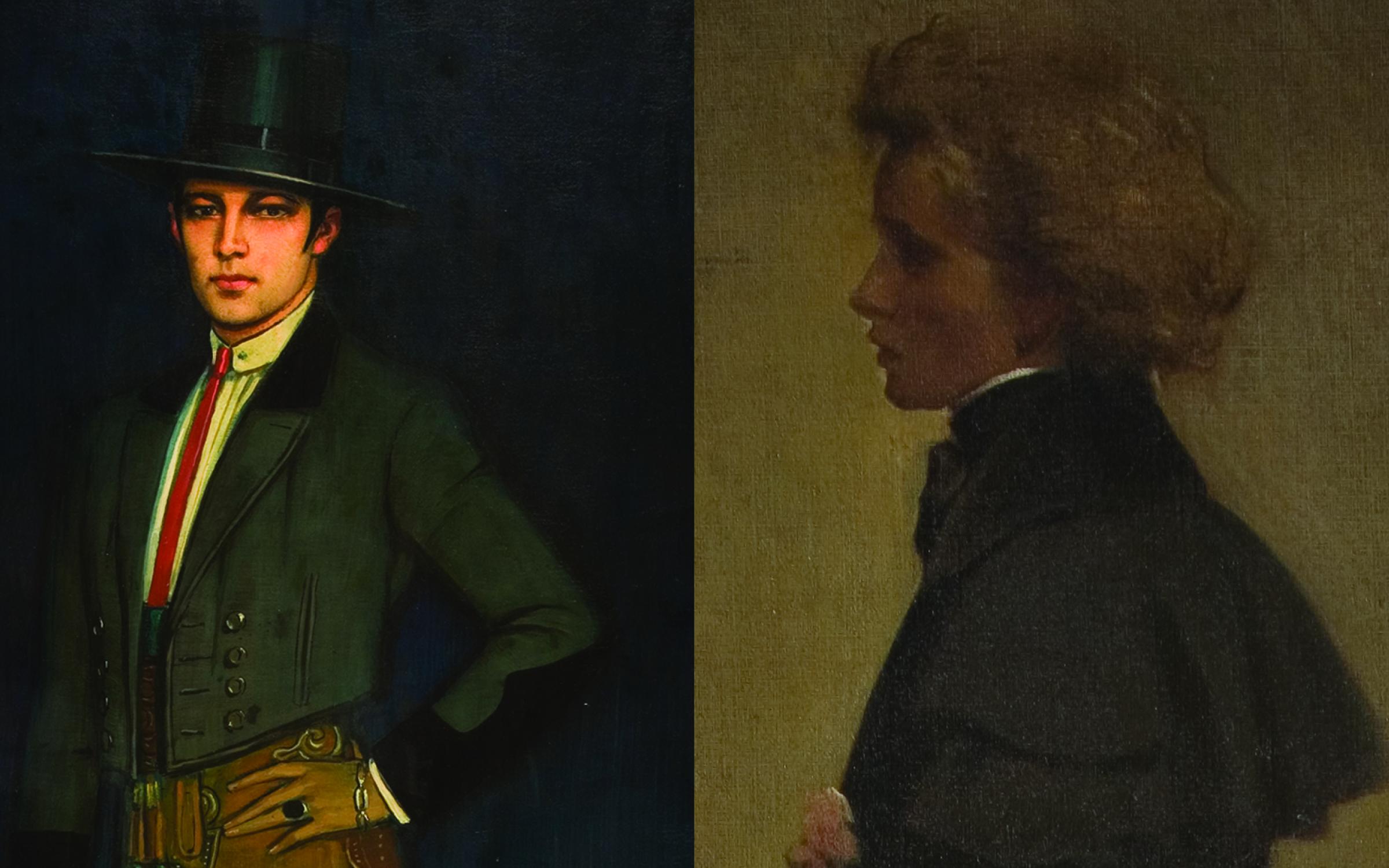 December 19, 2018
to
March 31, 2019
Stars of the Stage and Silver Screen
The UMFA celebrates the film awards season this spring with two portraits of stage and screen legends, Miss Maude Adams, as "L'Aiglon" (1900-01) by John White Alexander and Rudolph Valentino, as "Caballero Jerezano" (1925) by Federico Beltrán-Masses. This small, two-work installation on the Highlights Wall, titled Stars of the Stage and Silver Screen, explores the parallels between two important and much-loved works of art in the UMFA's collection. The portraits will be on view from January, when the Sundance Film Festival is held, through March and the Academy Awards.
The UMFA is hosting its own version of award voting: visitors are invited to complete a ballot for a chance to win a $50 gift card to the Museum Store. Vote for artworks from the permanent collection in categories including Best Costume Design, Best Director, and more as you explore the galleries. Pick up your ballot at UMFA near the exhibition. Follow the UMFA @utahmuseumoffinearts on Facebook and Instagram to see the winning artworks in each category when the exhibition is over.
The exhibition highlights the stories of the paintings' creation. Artists Alexander and Beltrán-Masses cultivated friendships with their celebrity clients—the most recognized performers of their day—and painted them on more than one occasion. The stars had local connections: Maude Adams and Valentino's second wife Natacha Rambova were born in Salt Lake City and through gifts, both women fostered an appreciation of art in their hometown.  
Alexander was born in Pittsburgh, trained in Munich, and practiced in Paris. By the time the worldly artist settled permanently in New York in October 1900, he had garnered international acclaim. Alexander executed Miss Maude Adams, as "L'Aiglon" shortly thereafter. Perhaps he painted the portrait to commemorate her praised performance as Napoleon II in Edmond Rostand's L'Aiglon; however, we know that theater producer Charles Frohman used the image for publicity after the play's debut. It was published in a 1902 illustrated calendar promoting both actress and play. The portrait was the first of at least three that Alexander painted of Adams. Their collaboration would extend to set, lighting, and costume design for her plays. A visual record of their rapport, the portraits belonged to Adams until she donated the collection to her hometown's Art Barn (Salt Lake Art Center) in 1933
In 1925 Valentino invited the Cuban-born Spanish artist Beltrán-Masses to Los Angeles. There, Beltrán-Masses painted the silent film actor as both "Caballero Jerezano" (a gentleman from Jerez in the Spanish region of Andalusia) and as "a Persian warrior," according to a New York Times article of December 23, 1926. Neither guise corresponds directly with a particular Valentino film role; rather, they suggest his range as an actor. An issue of the periodical International Studio that year indicates a list of infamous and famous sitters for Beltrán-Masses: "This master of character reading is now adding Rudolph Valentino and his wife to his list of interpretations, and when he leaves us, he is going to Rome to paint Mussolini and the Pope." Before Valentino's untimely death in 1926, the portraits received numerous press mentions when they were exhibited at the Stendhal Art Galleries at Los Angeles's Ambassador Hotel. Then, they entered Valentino's collection where archival photographs confirm the paintings' display in Valentino's residence, called "Falcon Lair." At his estate sale, both works were purchased by a Rambova relative and donated by her mother in 1951. Stars of the Stage and Silver Screen will mark the comeback of this significant portrait, which has not been on view in more than a decade.