Third Saturday Online: Maya Chocolate Pots
The UMFA has a beautiful collection of ancient art of the Maya, including a 1,500-year-old chocolate pot used for drinking liquid chocolate.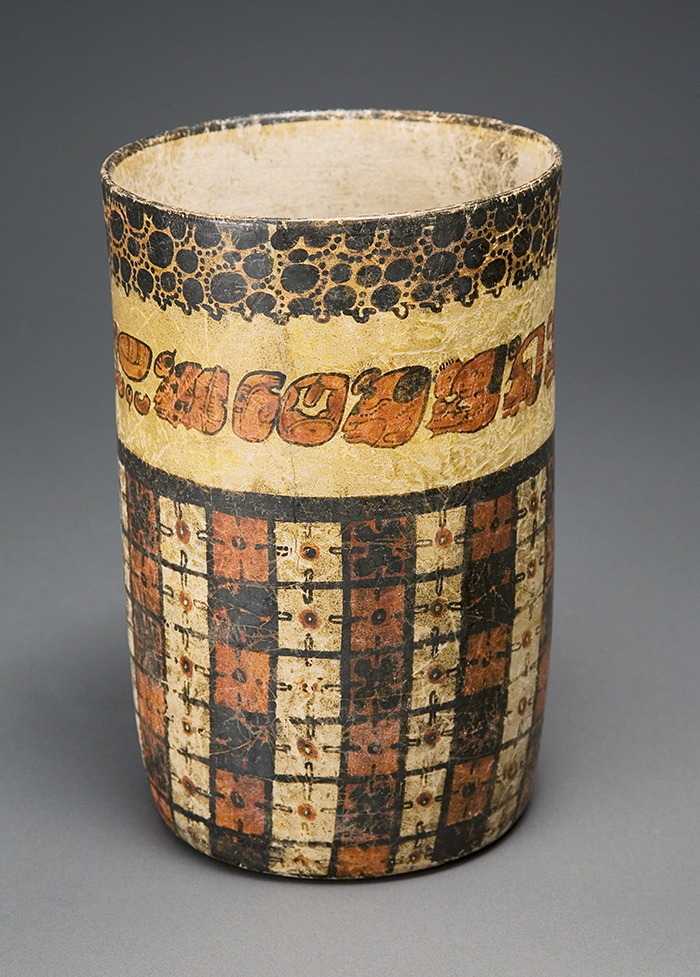 This vessel decorated with a jaguar pelt design, a symbol of power, was for an elite member of Maya society. Can you find where the jaguar pelt is painted on? 
The orange glyphs around the cup say it is a "drinking vessel for tree fresh kakaw/cacao." Cacao beans were a valued currency. Lesser lords would often give bundles of beans as tax payments to their overlords.  
Since the Olmec era (around 1200 BCE), cacao was an important drink. Mixed with chili powder and other spices, it was served at feasts celebrating special events. The Maya enjoyed different varieties including "tree-fresh," "bitter," and "frothy." How do you like to drink chocolate?
Today, the descendants of the ancient Maya culture live all over the world, but the majority live in Mexico, Guatemala, Belize, El Salvador, and Honduras. Cacao is still used by contemporary Maya peoples today in each stage of life, especially during births, baptisms, marriages, and funerals. Although the ancient glyphs are not used today, Maya people speak many dialects of the Mayan language.
You can write your own glyphs today! The glyphs represent sounds so you can write the sounds of your language in glyphs. What will you write? You can try writing your name or even write how you like to drink chocolate.
Writing in Mayan Glyphs
You will need:
1. Ancient Mayan words are formed from combinations of nearly 800 signs. While the American writing system is also based on signs, they are formed from combinations of only 26 signs, or the alphabet. Each Maya sign is a full syllable so that list of signs is called a syllabary, not an alphabet. 
2. In the small syllabary here, sounds are formed by combining a consonant on the left column with one of the five vowels; a, e, i, o, or, u across the top. 
3. Mayan writing combined logographs (symbols representing whole words) with symbols that represented sound syllables (for example: ma,me,mi,mo,mu). 
4. The word jaguar (bahlam), for example, could be written as a symbol which looks like a jaguar's head, or as a cluster of three syllables: ba-lam(a). In syllabic systems like Mayan the final vowel (in this case the "a") is often silent. 


5. In Mayan writing, the symbols representing syllables were arranged in glyph blocks to sound out each word. In each glyph block, the symbols were generally read from top to bottom and from left to right. Here are just a few of the many combinations possible.


After writing in glyphs you can try making some spicy hot chocolate to see how the Maya people enjoy their chocolate. 
Maya Hot Chocolate
What you will need:
1/4 cup water
1/4 cup honey
1/2 cup cocoa powder
1 tsp vanilla extract
1/2 tsp ground cinnamon
1/4 tsp cayenne pepper
1/8 tsp salt
4 cups 2% Milk
How to make it:
Whisk together water, honey, cocoa powder, vanilla extract, cinnamon, cayenne pepper, and salt in a medium saucepan over medium-high heat. Bring to a boil.
Reduce heat to medium-low and slowly whisk in a little 2% milk. Stir to completely incorporate the milk; then whisk in remaining milk. Stir to completely combine.
Heat for about 5-8 minutes until milk is hot but not boiling. Pour into mugs and enjoy!
---