Third Saturday: Rug Weaving
November is Native American Heritage Month: it is a time to celebrate rich and diverse cultures and histories and to acknowledge the important contributions of Native people. Let's spend time with some of the UMFA's beautiful and important collection of Native American rugs–then weave your own mini rug with yarn and a cardboard loom you can make yourself at home. Please take time to read the University of Utah's  Indigenous Land Acknowledgement. 
Diné (Navajo) have a long tradition of master rug weavers. These weavers are usually women who pass their knowledge and artistry on to the younger generation. Weaving is a way of life and means of support for many Diné families, something practiced both today and for centuries before this. Rugs are sold through trading posts, online, and in-person. You can find contemporary rugs for sale through organizations like the non-profit Adopt-a-Native-Elder program. Their annual sale helps support the Diné community.
These hand-woven rugs are powerful works of art entrenched in Diné philosophies of balance, peace, and serenity. How do the artists of the three works below show these ideas through color and pattern?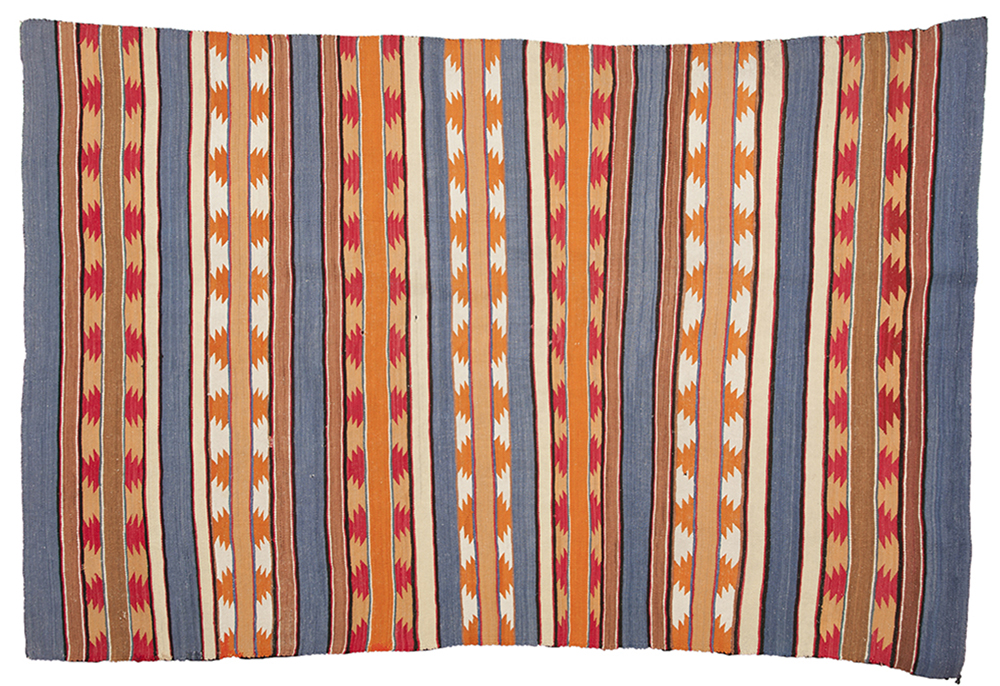 Many rugs woven by Diné artists have designs rooted in tradition. The knowledge and artistic heritage are passed down through artists over many generations. This rug was woven near Wide Ruins, Arizona, and is recognizable from its detailed stripes and yarns dyed with natural materials from plants and minerals. Although designs are traditional, each artist has their own unique style that makes these rugs beautiful and individual. What design will you make on the rug you weave today?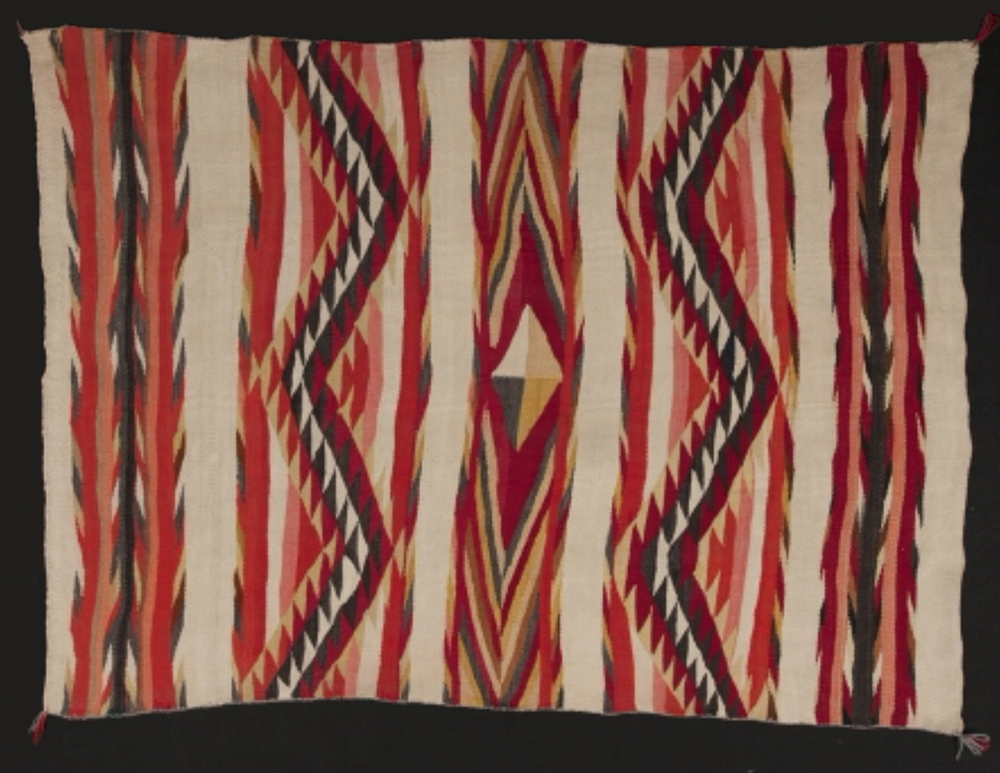 Symbols of color—black, white, blue, and yellow—are tied to the Diné view of the world. These colors are associated with the four directions (north, east, south, and west), certain times of day, the four mountains that serve as markers of the Diné homeland, important spiritual beings and people, and many other aspects of Diné culture and tradition. What colors do you see in this rug? Why do you think it is called an "Eye-dazzler"? What colors will you use in your rug? Will they symbolize something to you?
After 1863, when Diné were moved off their land and imprisoned by the US Government in Bosque Redondo, New Mexico, weavers were introduced to synthetic colors brought in by European-American traders. These colors were brighter and easier to use than the traditional natural dyes and many weavers began using them to create brighter rugs. Compare this rug made with synthetic dyes to the Wide Ruins rug. Can you see a difference in the colors?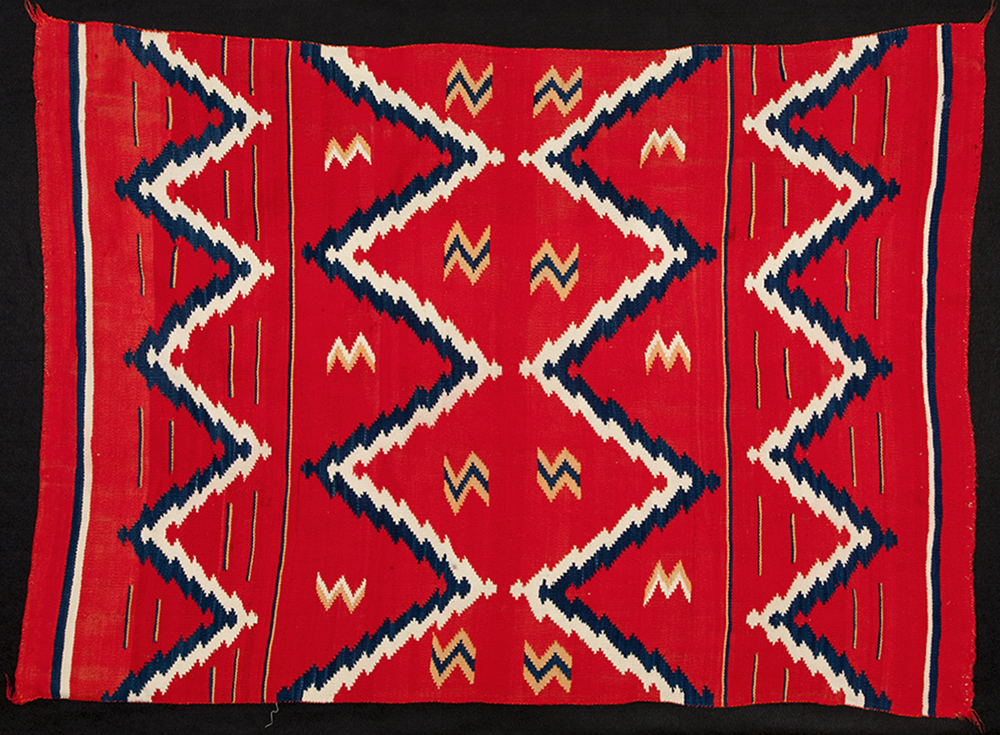 This rug is made from sheep's wool. Some of the wool yarn is dyed but one color is not dyed. Which color do you think it is? Diné use natural materials such as cotton or wool to weave their rugs. Wool is a very hearty material that can last a long time, even with a lot of use. What materials will you use today? Wool, cotton or acrylic yarn are the most common to find today, but if you don't have yarn, you can use string or twine with natural materials you find like grasses and vines or even flowers.
Let's Weave
The steps are:
Make a cardboard loom
Warp your cardboard loom
Weave with your loom
For the whole project you will need:
A piece of cardboard approximately 6" x 10"
A ruler
A pencil
Scissors 
Yarn or twine
Large blunt yarn needle or a cardboard shuttle you can make
If you want you can try to weave with tall grass or vines or flowers.
1. Making your cardboard loom
You can make a weaving loom with just a few supplies from home.
You will need:
A piece of cardboard approximately 6" x 10"
A ruler
A pencil
Scissors
Directions:
Measure along the short side of the cardboard and mark with a pencil every ¼". Do the same on the opposite short side. Then cut a small ¼" slit at each pencil mark. This is your loom!
2. Warping your cardboard loom  
The warp is the set of strings that run vertical or up and down on the loom. To set up your loom with a warp is called "warping."
You will need yarn or twine.

Directions: Begin in the upper left corner of the loom and slide the end of the yarn in the first slit. Leave about a 3" tail so it doesn't slip out. Lay the yarn down the loom to the slit on the opposite side of the loom and slide it in to secure the yarn. Bring the yarn behind the back of the loom and up the next slit on the bottom. Bring the yarn back up to the top of the loom and insert it in the second slit by the beginning end. Then again, take it behind the top of the loom and slide it in the third slit at the top. Keep going until you have warped all the slits at the top and bottom of the loom.
3. Weaving with your cardboard loom  
Now we can weave! Weaving involves moving the yarn or weft alternating over and under each warp string. Each row of weft changes which yarn it goes over – if the weft went under then over then under then over, the next row will have the weft go over then under across the warp. 
You will need:
Yarn or twine
Large blunt yarn needle or a cardboard shuttle you can make
If you want you can try to weave with tall grass or vines or flowers. 
Directions:
Cut about 1-2 yards of yarn and thread on your needle. If you don't have a needle, a piece of wire bent in half would work.
You can also make a cardboard shuttle. Take a piece of cardboard about 6" x 2" and cut a square notch in each of end. This is used to wind the yarn around.
 

 

Take your needle or shuttle and weave it under the first warp string then over the next, then under, then over, all across the warp. Pull it through drawing your first row of weft in your weaving. Leave about a 3" tail to sew in later.
Now take your needle and begin weaving it back the other way. If your first row of weft went under last warp string, you will start weaving over that string. If the last row ended going over the last warp string, you will begin by going under. Continue weaving all the way to the end and draw your yarn through. Don't pull too tight, you don't want your edges to draw in. With your fingers tamp down the yarn so it is snug to the row below. This is the second row of weft and should have "locked" in the first row because it is going over and under the opposite threads on the warp. 
Keep weaving in this way until your work is as long as you want it to be.
To take your weaving off the loom you can cut the warp strings at the top and bottom then tie every two together to secure the warp from unraveling. The warp strings can be cut shorter or kept as longer tassels.  
---