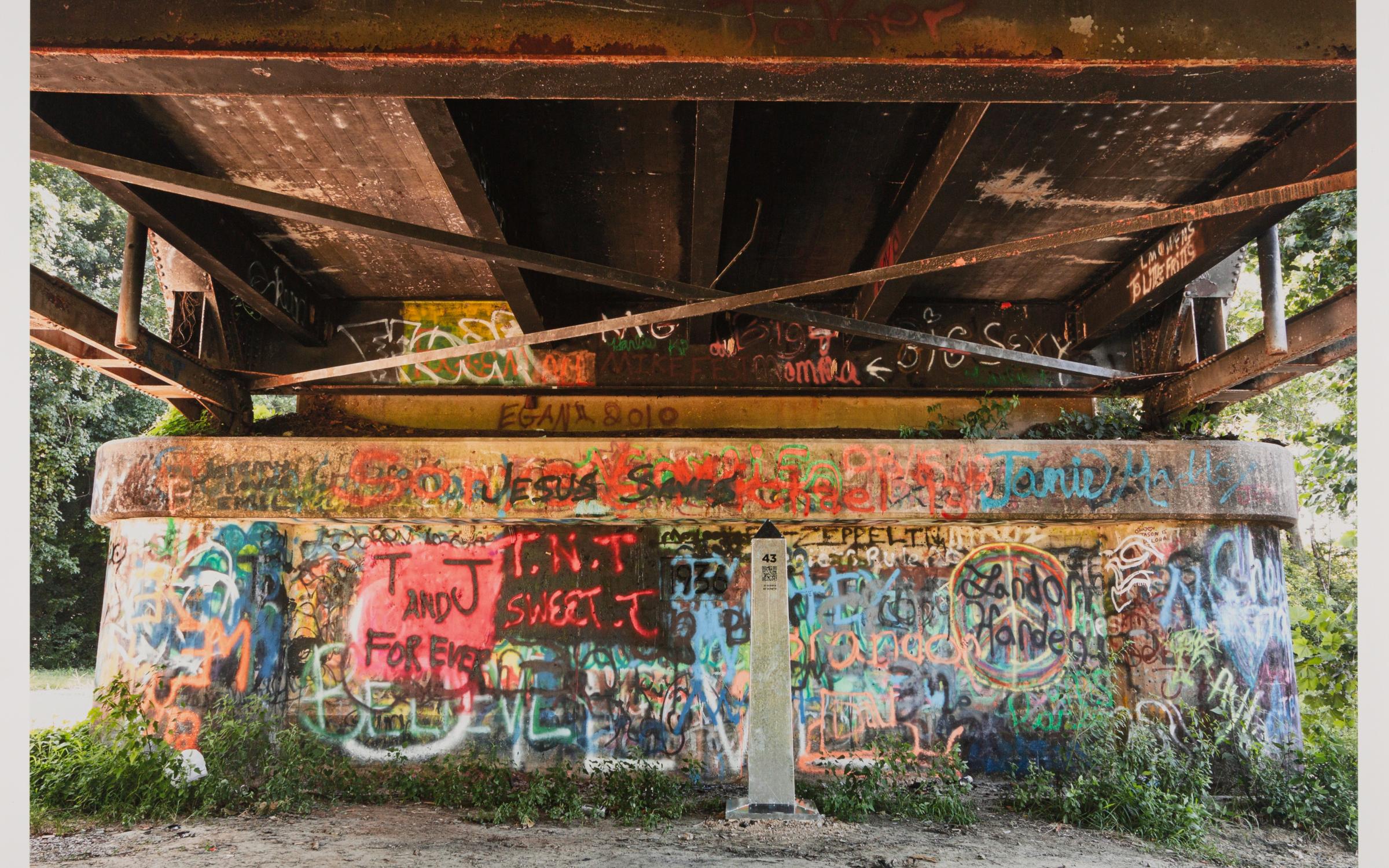 Artist Talk: David Taylor & Marcos Ramírez ERRE
Wednesday, April 5 | 6–7:30 pm | FREE  
Live streaming available 
David Taylor and Marcos Ramírez ERRE'S collaboration DeLIMITations, featured in Many Wests: Artists Shape an American Idea, is a collection of photographs that document a 2,300-mile site-specific intervention along the 1821 boundary between the U.S. and Mexico. Hear about their creative process and collaboration at their April 5 artist talk.  

DeLIMITations documents the artists' epic effort to mark and photograph the never-before-surveyed 1821 border between the United States and Mexico. It presents the beautiful diversity of landscape and settlement in the American West while drawing our attention to the constructed and fluid nature of political borders. "Before this was Mexico or the U.S.," Ramírez points out, "this whole land was Native American."  

In the 1819 Adams-Onís Treaty between the United States and Spain, which was ratified by the newly independent Mexico in 1821, the U.S. renounced "forever all their rights, claims, and pretensions" to the lands south of the treaty line. Yet, today those lands are known as the U.S. states of Arizona, California, Nevada, New Mexico, Utah, Texas, Colorado, Kansas, Wyoming, and Oklahoma. The artists offer the treaty text to visitors to underscore the fallibility of promises and the force of U.S. westward expansion. 
Listen to poet and professor Alborz Ghandehari's beautiful response to DeLIMITations here. 
David Taylor and Marcos Ramírez ERRE, NO. 43 31° 03.856' N 93° 31.212' W, 2016, photography. 17 in x w: 22 in; image h: 15 11/16 in x w: 21 in, Portfolio of 48 archival pigment prints in a custom archival box with cover sheets and Adams-Onis Broadsheet (physical sheet and digital file) by David Taylor and Marcos Ramírez ERRE titled: DeLIMITations, 2016, purchased with funds from The Phyllis Cannon Wattis Endowment Fund UMFA2019.9.1.46
Many Wests: Artists Shape an American Idea is one in a series of American art exhibitions created through a multi-year, multi-institutional partnership formed by the Smithsonian American Art Museum as part of the Art Bridges Initiative. 



Local Sponsors
Presenting Sponsor:
Sue & Al Landon
Curatorial Sponsors: 
The George S. and Dolores Doré Eccles Foundation
The Wieler Family Private Foundation Trust
Installation Sponsor: 
Stephanie & Tim Harpst
Programming Sponsor:
Art Bridges Foundation