UMFA in the Wild: Cloudscapes
UMFA in the Wild is a program that aims to show how art and nature are intertwined. In the past we met people in wild places around Utah to create art with inspiration from nature. During this time of social isolation, we hope that you will still find inspiration in nature to create art on your own or with your family. 
Today we are going to sketch clouds! Artwork of the land is called a landscape, and clouds are part of the landscape but in the sky – a cloudscape.
Before you get started on the art project, please take a few minutes to find inspiration from some Utah cloudscapes in the UMFA collection. Then go outside to see the clouds in the sky above.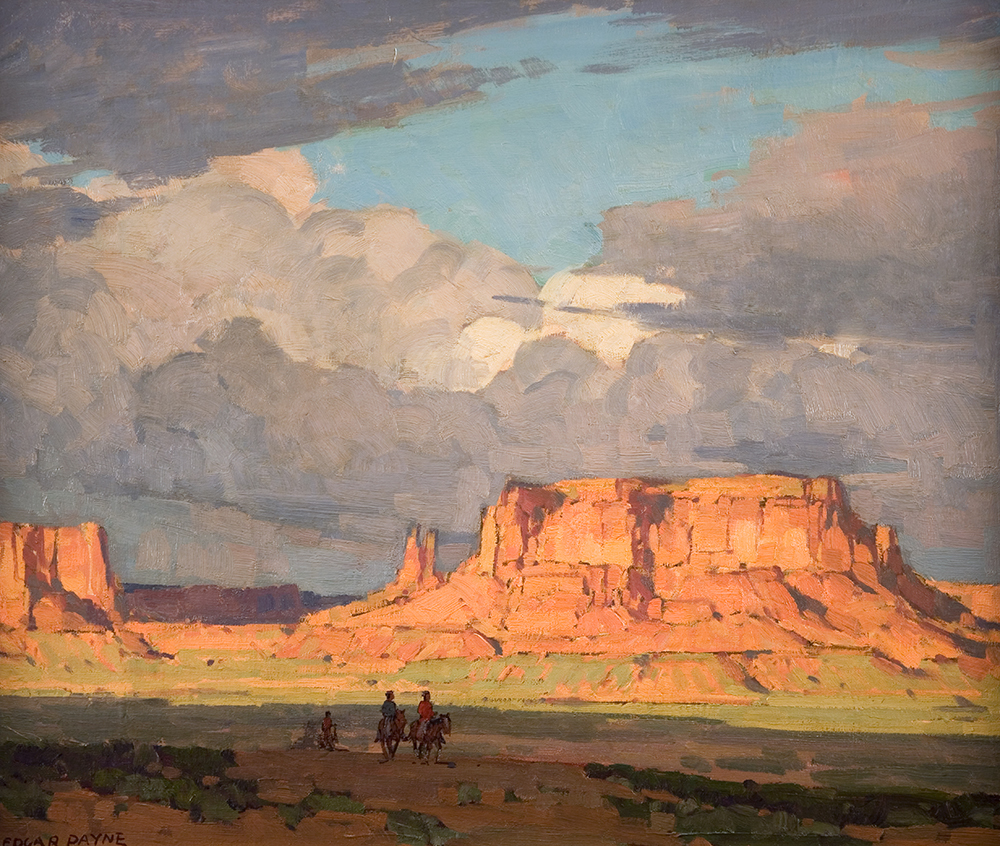 These storm clouds gathering over a southern Utah mesa seem threatening. Notice the sun shining on the higher background clouds. When you paint or draw clouds, think about where the sun is shining on the clouds to create a sense of depth in your art. Do you think the clouds are moving away from the figures in the painting or heading their way?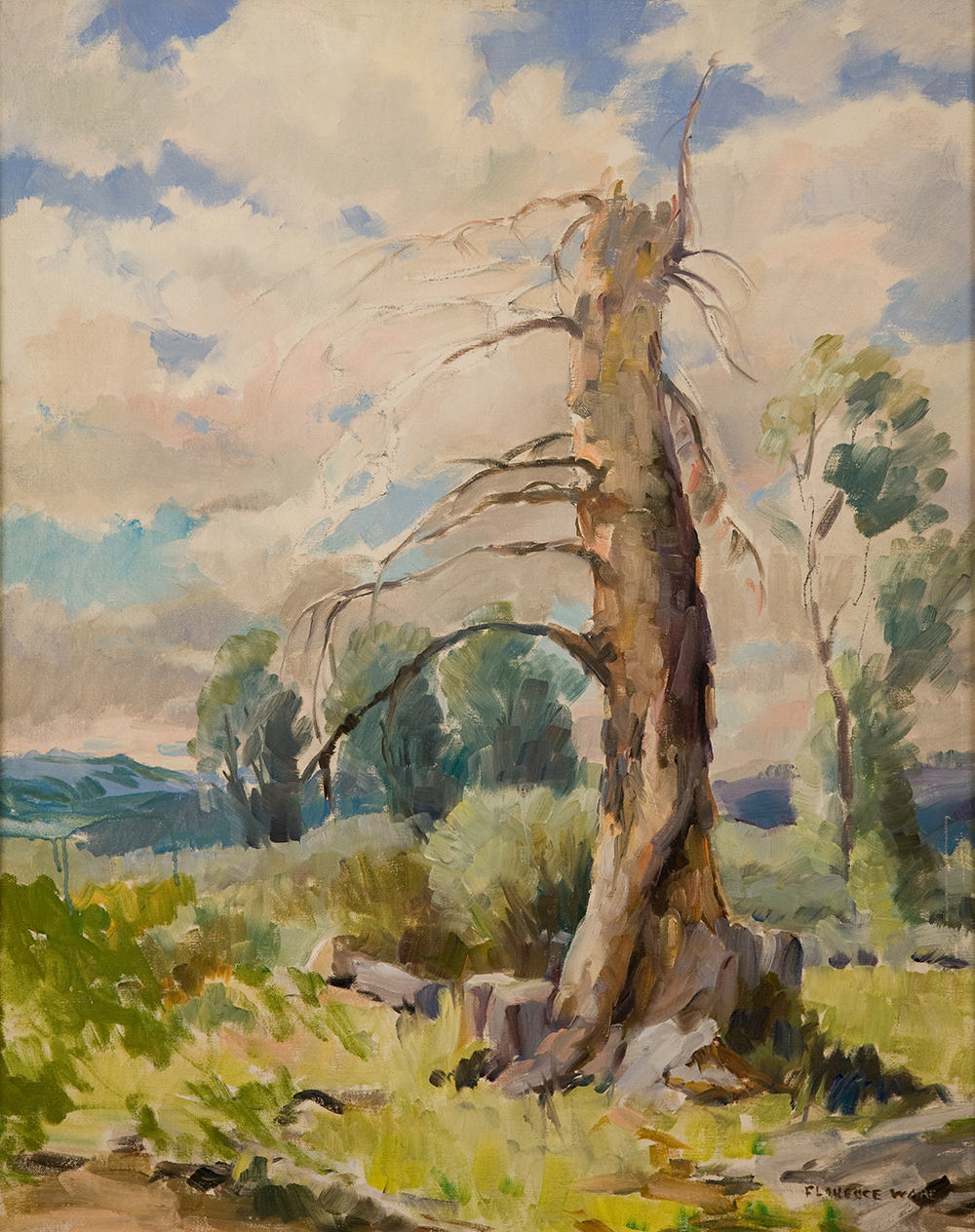 This landscape by Utah artist Florence Ware shows some of the most common clouds, cumulus clouds. Cumulus clouds have flat bases and are puffy like cotton. Can you see the flat bottoms of the clouds Ware has painted? She shows the bases in a darker color to imply a shadow. Like sunlight, shadows in clouds give form and depth when you are drawing them. Based on the clouds and plants, what do you think the season is in this painting?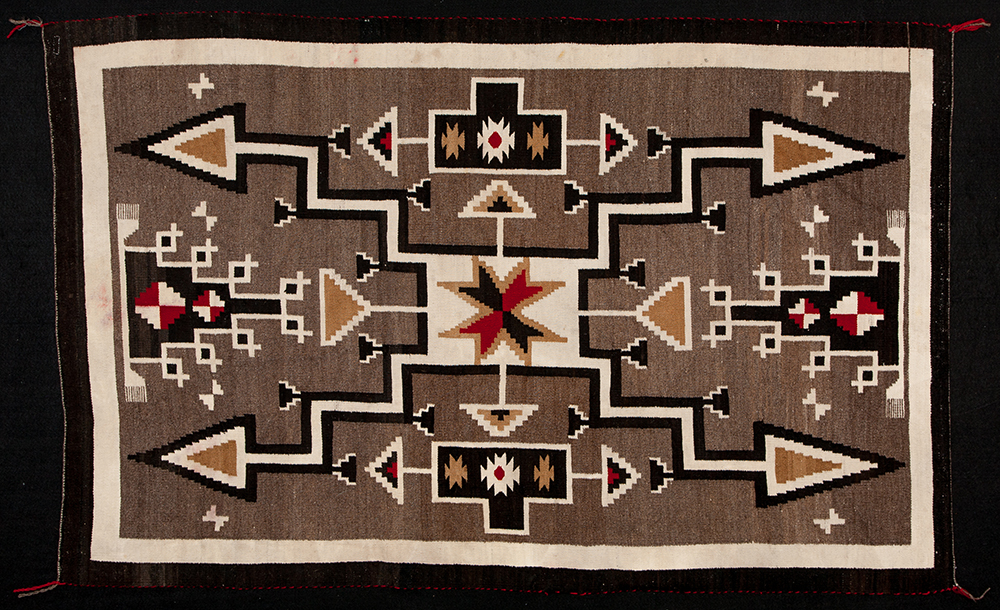 The Diné artist that created this woven rug drew on a long tradition of shapes and patterns to create a picture of a storm. What parts of a storm can you see? Where are the clouds? Is there lightning? What about rain? Your drawing or painting of a cloudscape can have different patterns that show the form of the clouds, too.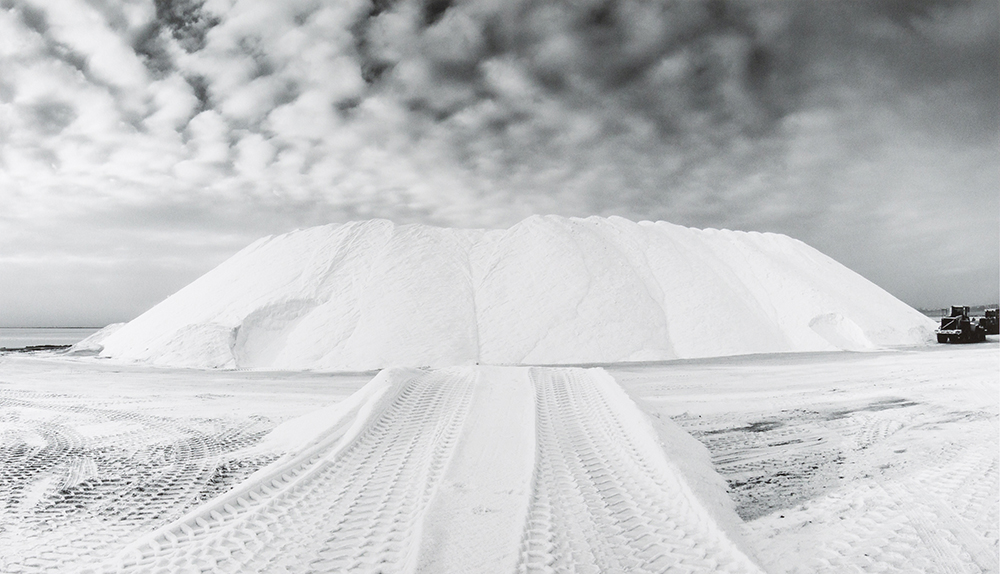 Look at this photograph of salt and clouds at Great Salt Lake. What do you notice about these cloud shapes? These clouds are altocumulus clouds. This type of cloud forms small cloudlets across the sky. The more you study the sky, the more types of clouds you will see. Look closely, and your cloudscapes will not only be works of art, but they will also be a record of the nature around you today. 
Drawing a cloudscape
Let's make a cloudscape! There are many ways to make clouds and many mediums you could use. Find whatever drawing or painting tools you have at home to record your cloudscape.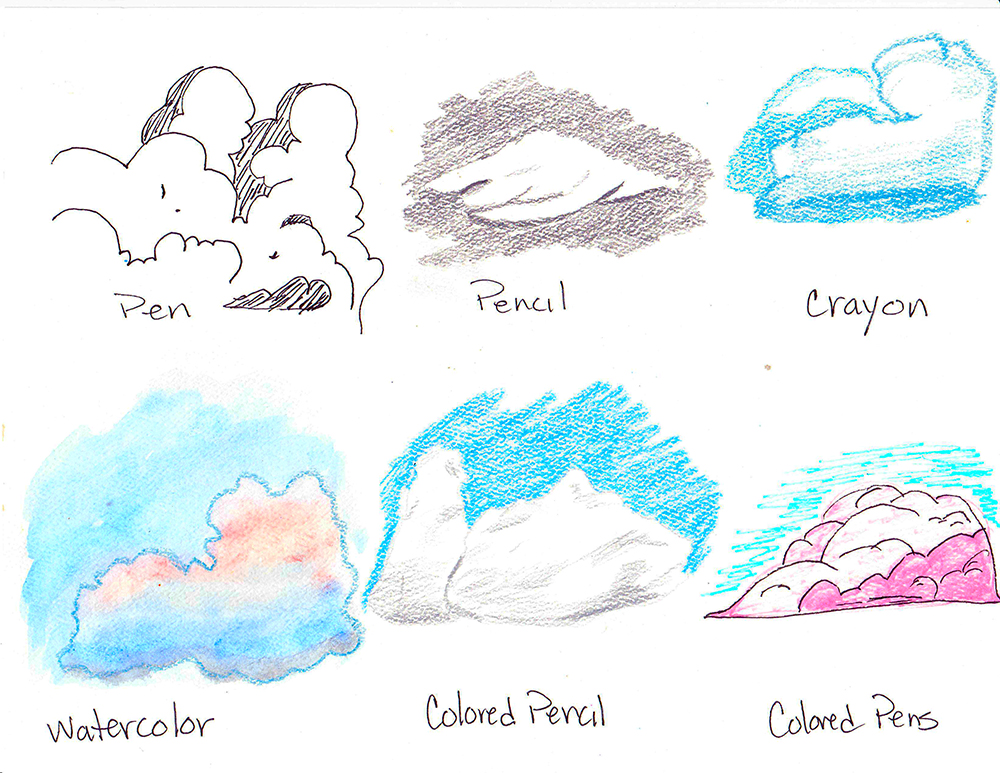 First, go outside and look at the sky. Do you see any clouds? If you don't, you might want to wait until you can.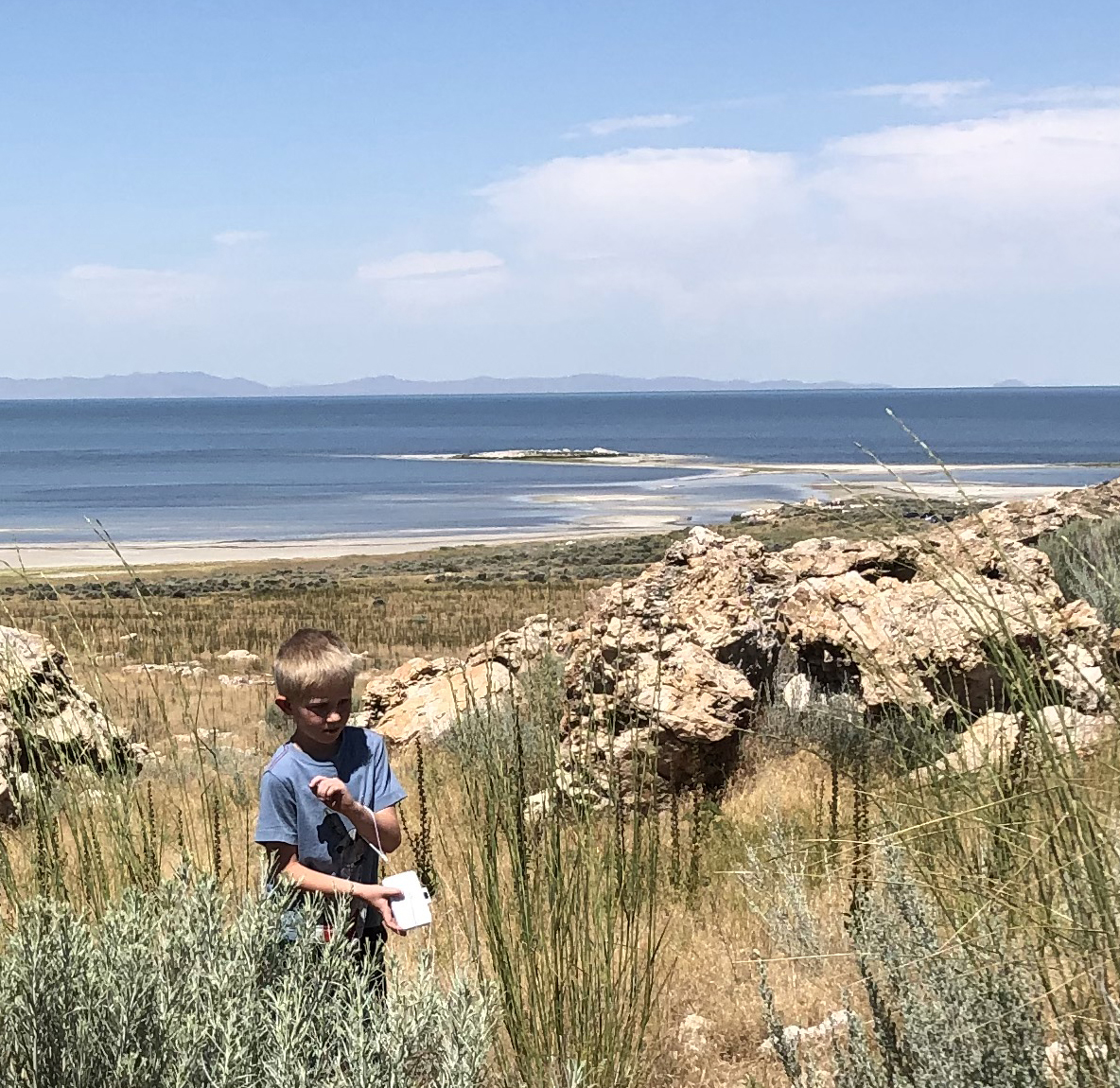 Next, sketch your cloud on a piece of paper. If you want to do a quick sketch and then go inside to paint or draw a final artwork, that is fine. Or your sketch can be your final artwork.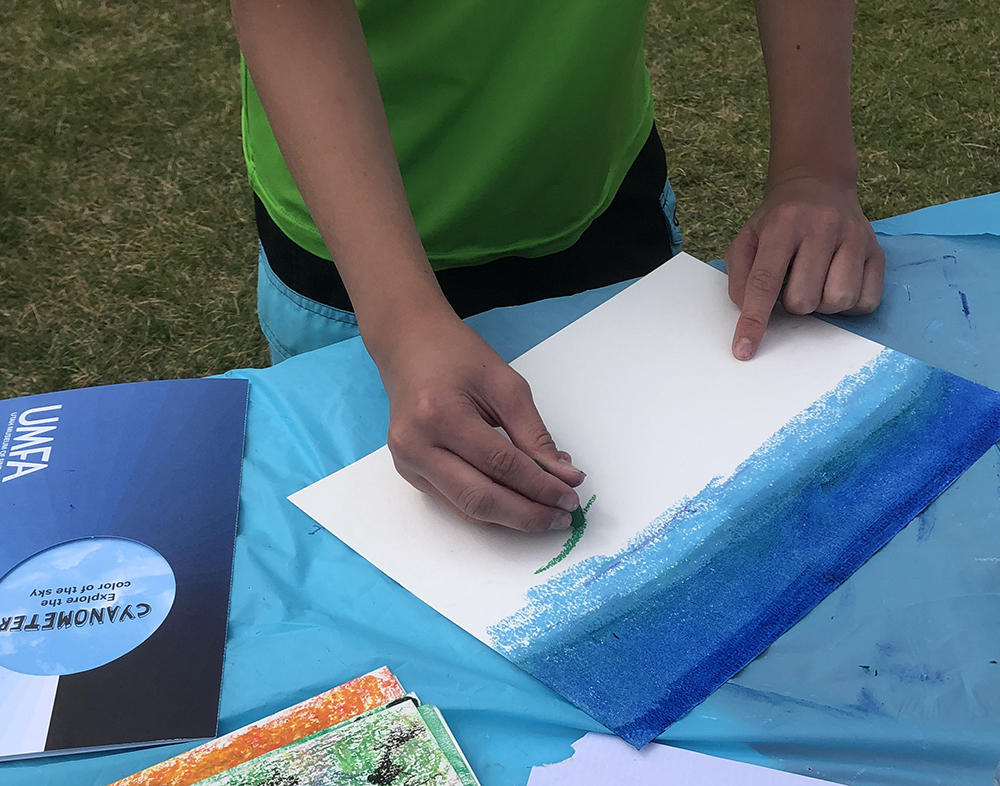 Finally, decide how you want to finish your cloudscape. Is it only clouds? Do you want to put land in it? Where is the horizon line (the line where the sky meets the land)? All of these choices are up to you, the artist!
Show us your clouds! Tag us on Instagram or Facebook:  #umfainthewild.