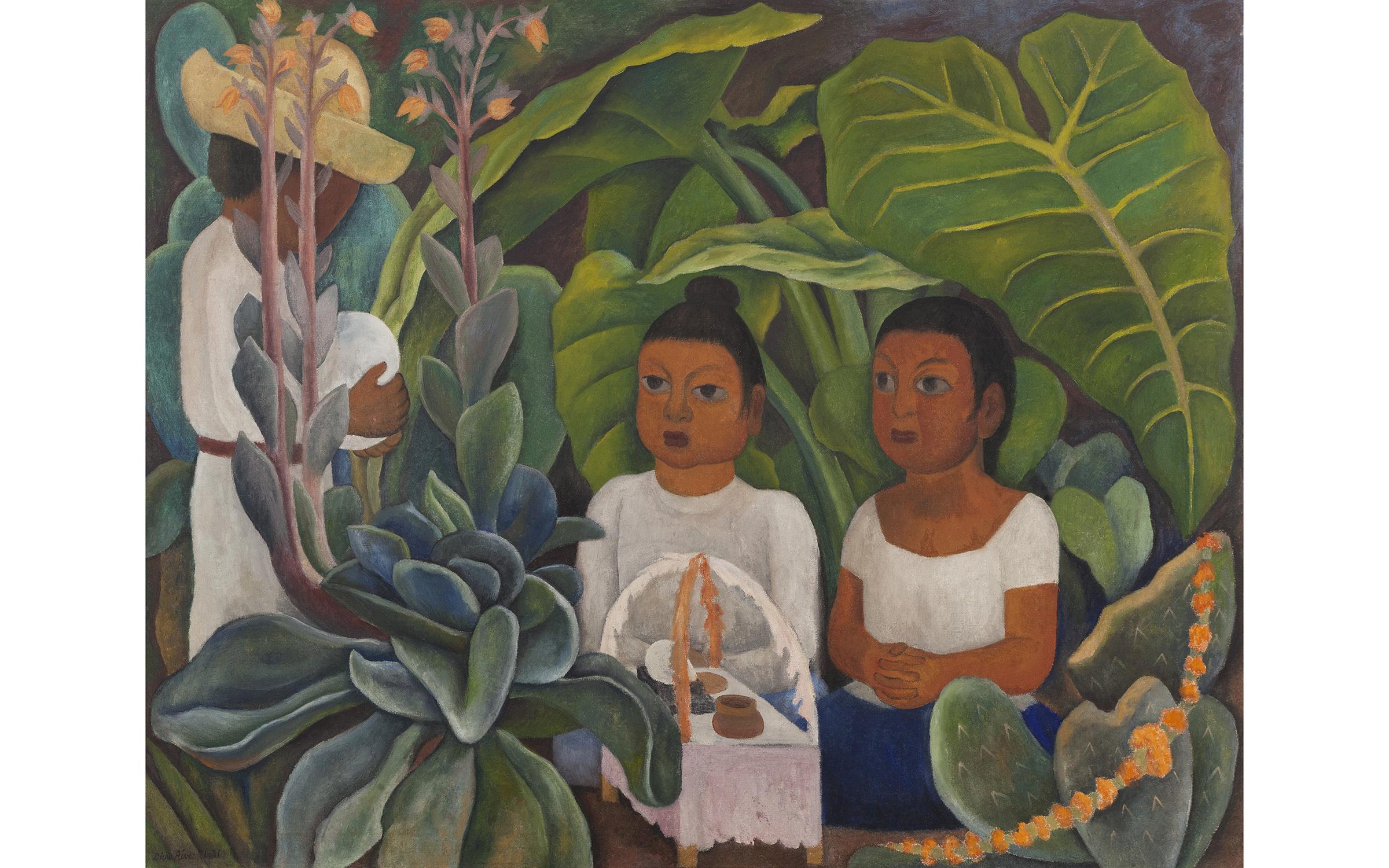 October 25, 2019
to
October 2, 2020
Diego Rivera's La ofrenda
This year the UMFA's award-winning American and regional art galleries will feature La ofrenda, a painting by renowned Mexican artist Diego Rivera. This work is on special loan from an exciting new collection-sharing program, Art Bridges, that shares outstanding works of American art with those who have limited access to our country's most meaningful works.
La ofrenda showcases Rivera's skillful depiction of the indigenous traditions of his home region in Mexico in a modernistic and artistic idiom. The painting depicts an altar dedicated to a deceased person, part of a ritual associated with the Mexican celebration of life and death called Día de los Muertos (Day of the Dead).
Rivera inspired his contemporaries in Mexico and abroad. He was the second artist to receive a one-person show at New York's Museum of Modern Art, in 1931–1932. La ofrenda was displayed in that influential exhibition. The painting's presence this year in the UMFA galleries intensifies the Museum's efforts to present diverse artistic visions and more underrepresented artists.
The Rivera loan has inspired a year-long partnership with Artes de México en Utah, a Salt Lake City-based nonprofit that promotes the appreciation of Mexican art in our state. Through this partnership, both UMFA and Artes de México en Utah seek to broaden audiences, enhance exhibitions, and celebrate the artistic and cultural contributions of Salt Lake's Latin American communities.
Image credit: Diego Rivera (Mexican, 1886-1957), La ofrenda, 1931, oil on canvas, 48 3⁄4 x 60 1⁄2 in., Art Bridges. ©2019 Banco de México Diego Rivera Frida Kahlo Museums Trust, Mexico, D.F. / Artists Rights Society (ARS), New York. PHOTO: 2017 Christie's Images Limited.  
Support for this project provided by Art Bridges.

The UMFA periodically sends out information via e-mail regarding upcoming exhibitions, events, lectures, films, classes, and more.