Hello, my name is Alexandra Barbier and I'm a dance artist and educator living in Salt Lake City, Utah.
I don't love this piece, at least not immediately. What is it, anyway? A hunched dragon, perched and defeated? Someone's penis? I skim the other art works for something. . . else. But I can't stop thinking about it. I return to it. It is interesting. But do I like it? Is that even a relevant or appropriate question? I see the title: Repugnant Rapunzel (Let Down Your Hair). It's a pile of tires and bits of metal—twisted, mangled, braided.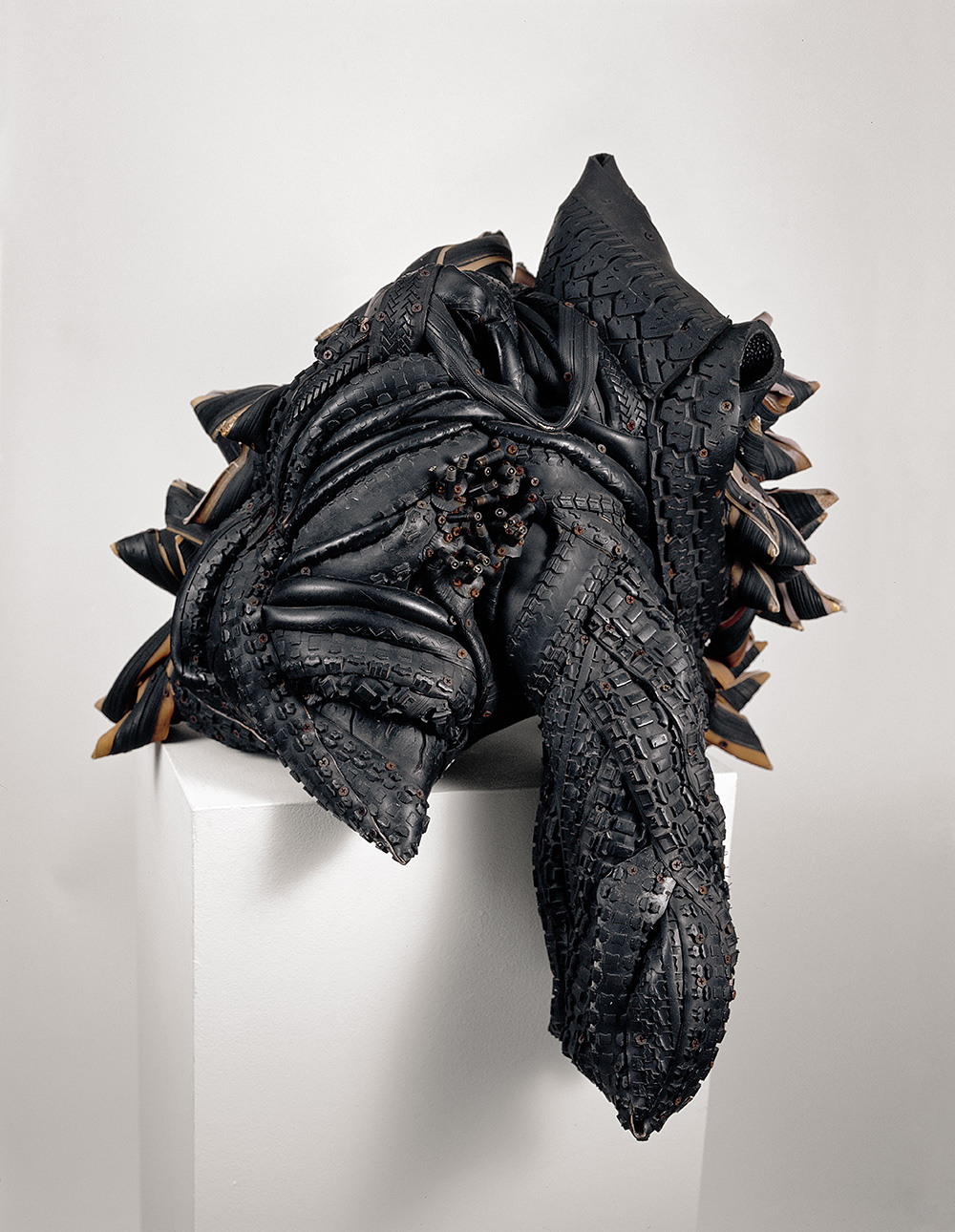 Twisted, mangled, braided. Words that I've used to describe my own 4c, kinky,coily hair countless times.
Twisted like the wet strands that I separate into smaller sections to wind around each other after washing, conditioning, detangling, oiling, and moisturizing before I go to sleep. When I undo these twists in the morning, my curls will be poppin', not matted or mangled the way they would be if I simply washed them then rested my head against my pillow. Braided like my hair five days after this process, when the curls have become flatter and less impressive and I give myself a crown of French braids.
I think of Rapunzel's long, blonde, and luscious hair that looked like the hair of all the White girls I wanted to be in elementary school. Opposite of the go-to looks for Black girls like me—slicked back buns formed around rolled-up socks; pigtail braids that have shrunken because that's what curly hair does, secured by ponytail holders with large plastic balls pressed edges and relaxed tresses that frizz uncontrollably after recess in the humid air of my Louisiana hometown.
I began to cry, remembering the hatred I harbored for my hair until my 20s. Until I moved to New York and saw the afros, puffs, cornrows, fro-hawks, box and crochet braids, locs, and pineapple ponytails donned by confident, beautiful, proud Black women. They inspired me to finally "big chop" my damaged, relaxed hair and go natural. To finally see and learn about the curl pattern that I was born with. To finally love it instead of constantly fighting with it and destroying it.
I don't love this piece, at least not immediately. But I love it now] that I realize it reminds me of my journey towards self-acceptance. I love it now that I realize it represents the labor that Black people exert to maintain healthy curls. I love it now that I see it as a rebellion against the categorization of hair as "good" or "bad." I love it now that I recognize it as a celebration of texture as we fight for legislation to protect natural hairstyles in workplaces and schools. I love it, I love it, I love it. And I hope you do, too.
---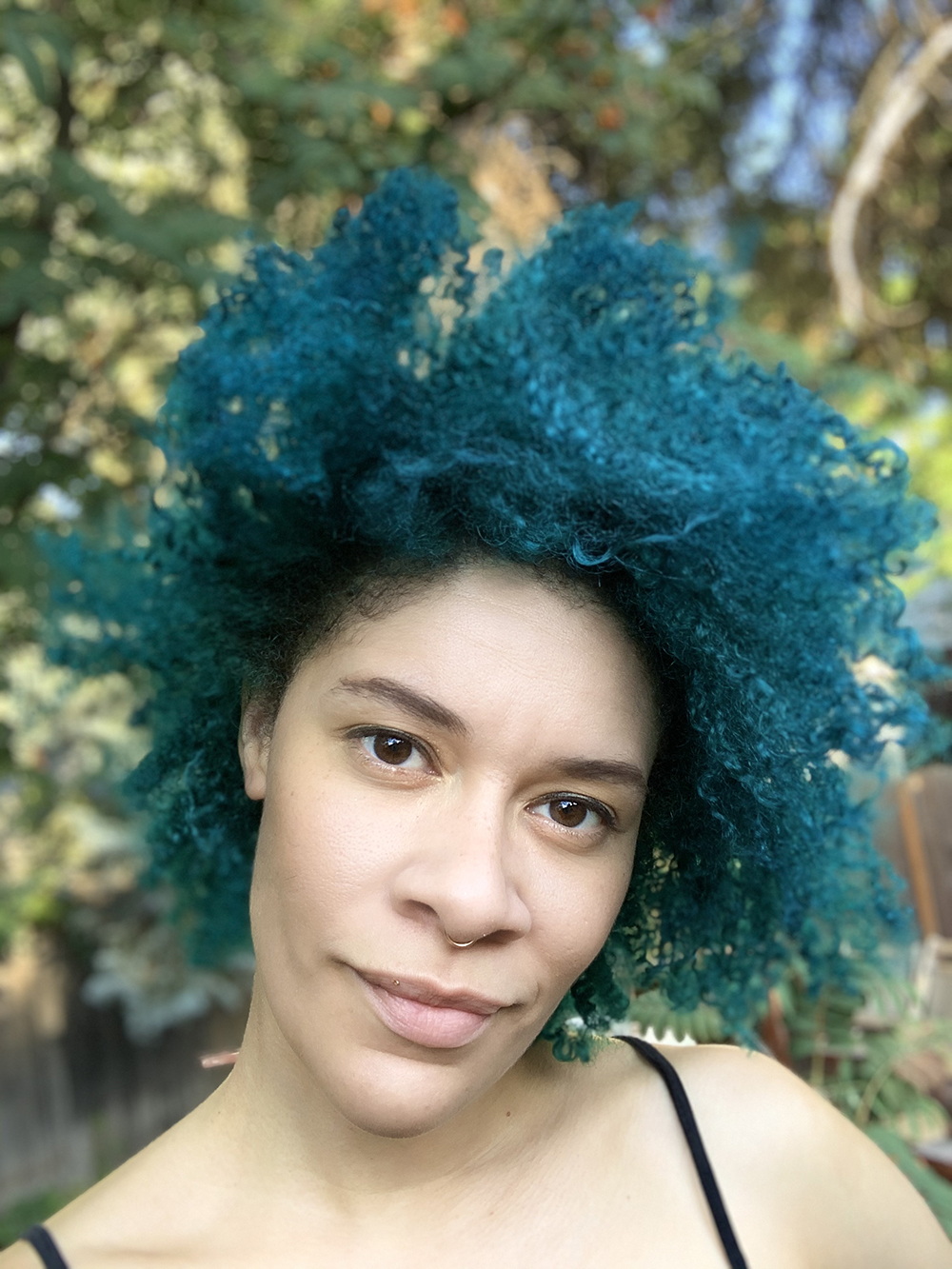 Alexandra is a dance artist full of questions and quirk who lives to evade the mundane. Curiosity, play, risk-taking, and spontaneity drive her daily life and artistic endeavors. She holds a B.A. in French with a minor in Women's and Gender Studies, as well as an M.F.A. in Modern Dance. With this combination of degrees, she's developed a strong interest in linking gender studies, critical race theory and dance studies, as well as a tendency to question and challenge the status quo. Come play at www.abarbier.com! 
]>