FAQs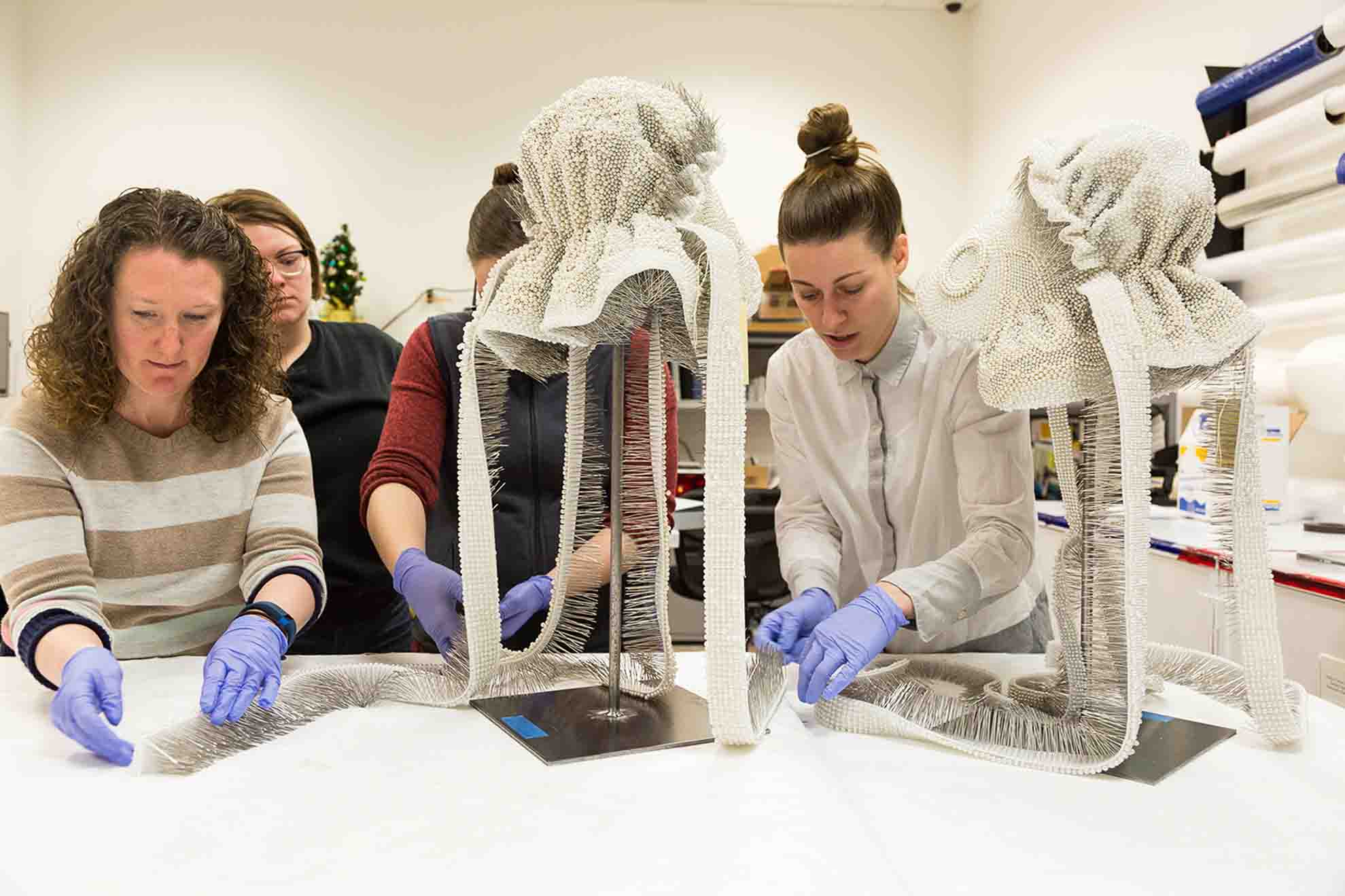 How do I become a Museum member or contribute financially?
Thanks so much for your interest in supporting the UMFA. Visit the membership page for details on how you can become a member or make a donation.
I may be interested in donating a work of art in my possession to the UMFA. Who should I contact?
Contact the director of development to discuss the Museum's current collection needs or other interested parties or organizations. 
I'm a student or researcher interested in viewing artworks in the UMFA's collections storage. Is that possible? Who should I contact?
We welcome scheduled visits for students, teachers, and researchers to view objects in the permanent collection for educational and research purposes. Visits must be scheduled in advance. Visit the collections page to submit your request.
I'm looking for background information about an original artwork or artworks in my possession. Can the UMFA help? Who should I contact?
E-mail the appropriate curator, who will let you know what information she or he can provide. The UMFA does not offer appraisal, attribution, or provenance services. If you wish to obtain an appraisal, contact the American Society of Appraisers for a list of qualified art appraisers in your area.
Can I rent the Museum for weddings or other private events?
Yes. Visit the private event rental page to view the unique venues available to host your event. events@umfa.utah.edu or call 801.581.5643 for more information.
I'm seeking a donation from the UMFA for a charitable event or cause. Who should I contact?
The Utah Museum of Fine Arts is pleased to support charitable causes within our community by providing general admission pass donations for fundraising events. Though we are unable to fulfill every request, we encourage you to submit an application. 
For more details on how to submit your request, please visit umfa.utah.edu/donationrequests.
The Museum was closed for awhile—why?
The UMFA was closed temporarily for nineteen months, from mid-January 2016 until late August 2017, while state-of-the-art vapor barrier technology was installed in the Marcia and John Price Museum Building. During this time Museum staff reimagined the Museum's interior spaces and visitor experience and completed the most comprehensive reinstallation of the permanent collection galleries since the Price Building opened in 2001.
Why did the building need an upgrade?
The building's original insulating and vapor barrier systems allowed air loss that made it difficult and expensive to maintain the requisite humidity level. While the art was absolutely safe, over time the building, an award-winning and architecturally significant structure in its own right, could have been compromised.
The new vapor barrier extends the lifespan of the building, which protects the nearly 20,000 art objects the Museum stewards for the University and the people of Utah.
What did Museum staff work on during closure?
Curators researched the collections, finalized new storylines and layouts for the galleries, and collaborated with educators to rewrite every wall text and object label in ways that deepen your engagement with the artworks on view.
Collections staff coordinated protection of the objects, most of which were stored onsite, with the construction project while also conserving objects throughout the collection, building frames and mounts, and preparing and reinstalling the nearly 400 artworks that are on view.
Educators re-envisioned Museum spaces and visitor experiences while continuing to provide extensive resources and programming to K–12 teachers and schools statewide and hosting family art-making and community engagement programs in and around Salt Lake City.
Why doesn't the building look different?
While improvements to the vapor barrier are not visible, most galleries look and feel very different, with artworks presenting new storylines against a fresh palette. You'll discover objects you haven't seen in a while—or ever—and encounter familiar and favorite works in more meaningful ways. Click here to see what's new in every permanent collection gallery.
Did the Museum's hours and admission change?
Click here for up-to-date information about hours, admission, and everything you need to know to plan your visit to the UMFA.