Hi, my name is Matthew Sketch and I'm an artist from Houston, Texas.
As I gaze at Kehinde Wiley's Conspicuous Fraud Series #1 (Eminence), I look at the face of a stranger but I find this stranger familiar. I believe we are a culmination of all that has come before us and what I believe I see depicted in this painting is an image of a man on the tip of a powerful wave. This wave rises up from within with the knowledge and understanding of one's forefathers. So as we move through life and if we are able to make progress, we are very much moving into unknown territory. We are very much what our ancestors dreamed to be. At least, I believe we should try to be.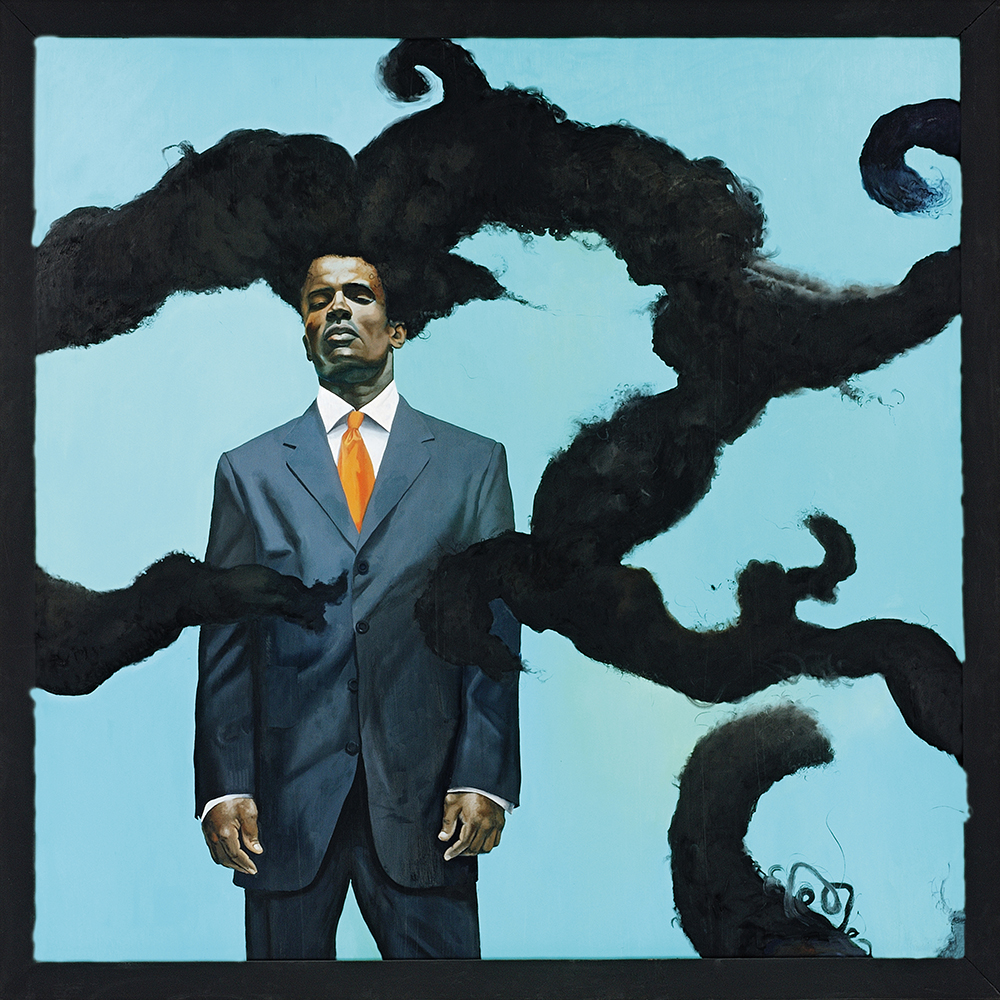 Notice that the dark matter seems to emanate from both his head and also wanders very near his heart. Is this a thought? Is this the essence of the man? Is this smoke from an internal fire, burning the man slowly from inside out? So, the meaning of this dark matter may be left for interpretation, but what I see for certain is that this dark matter takes up as much of the canvas as the person does. In this ratio, the dark matter presents an almost overwhelming presence, but the face of the man seems still with resolve. He is not scared. The man in this painting has a sense of resolve about him; he does not seem uncertain at all in his business suit (I think it is worth taking a moment to note that this is a well-cut suit for the early 2000's, though we may not see it as such today).
I, too, have felt like a conspicuous fraud at many times in my life. I have worried if I was capable of doing jobs that I was totally qualified for. It's called 'imposter's syndrome" and we almost all suffer from it at some point in life. Whenever this feeling has arisen inside me, I reflect back to the successes that got me to the place where I am now and often I consider the unsure nature of some of those actions. I calm myself by acknowledging that I am very much who my ancestors wanted to be and I am empowered by the understanding that, with every move, I both embody and create cultural legacy.
To put it very plainly, I believe this is Kehinde's depiction of a very human experience. An act of uncertainty and boldness in the same existence. The embodiment of his own cultural legacy.
---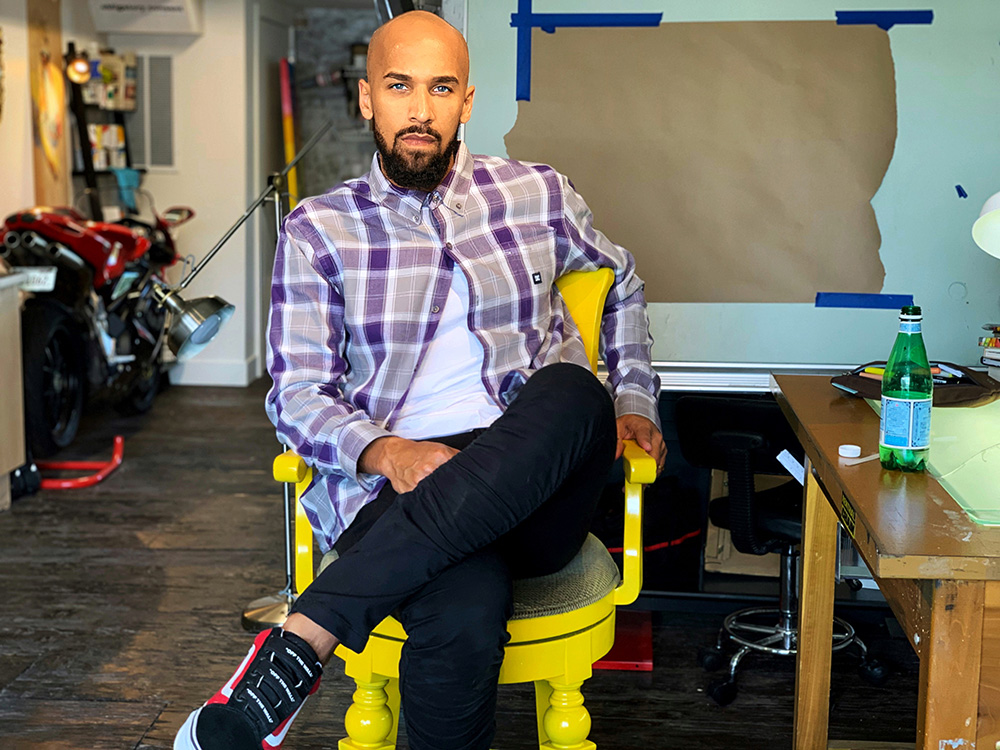 Matthew Sketch grew up in Houston, Texas where he worked as an industrial designer. Since 2012, he has practiced full-time as an artist and is currently based with his wife in Salt Lake City, Utah. His motifs vary widely from animals and celebrities to interiors and abstractions. Sketch's practice finds its coherence not in content, but in approach. His works grow out of his personal relationships and his sensitivity to the objects and spaces—memories attach themselves to a particular kind of intimacy that he achieves in his solitary encounters with nature. His gestures sprawl across the canvas in strong colors and thick strokes as if arranged by magnetic force. These dynamic surfaces draw the viewer in—an invitation to see the world from inside Sketch's eye: wild, complex, and full of emotion.