Hi, my name is Ruth Gooden and I'm a docent at the Utah Museum of Fine Arts from Park City, Utah.  
Portrait of a Young Musician is a painting of a male seated cross-legged on a non-descript, frail-looking folding chair. The chair seems almost too weak to support the large muscular person. His facial expression and body language seem self-assured—confident, almost cocky, as the subject wears a snazzy apple-green suit. Delaney painted the hands folded politely on the lap. The clasped hands seem almost as in prayer. The brilliant color of the clothing and background might cause the viewer not to immediately notice the round, wide-staring eyes and a slight grin on the lips.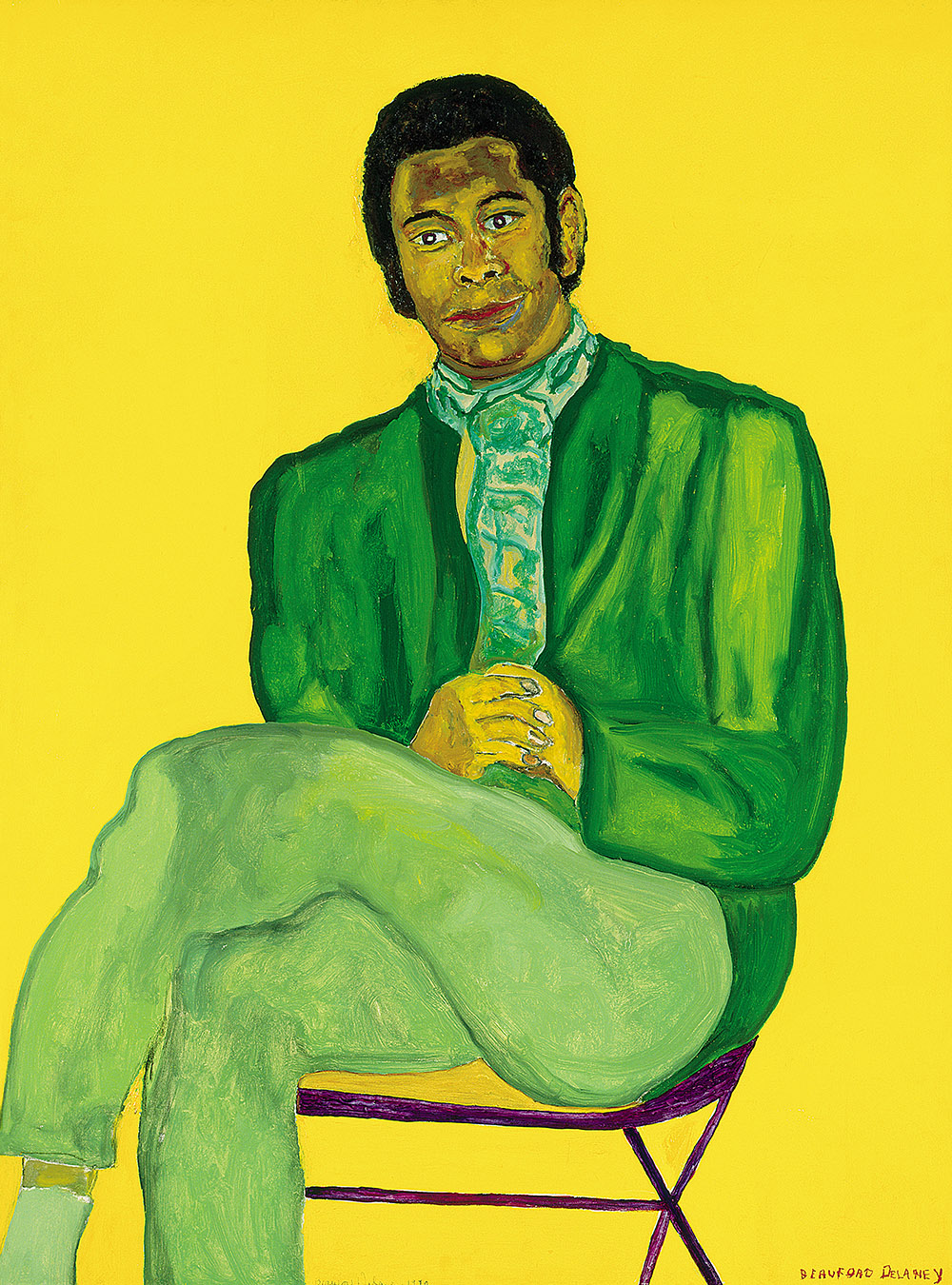 Interestingly, the artist did not include the feet in this full-body portrait. I think that indicates that Delaney intended for the viewer to be drawn to other parts of this painting. Perhaps the broad shoulders and muscular legs of the strong-looking figure is where Delaney wishes our attention. Actually, the left thigh might not be muscular at all. The suit jacket could be covering a boney upper body. The folded hands seem a bit delicate compared to the rest of body. It seems like there are contrasts here, strength and softness. 
The extremely vibrant yellow background brings out the greens in the suit. Does the artist use this color to lead the viewer to believe this portrait is about happiness? From my research and reading about Delaney, I believe this could be a self-portrait. During his career he became known for his bright, rich, and lively colors, which are almost joyous, even though Delaney suffered in his life. The colors in this piece versus the expression on his face don't seem to match: to me, they tell two different stories. His face isn't the broad smile you'd have on a sunny day—the color of that vivid yellow. His smile doesn't have that same brilliance.   
What musical instrument does this character play? There is nothing in the painting to tell the viewer. Beauford Delaney was known to play both the guitar and ukulele—and sing madly. Delaney found inspiration for his art in jazz music, especially after moving to Paris. He felt his work was similar to jazz because, like jazz musicians, he improvised. His art developed a non-traditional style.   
I love the mystery of this painting. At first glance, it seems to be a light-hearted drawing of a relaxed figure perhaps dressed for a party or simply to make a fashion statement. A deeper look into the painting and I became curious. The facial expression of the portrait does not match the brilliant colors while the figure seems stiff sitting on the edge of the chair. I want to reach out and touch the young man's shoulder to comfort him. 
My UMFA tour groups will find many different stories in this painting.  
---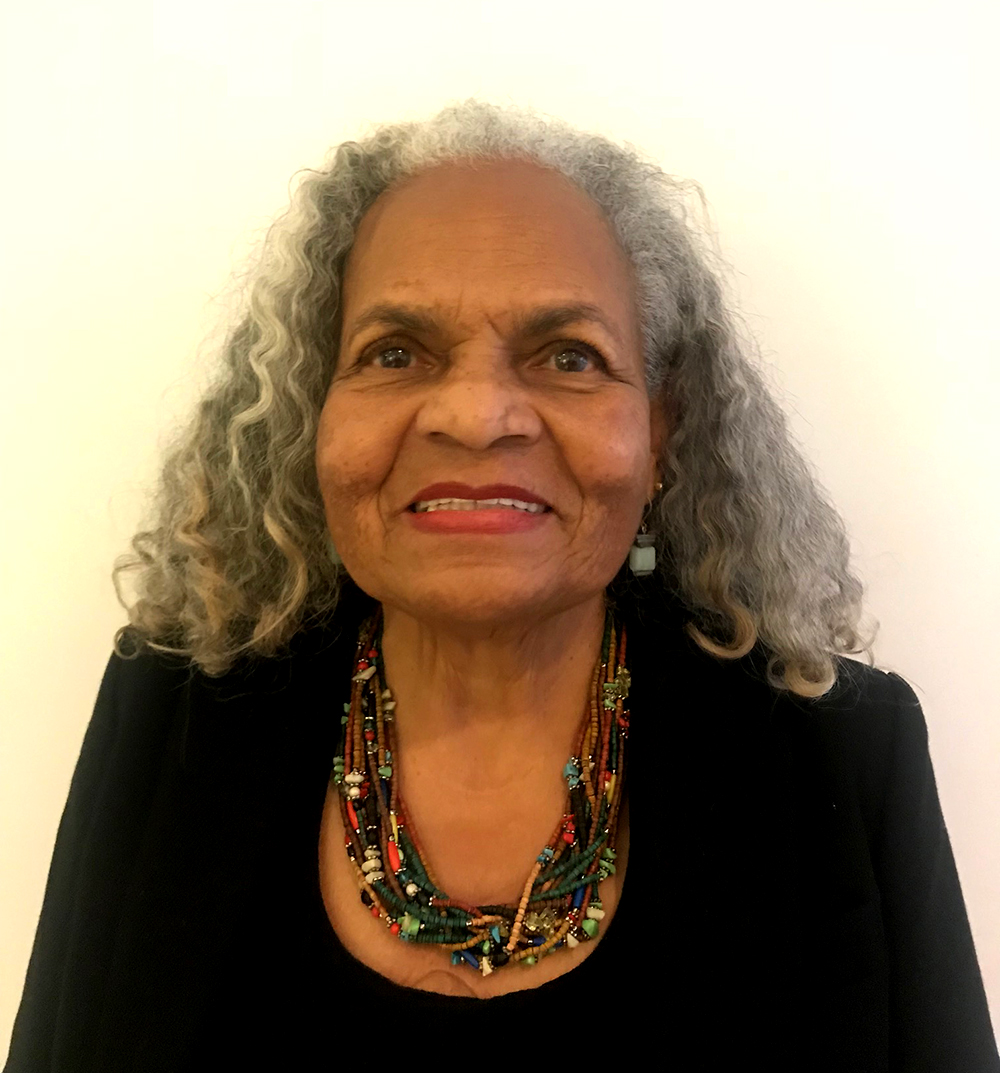 Ruth Gooden was born and raised in Philadelphia, Pennsylvania. She attended the Philadelphia public school system and received a Bachelors and Master's degree from Cheyney Teacher's College, which was a family tradition since the 1930's. Cheyney is a Historically Black College. Ruth enjoyed more than twenty years as a classroom teacher, serving in leadership roles in experimental reading and mathematics programs and later as a high school's college advisor. Following her husband's death, while on vacation in the beautiful mountain town of Park City, she decided to stay. Ruth exchanged her indoor teaching skills to become an outdoor ski professional: she taught skiing at Park City Mountain Resorts and Deer Valley for twenty years. Her life adventures include hiking the Appalachian Trail from Georgia to Maine and walking The Road to Santiago in Northern Spain. Now retired, Ruth continues to live in the Park City Area, where she skis socially and volunteers for the Utah Museum of Fine Arts.