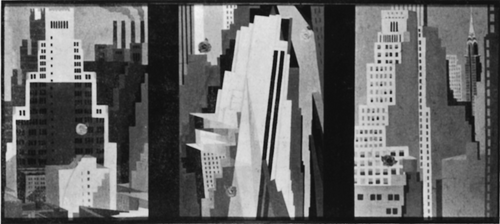 In an art history survey class during my sophomore year of college, one of my brilliant professors, Susan Richmond, assigned a reading that would unexpectedly come back into my life many (and we'll not disclose just how many) years later at the Utah Museum of Fine Arts. The essay by Anna Chave, entitled "Who Will Paint New York?," thoughtfully analyzes Georgia O'Keeffe's paintings of the metropolis, a body of work that even today remains overshadowed by the artist's more familiar flowers and Southwest scenes.
The essay's concluding image is a curious city scene, made all the more strange by the series of richly hued reproductions of O'Keeffe's renditions of high-rise buildings that precede it. The scene is rendered crudely in a black and white photograph, and the caption informs readers that the whereabouts of the 1932 painting—O'Keeffe's Manhattan—were unknown at the time of publication.
O'Keeffe painted the work at the invitation of the Museum of Modern Art during New York's second wave of frenzied skyscraper construction. Her portrait of Manhattan was to appear alongside the works of forty-eight other artists who were given a brief, six-week window to produce mural prototypes for an exhibition, Murals by American Painters and Photographers. Scheduled to open immediately after the contents of the museum's now-legendary Modern Architecture: International Exhibition were packed up to travel to their next venue, the invited artists were assured that their work "would be hung to . . . the best possible advantage before as many architects and as great a public as can be brought together."
All those high-rises under various states of construction were not about to decorate themselves, after all. MoMA's youthful advisory committee were the catalysts of the mural exhibition. In their invitation to artists, the committee stated, "mural painting in America has suffered from a lack of opportunity to assert itself." The exhibition would help alleviate some of that suffering by ensuring exposure to New York's architects actively "in search of competent decorators" such as the American invitees. But the committee's insistence on mounting a mural-centered show may have been prompted less as a logical follow-up to Modern Architecture than a nationalist impulse to highlight homegrown artists after Mexican muralist Diego Rivera's wildly successful solo exhibition that ran from December 1931 through the end of January 1932.
Whether or not the exhibition's invitees raised their eyebrows at the museum's plan for a second mural exhibition in less than four months, O'Keeffe and the others were to follow a specific formula: a 20-inch tall, 40-inch wide, scaled-down version of their mural designs would be displayed face up on a shelf, over which a large, painted detail of the same work would hang. Indeed, it was the small-scale version of O'Keeffe's mural, designed as a triptych, which was reproduced many years later in "Who Will Paint New York?" that would shape my understanding of Manhattan. But what of the large-scale painting?
It turns out that O'Keeffe privately kept the expanded, seven-foot high central panel now beautifying the Utah Museum of Fine Arts galleries in her personal collection, unbeknownst to outsiders, through the rest of her life. Eventually it made its way into the Smithsonian American Art Museum and in October to the UMFA. For the first time, without ever imagining that this moment would come, I am able to see Manhattan.
And what a sight it is. Truly unique—both within O'Keeffe's own oeuvre, and among the countless views of New York City that artists produced between the two World Wars—the metropolis is vibrant, enlivened with architecture that shimmies as facades wildly sway to an inaudible but undeniable music that only the bustle of a great city can produce. Graced by a shower of northern New Mexico paper flowers, the painting challenges the scale of skyscrapers themselves, dancing all the way. Reproductions of the work fail on every level, as the painting needs to be read not only with the eyes, but understood by one's body, allowing time for the shadows and light of the towers to register and render their song. I can assure you that meeting Manhattan in person has been entirely worth the wait.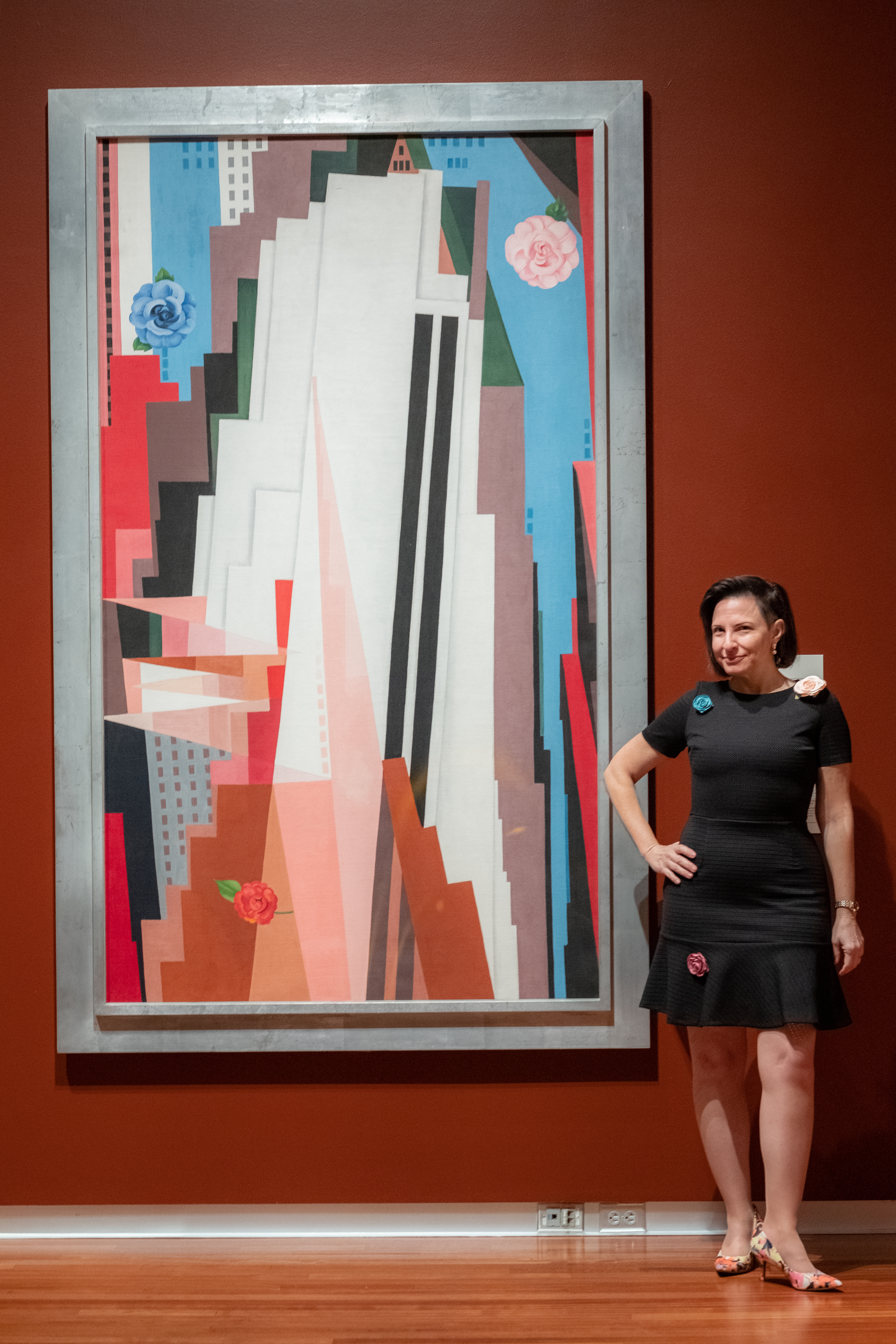 ---
Alana Wolf is an art historian pursuing questions about technology, perception, and place. She arrived in Salt Lake City in 2018 as the UMFA's collections research curator where she works on "Landscape, Land Art and the American West" and is particularly fond of tuxedo cats. 
December 19, 2019.