In 2020, many artists created murals across Salt Lake City in response to the global pandemic and racial injustice. These public works reflect our city's pain and frustration but also our hopes and demands for a better future. In an attempt to extend these conversations, the UMFA partnered with several muralists for the 2020: From here on out exhibition in the Museum's G. W. Anderson Family Great Hall. 
The following is a reflection from artist and exhibition muralist Vaimoana Niumeitolu who painted Blackness Brings Forth Life.

My name is Vaimoana Litia Makakaufaki Niumeitolu. Today is December 16, 2021, and I am in London. I am sitting in the cafe of the Tate Britain museum writing this. Yesterday, the great, amazing writer, thinker, cultural critic, and scholar bell hooks passed away. She said, "The function of art is to do more than tell it like it is—it's to imagine what is possible." The mural I painted in the Utah Museum of Fine Arts is possibility, infinite from infinite possibility. It is possibility unapologetically coming from Blackness and returns to Blackness. It is possibility that recognizes and acknowledges that Black, Brown, Indigenous people, and people of color in Utah just like the land not only exist, are present, and matter but are alive, real, and direct. Possibility is constantly being created in Utah.  
 
At age four my family immigrates to Utah from Tonga (after a four-year-stop in La'ie, Hawai'i). I grow up in Provo, Utah, in a trailer park on University Avenue. Age eight, my family moves to the first home my parents buy in America in the suburbs of Orem, Utah. Age eighteen, I go to NYC for the first time with $1.76 in my pocket to become the artist I have always dreamed of being. I am running away from a white supremacist, patriarchal, conservative, Republican Utah that was suffocating me and my creativity.  

I land at LaGuardia Airport in Queens, NY, more than twenty years ago, and live there ever since. I have return to Utah again and again to be with my biological family, to perform my poetry and music, to do artwork and—which I did not know clearly then—to continue creating a life in Utah where my and so many others' existence is present and matters. In 1999, my paternal grandfather, Dr. Siaosi Niumeitolu visits America and therefore Utah for the first time. He has prostate cancer and I am overjoyed he is in Utah with me. In 2000, my grandfather Siaosi passes away, and age 21, I am a senior at New York University. I co-found an all-Black and Brown women/trans music and poetry group called Mahina Movement. In our twenty years' existence, we perform over 700 shows, sharing stages with Angela Davis, Harry Belafonte, Noam Chomsky, Amiri Baraka, Joan Baez, Alice Walker, and countless others.

In 2003, Oceanian, Black, and Latinx students bring Mahina Movement to perform at the University of Utah. My mother and father are in the audience shouting, "Mali'e, Mali'eeeeee." Mahina Movement sings and recites songs and poetry in English, Tongan, Spanish, and Arabic. The auditorium is filled and packed with Oceanian community and love. I am filled with immense joy this is happening in Utah. In 2013, I create, lead, and paint a community mural in Provo, Utah. This is only a couple of months after my father passes away from leukemia. Tongan and Latinx youth, families, several generations painting on the walls of Sweet's Hawaiian Grill together. 

I wrote these words in 2013 and they still ring true today: Before Disney gives you their story and sells it to us like they discovered something, l want you to know that Moana is thousands and thousands of years old. Moana is our story. Moana is who we are and where we come from. What is Moana? I share with you Tina Cabiles Carden's words: "Moana is a people. It is an understanding. It is a worldview that sees us as connected not separate. It is an understanding that upholds the knowledge that reciprocity is necessary and our most important kuleana. Moana is the birth water from which we emerge. Complete with every nutrient we need to flourish. Moana is an educator. Moana is duality. Our blackened sacred depths and our bright playful selves. Moana teaches us the depth and sacredness of ourselves and that sometimes, sometimes we have to gather our innate strength and make a mighty run to shore and make ourselves heard."

In 2016, a group of friends and I create Decolonize This Place. We produce the first "Anti-Columbus Day" tour at the American Museum of Natural History. Today the American Museum of Natural History is removing the Theodore Roosevelt statue and Warren Kanders has been removed from the Board of the Whitney Museum of American Art due to Decolonize This Place's direct actions and collective movement.  
I share all this history because I am creating a context in which I want my mural to be seen.  
In 2020, I return to Utah right after the governor of NY announces the shutdown of NYC schools. I live with my biological mother in Sandy, Utah. My mother, Dr. Litia Makakaufaki Niumeitolu, speaks at the Pacific Islander for Blacks Lives Matter rally at the courthouse in Salt Lake City, Utah. I write out her speech and film her; this video goes viral. In 2021, I apply to and get accepted as one of the artists to paint a mural at the Utah Museum of Fine Arts. I am aware that in 2019, the Salt Lake Tribune publishes an article titled, "Meet Utah's 15 most influential artists" ––not one of them is an Oceanian person. Oceanian people have been living in Utah for over centuries but we are still not mentioned as influential or artistic, only athletic and obedient.

I return to the article, "Goodbye Gauguin," written by David Madison in 1998 about my first gallery exhibition curated by my sister, Dr. Fuifuilupe Niumeitolu: "There's nothing silent about the remarkable portraits by Vaimoana Niumeitolu. A Tongan-American artist raised in Orem, the 18-year-old student at New York University pushes her islander art toward a vivid, urban edge. In her artist's statement, Niumeitolu lets loose. She introduces herself like a typhoon might crash into a Tongan shore. It's a waylay of a hello. As a Tongan-American woman artist, I am required to prove it, to always prove it, she writes. You don't get it because you don't see the love, the love in me, the love in my work. You'll never get it if you don't see the love." 

I am no longer running away from Utah. I am present and in love with the land, people, and culture. I am here to create all the possibilities we have always wanted. I am here to do the work. Most importantly, I see the love here in Utah and I love myself.  

Life has just begun.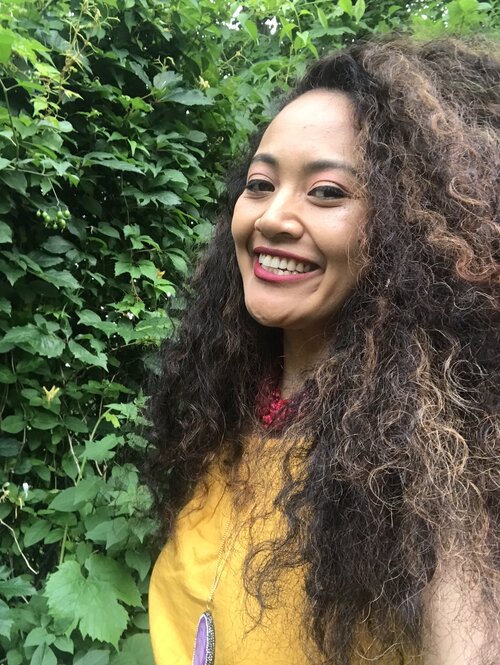 Vaimoana Niumeitolu was born in Nuku'alofa, Tonga and raised in Hawai'i and Utah. She earned her undergraduate degree from New York University in painting and performance, the Ellen Battell Stoeckel Fellowship in painting and drawing from Yale University, and attended Columbia University's graduate program in acting. Niumeitolu co-founded Mahina Movement, a music and poetry group, and is a founding member of Decolonize This Place. She has created community murals in Australia, Kenya, Jordan, New Zealand, Palestine, South Africa, California, New York and Utah.