Careers in Art
Hello and welcome to the Utah Museum of Fine Arts (UMFA). As the fine arts museum for the state and the University of Utah, we have a global art collection with almost 20,000 artworks. What's more, we have a museum staff that is passionate about our work, art, and our community. In this three-part lesson, we'll be exploring a variety of art career paths both in and out of the museum. Our goal is that by the end, you'll not only learn something new but be inspired by all the work being done and the different opportunities in the art world. 
*Remember to pay attention to any special instructions given by your teacher.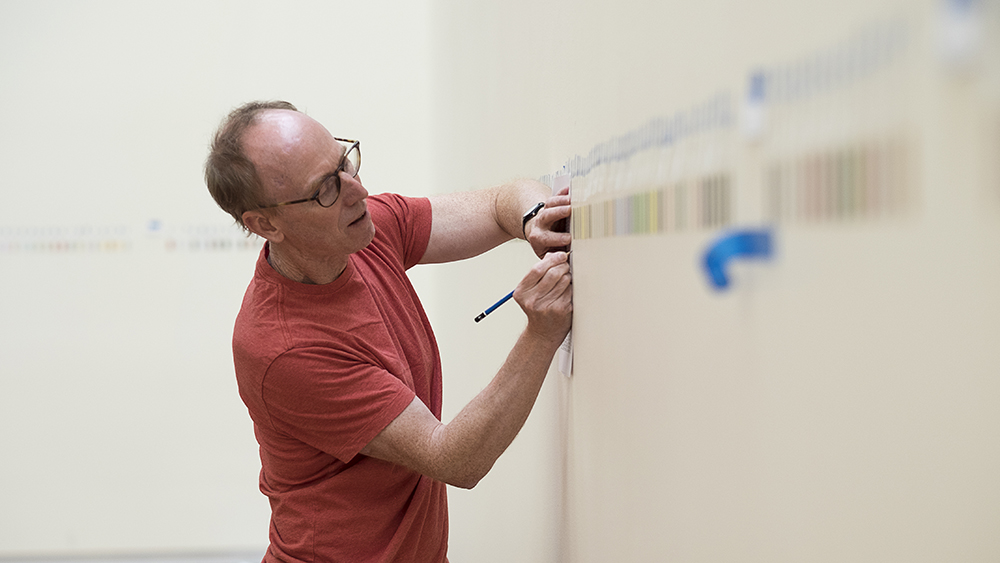 Part 1: Be an Artist! 
As we explore different careers in art we'll start with one of the most obvious, being a professional working artist! So why do artists make art? Who can be an artist? (hint everyone!) In this activity, you'll be creating an artwork through the process listed below and answering some questions. 

1.    Get in an artistic mindset by thinking about the below questions: 
What is important to you? 
What do you want to say through your artwork? 
What do you want to share? 
Do you want to make a statement on something you believe in? 
Do you want people to feel a particular emotion looking at your artwork? 
2. Think about what materials you may have to work with (inside and outside) and which ones you'd want to use or explore.
Ex: Paints, pencils, rocks, clay, sticks, paper, tin foil, etc. 
3. Gather your materials and see what you really have to work with.
4. Using the theme you decided above, sketch out your artwork idea.
How might your plan change depending on what materials you are using? 
5. Create your artwork
Take the time to carefully create your work knowing that it's ok to change your plan and further develop it in the process of creation. 
Keep in mind as well that: 

Mistakes and failures help artwork get better
 It takes multiple tries to create a work of art
This is about your unique voice that's adding to the greater art conversation, value your work as such.
6. Thoughtfully give the work a title
7. Give the work a price 
What would you sell it for?
Who is your target audience and what do you think they'd pay? 
Follow up questions: 
Why did you use the materials that you did? 
Compare your finished work with the initial sketch. 

 Did things change? How? Why? 
What about your work are you happiest with? 

What was your experience giving a title? Why did you choose the title that you did? 
How did you feel about setting a price for the artwork? What's your target audience and why did you select the price that you did? 
Part 2: Careers in Art Video 
We've just explored being an artist, planning, and executing an artwork, but there are many other careers for those passionate about art. We'll begin to explore a few others through the below video. While watching, take notes of your answers to the questions posed (also listed below for reference). 
Questions in the video: 
What do you want to be when you grow up? 
What do you enjoy (painting, singing, teaching)? 
Which jobs seem most interesting to you? Why? 
What skills do you think it takes to be an art critic? 
What tools does a professional artist need? 
Part 3: Further Career Exploration
Let's deep dive even more into some of these different career options by exploring with the below activities: 
Activity 1: Art Critique
Explore the UMFA's website collection search and select an artwork.
Search the Collection
Use the search bar to look for a specific type of artwork, topic, artist, etc. Click on the "New Acquistions" to look through artworks recently added to our collection. 
Click on "On Exhibition" to view all the artworks currently in the museum's galleries. 
Use the "Advanced Search" to look more specifically through the collection. 
Write a short one to two-page review of the work (like an art critic). This can include: 
Title of work, artist, date, medium, and origin of the object
Description and analysis of the work without value words (beautiful, ugly, etc.) 
The elements of art (space, color, shape, form, value, texture, and line) and the principles of design (balance, unity, variety, emphasis, movement, pattern, and proportion)
Subject matter 
Interpretation of the work
Describe the ideas you get from the work, what you think about it, and how it makes you feel. 
How does it relate to other things you've learned or events in history? 
Judgment of the work
This is your final opinion on the work

What's successful? 
What's not? 
What's unique? 
What would you add or change? 
Activity 2: Creating an Exhibition
You'll be putting together a small exhibition like a museum curator.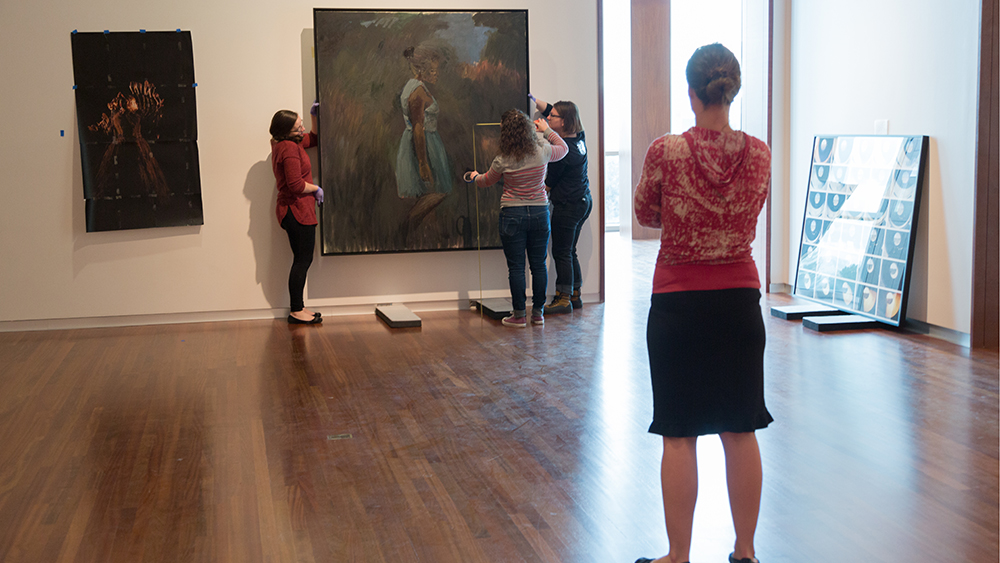 Start by exploring the UMFA's website collection search above to see different artworks available in our global collection. 
Please refer to the additional instructions listed under Activity 1: Art Critique. 
Pick a theme and title of the exhibition

Think about your audience: 

Who are they? Kids, animal lovers, adults, teenagers, people whose favorite color is purple, etc. 
What issues, subjects, themes, etc. are relevant to the audience you're attempting to serve? Go beyond your own personal interests to making something useful and relevant for a larger audience. 

 Think about what's going on in the world.

What subjects within historic or contemporary art are relevant to today and our audience? 
What concerns are our community facing? 
What questions are they asking? 
How is life today changing? 
What's popular? 
Select six artworks 
Carefully select your artworks for the exhibition
Which may need extra care? Which could be more at risk of damage if it's included in the exhibition?

This doesn't mean that the work needs to be left out. It would just need extra attention. 
Ex. Works that are fragile, that could rip or tear, that could have damage from exposure to light (like works on paper), etc. 

How does each artwork help reach the goals of your exhibition and theme? 
Write some exhibition labels (1-2 paragraphs each) 
One for the entrance to introduce the theme 
One for each artwork relating it to the theme 

Include the basics about the object: Title, artist, date, medium, origin, dimensions, credit line, object ID

Give applicable background info 
 Include thought-provoking questions for your visitors
Final reflection questions
Why and how did you pick the theme you did? 
How did you select the artworks for the exhibition?
Describe your experience writing the labels. 

What was the easiest part? 
What was the most difficult? 
What makes a good label? 
How was this overall experience for you? 

What was unexpected? 
How do you feel overall about your exhibition? 
Optional Lesson Extension: 
Pick one of the careers mentioned in the video and listed below for reference.  

Museum Executive Director
Graphic Designer
Art Conservator
Museum Curator
Art Critic
Artist
Museum Educator 
Photographer
Fashion Designer
Events Planner

Research the career and find out: 

Schooling requirements and the average career path 
Standard salary 
Responsibilities 
Day to day tasks and activities 
---