Jaimi K. Butler and Bonnie K. Baxter, Ph.D.
Great Salt Lake Institute, Westminster College, Salt Lake City Utah
Great Salt Lake tells a story about change over time. A salty lake such as this modern one has existed in the bottom of the Bonneville Basin for the better part of a million years. Occasionally waters rose, held in by glaciers, such as enormous Lake Bonneville during the last Ice Age. But when the Earth was warmer, only a shallow salty puddle remained, like Great Salt Lake. The modern lake has experienced the interventions of humans on its shores, damming and segmenting its brine for their purposes. One human, Robert Smithson, intervened by creating artwork on the lakebed to inspire others. His Spiral Jetty, likewise, comments on change over time.
Smithson used scientific and mathematical language when he planned and executed Spiral Jetty, built into the pink water of Great Salt Lake1. Equation. Coordinates. Desiccation. Variable. Entropy. Bacteria. Matrix. Cubic. Scale. In fact, he had researched physical parameters of the site in thinking about aesthetics. Inspiration came from science, but how much did he understand about this analytical system of knowing? Did he know that terminal lakes vacillate in elevation? Was he aware that rivers feeding the lake bring small amounts of minerals that concentrate in the terminal lake over time? Did he comprehend the coloration of the water would change seasonally as the microorganisms were affected by temperature and salinity? Could he have predicted the impacts of humans in the form of climatic change and water diversions? Perhaps his artwork understands the answers to these questions in a way that the artist could not through its experiences of Great Salt Lake over 50 years.
We would love to ask Spiral Jetty about its observations of environmental change. For example, it is perplexing that Smithson never commented on a frequent occurrence, noted by today's visitors to the artwork, of American White Pelicans soaring in the skies above the Spiral Jetty. These birds migrate to Utah from their overwintering grounds in Mexico to breed on the nearby, remote, and solitary Gunnison Island. Pelicans now arrive in March to begin their annual breeding, yet as Smithson toiled on this earthwork in April, he never wrote about these majestic birds. We wonder if the pelicans now arrive earlier in the season, a signature of climate change.
Over the last 50 years, Smithson's Spiral Jetty has witnessed dramatic changes to the lake landscape as an increasing human population began draining the watershed. While the land art hid beneath the flooded brine in the 1980s, reemerging almost 20 years later, the next 50 years will likely hold something very different. Climate studies on the southwestern United States suggest that Spiral Jetty will see an increase in temperature that will impact our water supply. Coupled with projected increases in population, Great Salt Lake has little hope of recovery. As the lake shrinks, and more shorelines are exposed, extensive dust will affect the air quality. Spiral Jetty will sit on a dry lakebed and remember when water used to lap the whirling basalt.
The pelicans are victims of this change. This downward trajectory of this shallow lake has connected the island to land, resulting in the encroachment of predators to what was a safe haven. Also, water availability has decreased in nearby feeding grounds, making fish scarce. The pelicans' demise is obvious at the site of the artwork where you may find carcasses of baby pelicans that cannot fly far enough to catch food for themselves. Smithson noted that the Spiral Jetty was "intimately involved with those climate changes and natural disturbances."
As climate change progresses, and science suggests interventions, we should be moved to activism. Once art advocates did what scientists alone could not; in 2008, through an initiative taken up by Smithson's widow, Nancy Holt, thousands of Spiral Jetty admirers wrote letters to the state of Utah to prevent an oil drilling operation on Great Salt Lake. Perhaps this land art can once again call forward stewards of the landscape who can advocate for climate change solutions for the human residents of the valley, the pelicans of Gunnison Island, and Robert Smithson's Spiral Jetty.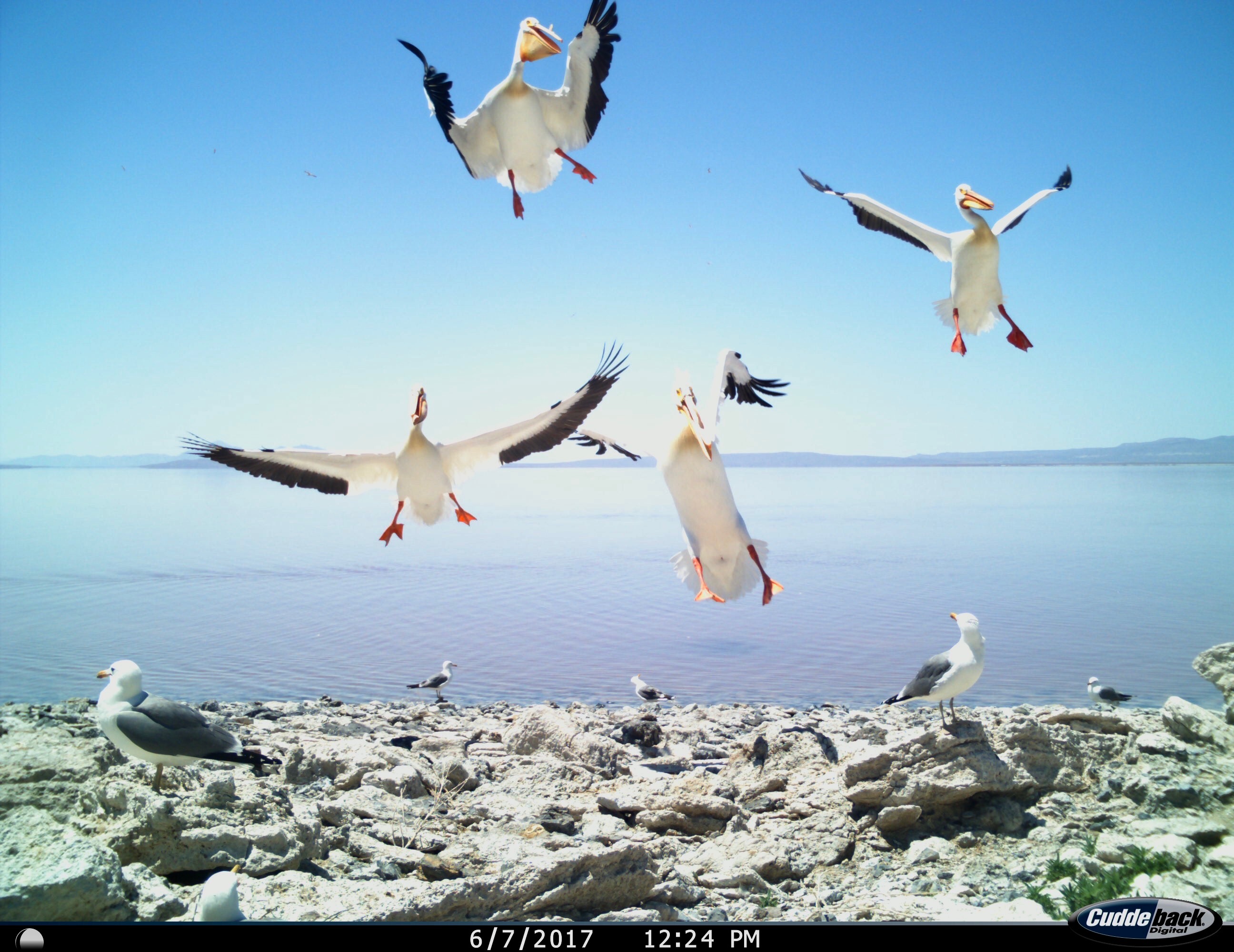 ----
1Smithson, P., & Smithson, R. (1996). Robert Smithson: the collected writings. Univ of California Press.
---
On the occasion of Spiral Jetty's fiftieth year, the Utah Museum of Fine Arts invited four brilliant Utahns to share their perspectives.
Butler and Baxter have spent a combined four decades studying the biology of Great Salt Lake and much of it at Smithson's Spiral Jetty. While Butler explores the birds and bugs, Baxter researches the foundational microbiology. Rozel Bay hosts this land art, but it also is a site of the authors' astrobiology studies with NASA, paleontological explorations in the tar seeps, and art-science teacher development. Butler and Baxter refer to themselves as 'Salty Sirens' as they call unsuspecting folks into the lake. Together they co-founded the Great Salt Lake Institute at Westminster College to facilitate research on the lake and provide outreach opportunities for science education. They freely admit to using Smithson's Spiral Jetty as a water gauge upon occasion.