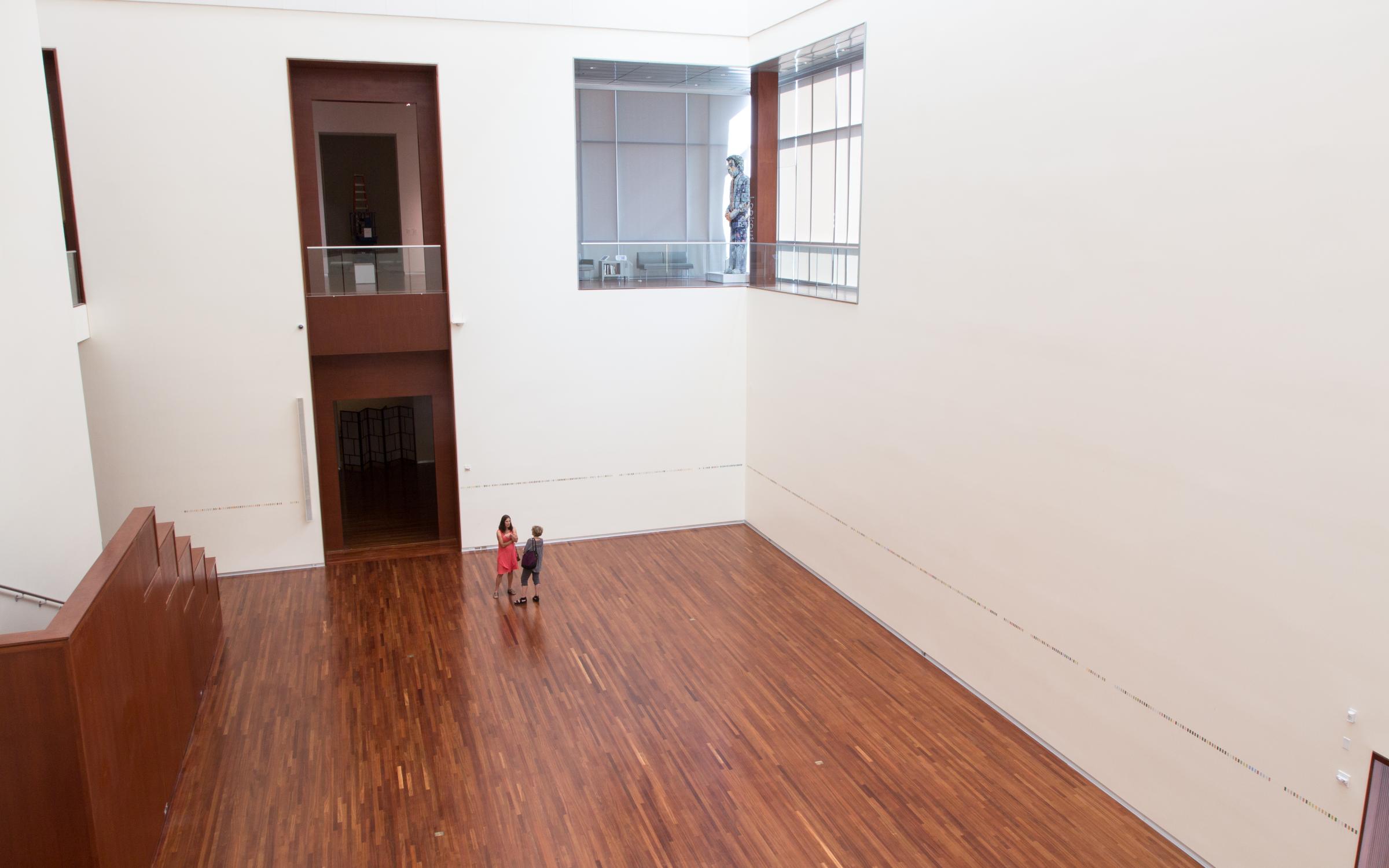 August 26, 2017
to
May 4, 2021
Spencer Finch: Great Salt Lake and Vicinity
World-renowned artist Spencer Finch created the site-specific installation Great Salt Lake and Vicinity in response to our building, our landscape, and our community. Finch works with light, landscape, and history to consider the power and limits of memory and perception. The artist is perhaps best known for his work Trying to Remember the Color of the Sky on that September Morning (2014), the only artwork created for the 9/11 Memorial and Museum in New York.
For the UMFA's G. W. Anderson Family Great Hall, Finch produced his largest-ever Pantone chip installation. His conceptual and labor-intensive process began with a long journey—in this instance, a circumnavigation of Great Salt Lake. Along the way Finch logged precise measurements of color, and the resulting installation is a colorful sequence of ready-made Pantone color swatches affixed directly to the walls of the Great Hall. Each color chip is hand-labeled in pencil with the name of its original color source—the bark of a tree, the algae in the distance, the wing of a bird. The line of color reads like field notes, a data-driven abstraction of close observation.
To share his private performance with museum and gallery visitors, Finch leans heavily on documentation, a tool that Land artists enlisted in the 1960s and 70s to convey their work from remote locations. Like the non-site works of Land artist Robert Smithson, Finch's Pantone installation brings a specific landscape into the museum. His process, however, does not disrupt the land or the ecosystems it supports. Instead, he uses color and language to engage our memory and imagination to re-create a journey. By poetically transporting aspects of the outdoors into the Great Hall, Finch's installation redefines how we experience the museum and our surrounding landscape.
This site-specific installation was commissioned by the Utah Museum of Fine Arts.
Read THIS INTERVIEW with Spencer Finch to learn more about his work and his experience in Utah.
Click here to access a walking guide inspired by Spencer Finch's installation, Great Salt Lake and Vicinity. The walking guide will help you to explore the landscape and discover the vibrant colors around you.