Third Saturday Online: Spiral Jetty Salt Dough Sculptures
Spiral Jetty by Robert Smithson is 50 years old this year and the UMFA has lots of art to help understand this amazing artwork located off Rozel Point in the north arm of Great Salt Lake. Spiral Jetty is a large sculpture made of basalt rock, dirt, and salt. We will be making our own sculptures from salt dough we can make ourselves. First, look at these three artworks; they have a connection to Spiral Jetty.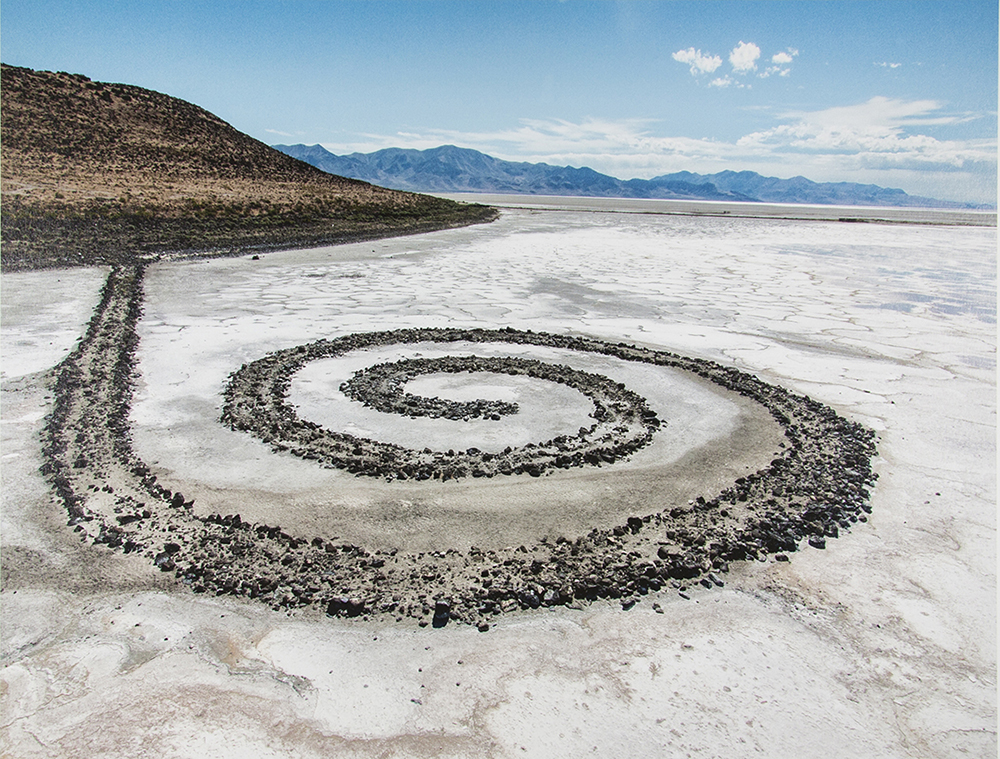 This is one of Gianfranco Gorgoni's photographs of Spiral Jetty located on the north side of Great Salt Lake in Utah. This picture was taken from a plane far above the 15'-wide sculpture. Look at the shape of Spiral Jetty and notice how the spiral curves just at the end of the long straight section. What are some other ways you could sculpt a spiral?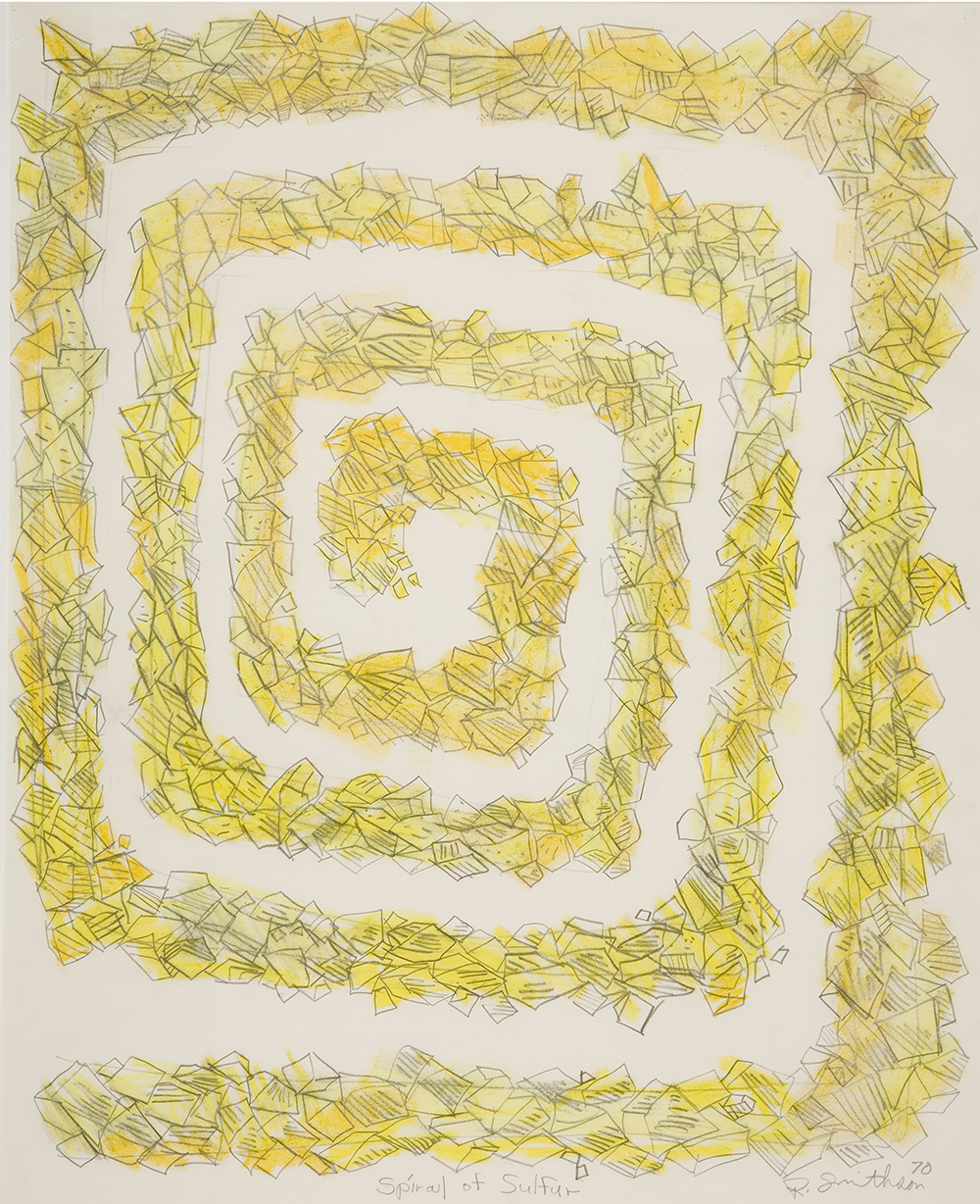 This drawing by Robert Smithson was made the same year as Spiral Jetty. How is this spiral different than the large Land art sculpture in the Great Salt Lake? How is it the same? Think about spirals and other shapes when you create your salt dough sculpture. What shapes will you make?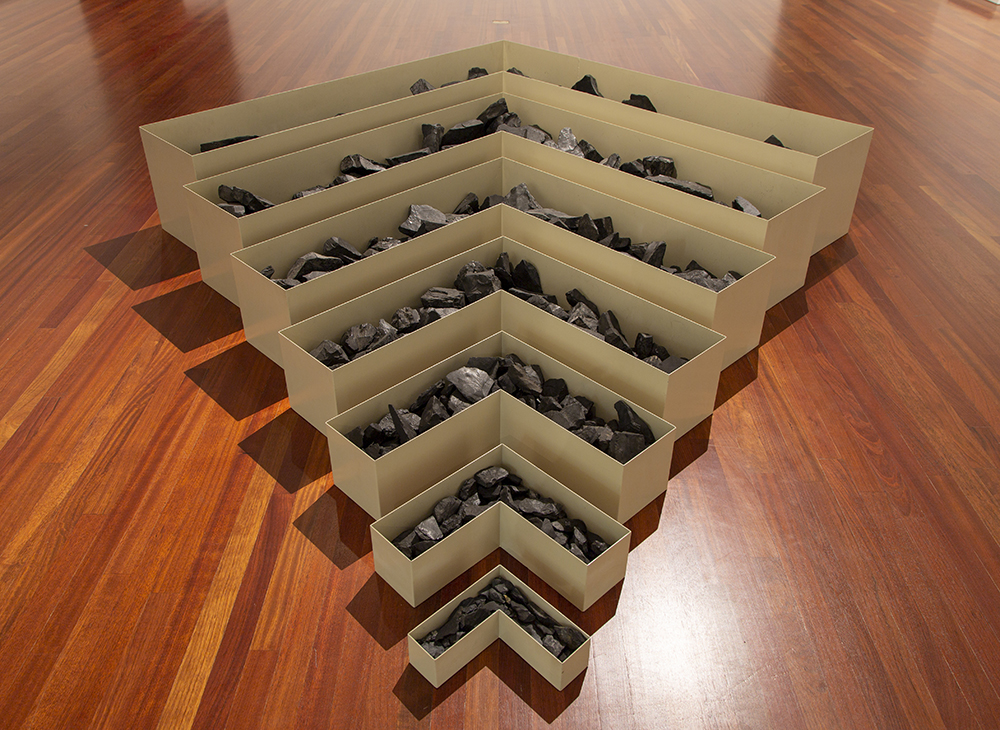 This sculpture is called Nonsite, Site Uncertain (1968) by Robert Smithson. This work of art, on loan from the Detroit Institute of Arts, is what Smithson called a nonsite. He took rocks or other natural materials from their original "site" to a museum setting, which is a "non site." Why do you think he put the coal in these L-shaped boxes? The shapes of the boxes repeat in a kind of rhythm. Imagine a different configuration of boxes--how would that change the sculpture? What repeating shapes could you use in your sculpture?
Let's Sculpt
Making Salt Dough 
You can make your own sculpting medium out of salt. 
You will need:
2 cups flour
1 cup salt
2 Tablespoons powdered alum
2 Tablespoons oil (canola or vegetable)
14-16 oz boiling water

Directions:
Mix all ingredients in a large bowl with a spoon (when the dough gets a little cooler you can use your hands). Mix until a smooth ball is formed. If you want to make different colors, you can divide the ball and put a few drops of food coloring in part of the dough and knead the color throughout. 
This dough can be stored in a plastic zippered bag or a bowl with a lid for up to a week. You can use the dough over and over again if it is put back in an airtight container. Once you make a sculpture you can leave it out. It will dry in 2-5 days. 

Some things to try with your dough:
Try making a spiral out of the dough.
What would a vertical spiral look like?
Now try a different shaped spiral – square, rectangle, star-shaped!
Try making an organic shape and then a geometric shape or make them both together in the same sculpture. A geometric shape has an appearance like a machine made it (circles, squares, rectangles, etc.).  Organic shapes are more irregular and have curves like you can see in nature (leaves, flowers, rocks, etc.). 
Now repeat a shape you made several times and put them together to make your sculpture. 
What is your favorite form that you have created so far?
You can form and reform your sculpture many times, but once you have a final form, leave it out to dry to allow it to harden.  
---