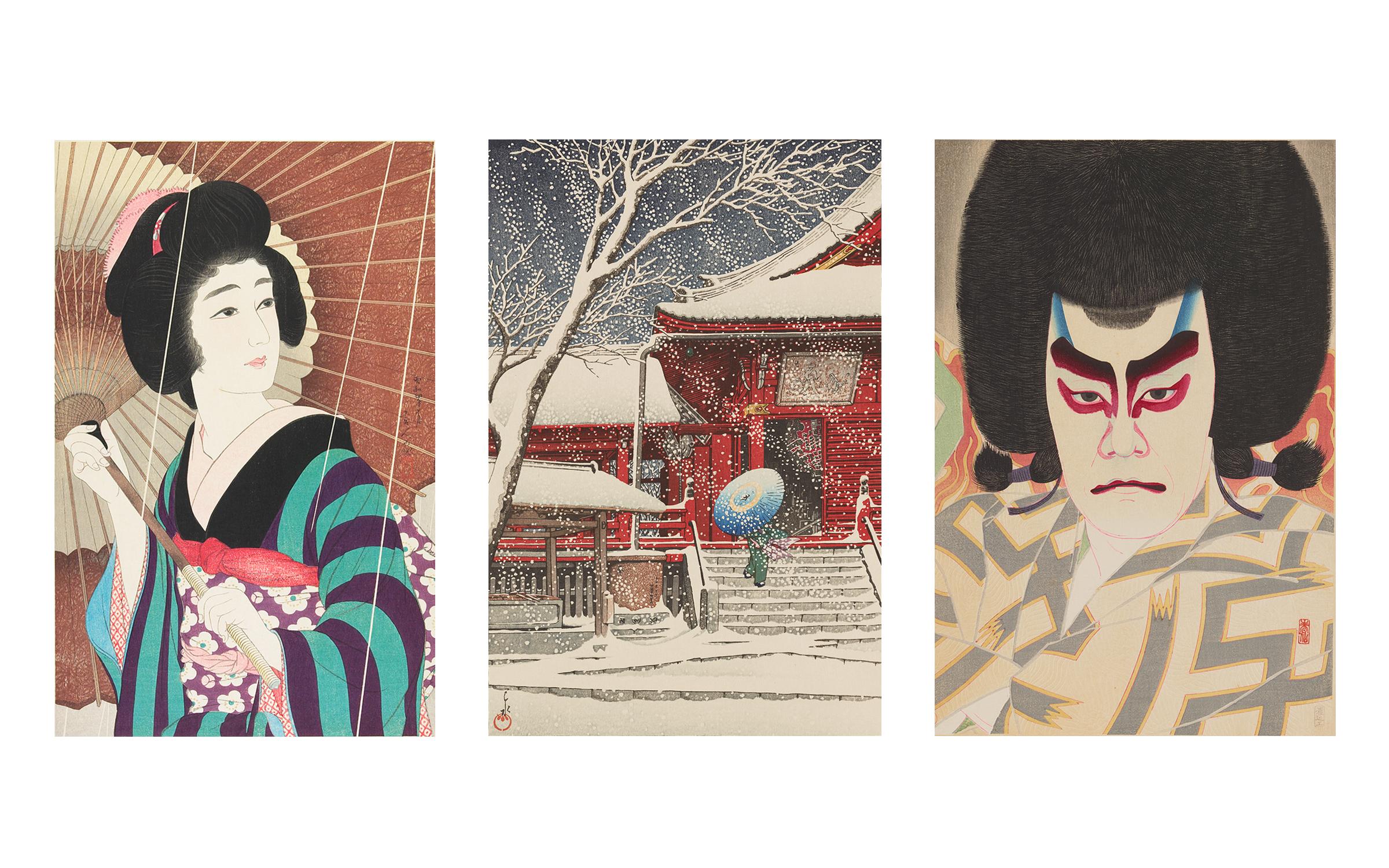 February 6, 2020
to
April 26, 2020
Seven Masters: 20th-Century Japanese Woodblock Prints
Explore the intersection of traditional Japanese style and western technique in the first major traveling exhibition of Japanese art at the UMFA. The artists featured in Seven Masters developed a new art form—shin hanga—in response to Japan's rapid Westernization and industrialization. Shin hanga mingled the old with the new, creating beautiful, enticing pictures that were widely reproduced as prints of almost unsurpassed quality. The works on view exemplify this new movement. 
Seven Masters opens at the UMFA before traveling to the Museum of the Rockies in Bozeman, Montana; the Lauren Rogers Museum of Art in Laurel, Mississippi, and the Weatherspoon Art Museum in Greensboro, North Carolina. 
Organized by the Minneapolis Institute of Art and toured by International Arts & Artists, Washington, DC.  
Curated by Andreas Marks, head of the Japanese and Korean Art Department at the Minneapolis Institute of Art. 
Seven Masters is supported locally by presenting sponsor George S. and Dolores Doré Eccles Foundation, conservation sponsor McCarthey Family Foundation, and programming sponsor Gift in Memory of Hayden H. Huston. With additional support from the University of Utah Asia Center. 
The UMFA also presents Beyond the Divide: Merchant, Artist, Samurai in Edo Japan, an exhibition of scrolls, screens, sculpture, prints, and samurai armor and weapons from the Museum's own collection of Japanese art, on view in a major presentation for the first time in more than a decade. Beyond the Divide, organized by UMFA associate curator of collections and antiquities Luke Kelly, also opens February 6 and is on view through Sunday, July 5, 2020.
More about Seven Masters
As the once-isolated nation of Japan entered the twentieth century and began to assimilate a new, Westernized culture, demand for certain traditional handicrafts fell off significantly—among them, the iconic woodblock prints known in the West as ukiyo-e. Publishers and artists slowed production and created fewer new designs. Yet what seemed at first to be the death-knell of a unique art form without parallel in the world turned out to be the dawning of another, as the path was cleared for a new kind of print: shin hanga.

The exhibition Seven Masters: 20th-Century Japanese Woodblock Prints focuses on seven artists who played a significant role in the development of the new print, and whose works boldly exemplify this new movement. Drawing from the superb collection at the Minneapolis Institute of Art, the exhibition features the spectacular beauty portraits of the artists Hashiguchi Goyō (1880–1921), Itō Shinsui (1898–1972), Yamakawa Shūhō (1898–1944), and Torii Kotondo (1900–1976); striking images of kabuki actors by Yamamura Toyonari (Kōka; 1886–1942) and Natori Shunsen (1886–1960); as well as the evocative landscapes of Kawase Hasui (1883–1957). These multi-talented artists were all successful painters as well, but this exhibition looks exclusively at their unrivaled work in print design, and includes a cache of pencil drawings and rare printing proofs to offer insight into the exacting process of woodblock printing.
Events:
Curator Talk & Exhibition Preview
Wednesday, February 5
Preview at 5 pm, Talk at 7 pm
Third Saturday for Families: Relief Printing
Saturday, February 15, 1-4 pm
---

Seven Masters: 20th-Century Japanese Woodblock Prints was organized by the Minneapolis Institute of Art and is toured by International Arts & Artists, Washington, D.C. 
| | | | |
| --- | --- | --- | --- |
| Presenting Sponsor: | Conservation Sponsor: | Programming Sponsor: | Additional Support: |
| | | Gift in Memory of Hayden H. Huston | Anne K. Stewart Docent Conservation Fund |