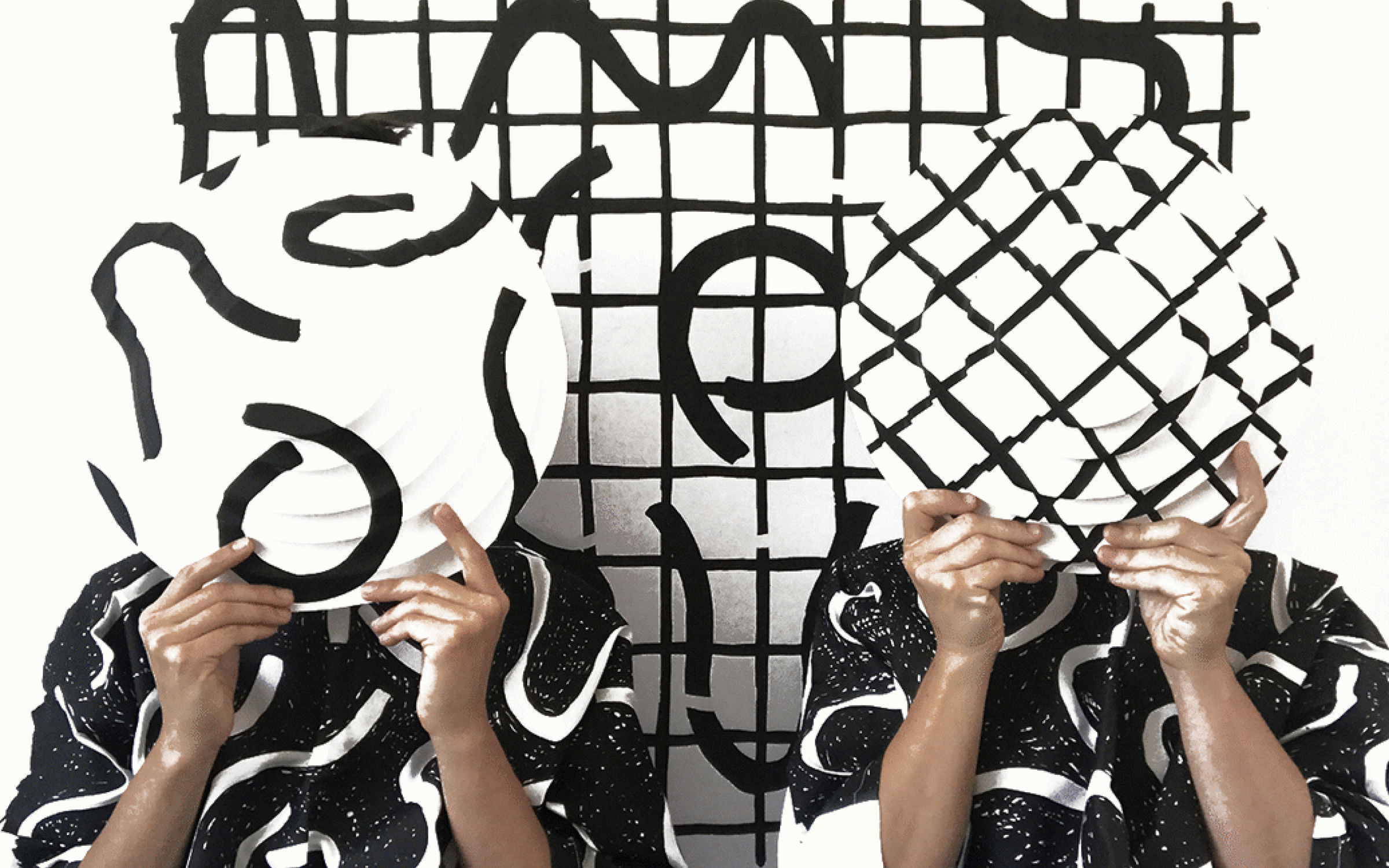 August 26, 2017
to
January 28, 2018
Las Hermanas Iglesias: HERE, HERE
"Play is our brain's favorite way of learning." —Diane Ackerman
Join Las Hermanas Iglesias and the ACME Lab team to experience and collaborate on HERE, HERE—an interactive installation in which community members host actions, and participants contribute to a work in progress. At the core of the project is an invitation for creative experimentation. Each element of the sisters' ever-changing exhibition is designed to be activated, handled, moved, altered, worn, and played. Make your own rules at the UMFA to re-imagine, re-create, and re-invent.
Las Hermanas Iglesias: HERE, HERE is the first exhibition in the UMFA's new ACME Lab, a space dedicated to community engagement and art experimentation. This exhibition and ACME Lab is made possible, in part, by a generous gift from The JoAnne L. Shrontz Family Foundation.
Attend the Las Hermanas Iglesias artist talk on Wednesday, August 30th. Click here for more information about the talk. 
CALL TO ACTION!
Las Hermanas Iglesias invite you to collaborate with ACME Lab by hosting a CREATIVE ACTION within the exhibition, HERE, HERE.
The CALL TO ACTION! is a community-wide invitation to hold a public or private CREATIVE ACTION in the ACME Lab to promote interconnectivity, build community pride, and advocate for organizing. We think of a CREATIVE ACTION in an expansive sense. Perhaps you'd like to shoot a music video, hold an inter-generational talent show, facilitate a clothing-swap, celebrate a community member or achievement, or host a teach-in or improv movement workshop? We welcome you to hold your regular meeting in the Lab or invent a new reason to get together.
We encourage you to open your actions to the public. However, if it is necessary for an action to be closed, you may request to have the space reserved only for you. We're hoping that the sculptural environment of the Lab will be a creative catalyst to encourage your creative energies in new directions.
WHEN & HOW
HERE, HERE is open to the public during regular Museum hours. During the exhibition, the ACME Lab can be reserved for community use most Mondays, Wednesday afternoons and evenings, and Saturdays. Entrance to all UMFA galleries is free, except for ticketed exhibitions, for group members participating in a CREATIVE ACTION.
Click here to reserve the lab.
Check out our FAQs page for more info.
About Las Hermanas Iglesias
Las Hermanas Iglesias are Lisa and Janelle Iglesias, sisters born and raised in Queens, New York, to Norwegian and Dominican parents. While both artists maintain distinct individual practices grounded in drawing and sculpture, they've collaborated for more than ten years as Las Hermanas—a moniker referencing their identity within the historical and philosophical contexts of feminism, teamwork, and multiculturalism. Through employing playful structures that respond to the community and context of each project, Las Hermanas create artworks that disrupt borders, engage absurdity, and promote the benefits of working collectively.
About ACME Lab
Located in the UMFA's Emma Eccles Jones Education Center, ACME Lab is a new exhibition space for art experimentation and exploration. Visitors of all ages are encouraged to ask questions, make connections across disciplines, and engage with art in new ways. The Lab promotes collaboration between museum and community through active participation, providing an avenue for mutual learning, discovery, and understanding.