Virtual Visits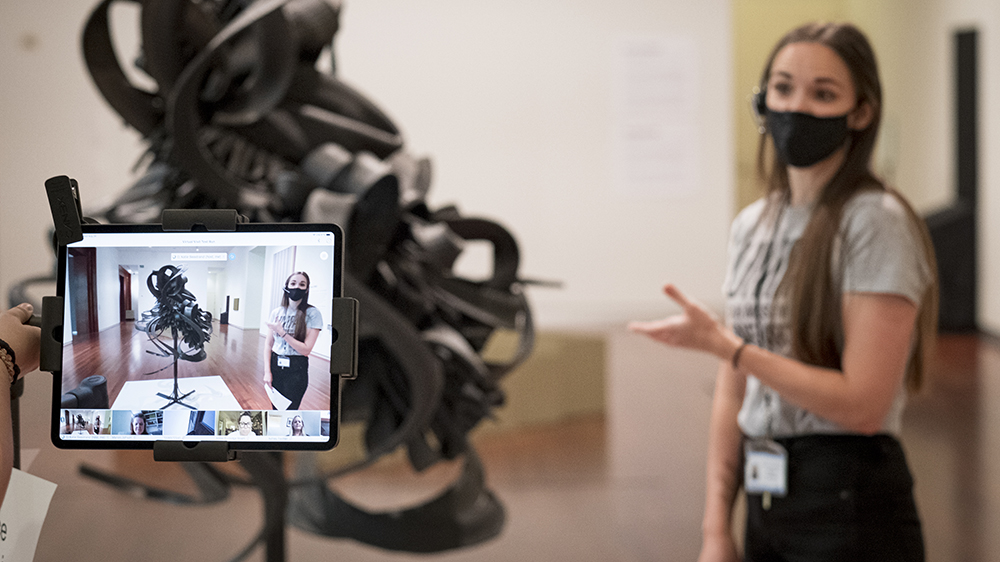 Use video conferencing technology for real-time art tours of UMFA's galleries, no matter your distance from the museum. These experiences are:  
interactive, engaging, question-based, and object-centered.  
aligned with Utah Core Standards and 21st-century learning skills promoting critical thinking, creativity, and communication.  
full of art-making opportunities, from sketching to larger projects, with museum-supplied materials when available.
for all K-12 students with lessons adapted to the interests and age range of the group.  
flexible with any teaching situation.
offered by appointment Tuesday–Thursday and scheduled at least two weeks in advance. Limited space is available.  
You may pick from one of the themes detailed below, or request a specific theme or topic. Each presentation can be adapted to shorter or longer periods of time by request.  
Amplifying Voices (45-60 minutes) 
Students will learn about the power of art to amplify their voices while engaging with the Create, Respond and Connect Visual Arts strands.  
Art History Classroom Connections (45-60 minutes) 
The UMFA is an ideal asset for students and teachers of history and art history. With our global collection, experience more than 5,000 years of human creativity. When requesting please specify a focus or theme (Geographic Area, AP Content Unit, etc.). 
Special Exhibition: See Schedule (45-60 minutes) 
The UMFA is committed to bringing quality exhibitions from around the world. See our schedule and give your students the opportunity to experience these virtually while they remain on view.  
This 2021-2022 school year students can experience:
February 18 - December 4, 2021 -- ACME Lab: Confluence
This STEAM-themed tour was designed with 2nd grade curriculum in mind and explores the importance of water for all living things and their habitats.
February 19 - May 15, 2022 -- Handstitched Worlds: The Cartography of Quilts
 
Artwork Deep Dive (20-30 minutes) 
Thoroughly examine an artwork as a group and build 21st Century skills, learning how to critique and understand through the practice of close looking.