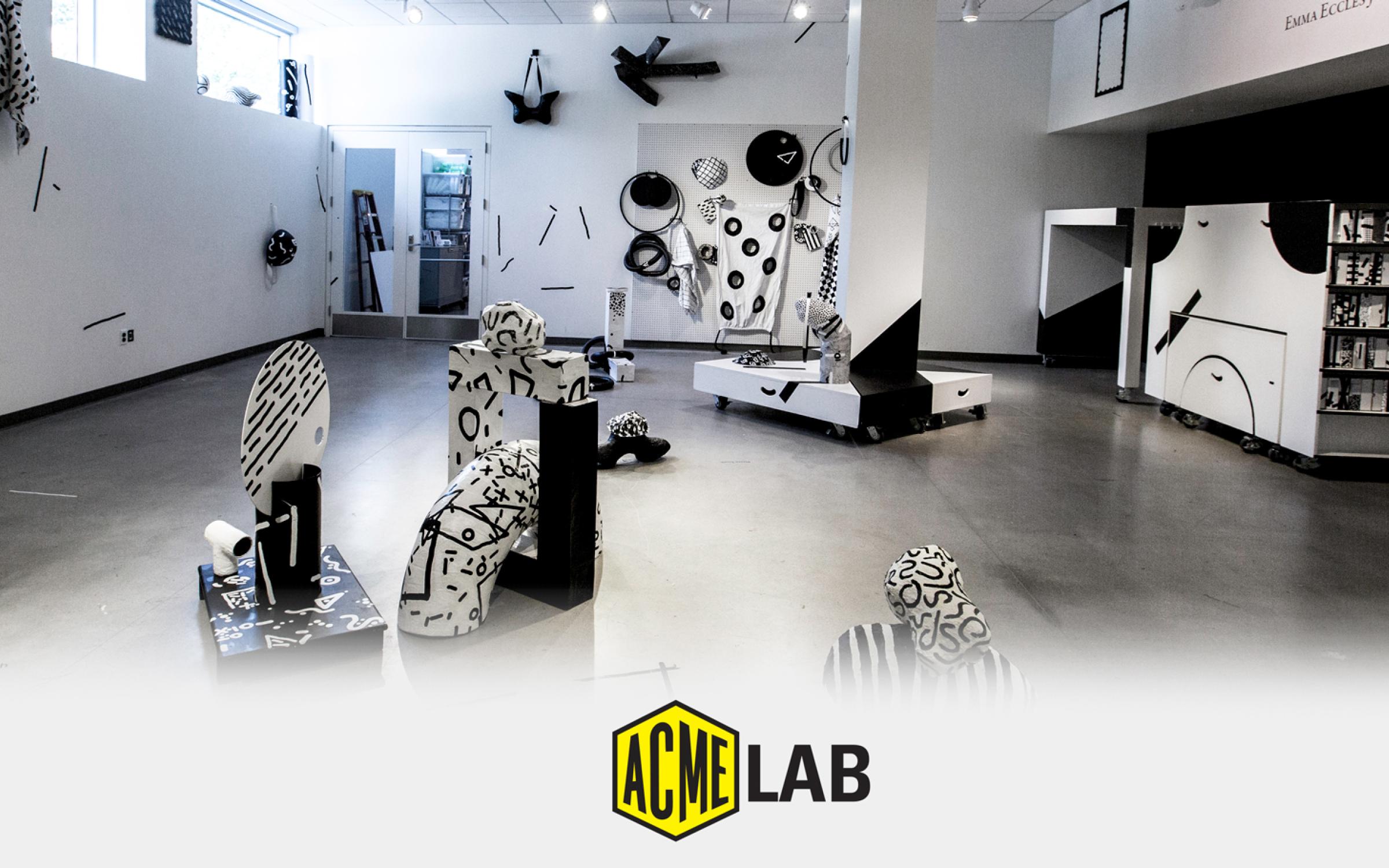 Located in the UMFA Emma Eccles Jones Education Center, ACME Lab is an exhibition space for art experimentation and exploration. Visitors of all ages are encouraged to ask questions, make connections across disciplines, and engage with art in new ways. The Lab promotes collaboration between museum and community through active participation—providing an avenue for mutual learning, discovery, and understanding.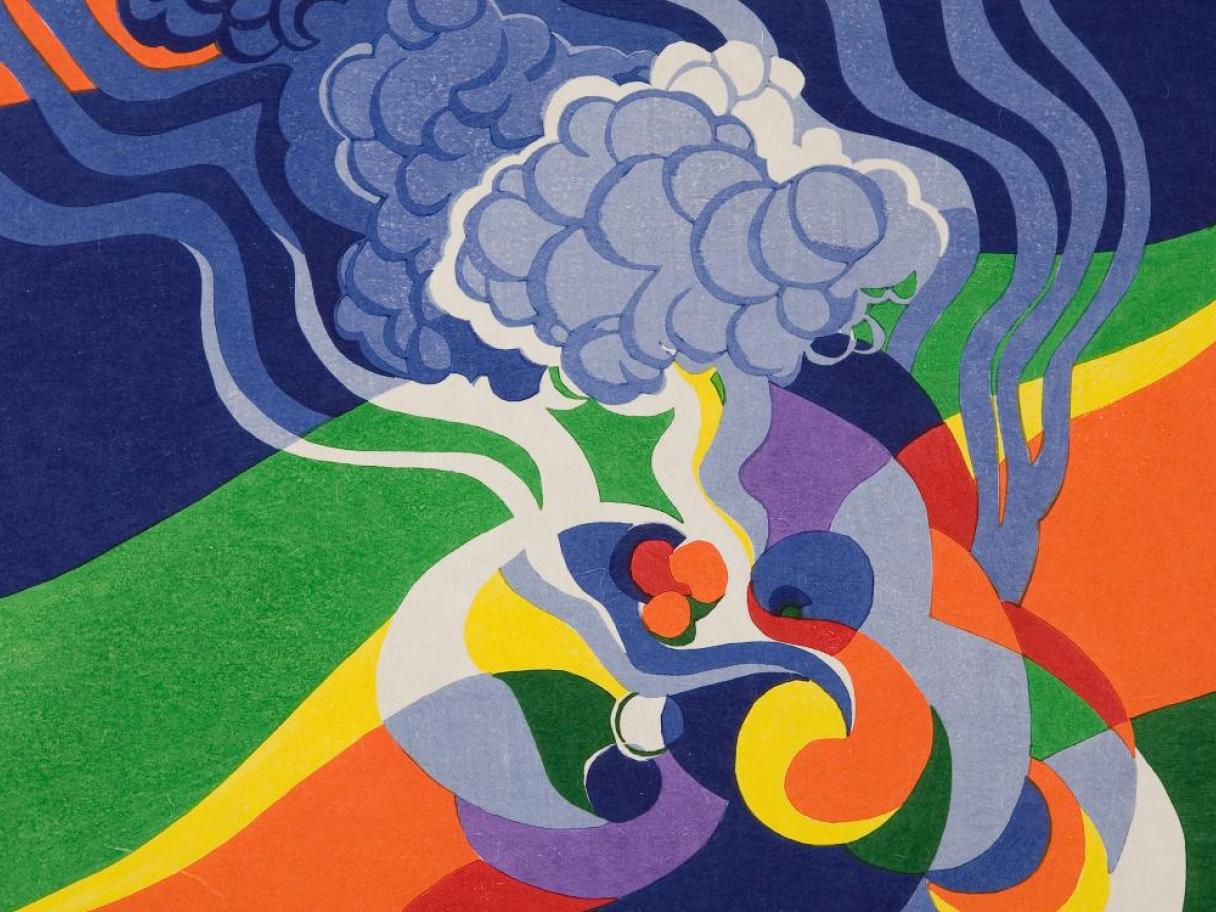 The Sound of Water: Woodcuts by Stanton Macdonald-Wright
OPENING: November 18, 2023 to June 16, 2024
What emotions do certain images or words stir within you?  How do you visualize the words that you hear or the images they conjure in your mind? In UMFA'S newest ACME Lab, The Sound of Water: Woodcuts by Stanton Macdonald-Wright, viewers are invited to investigate the dynamic relationship between language and visual art.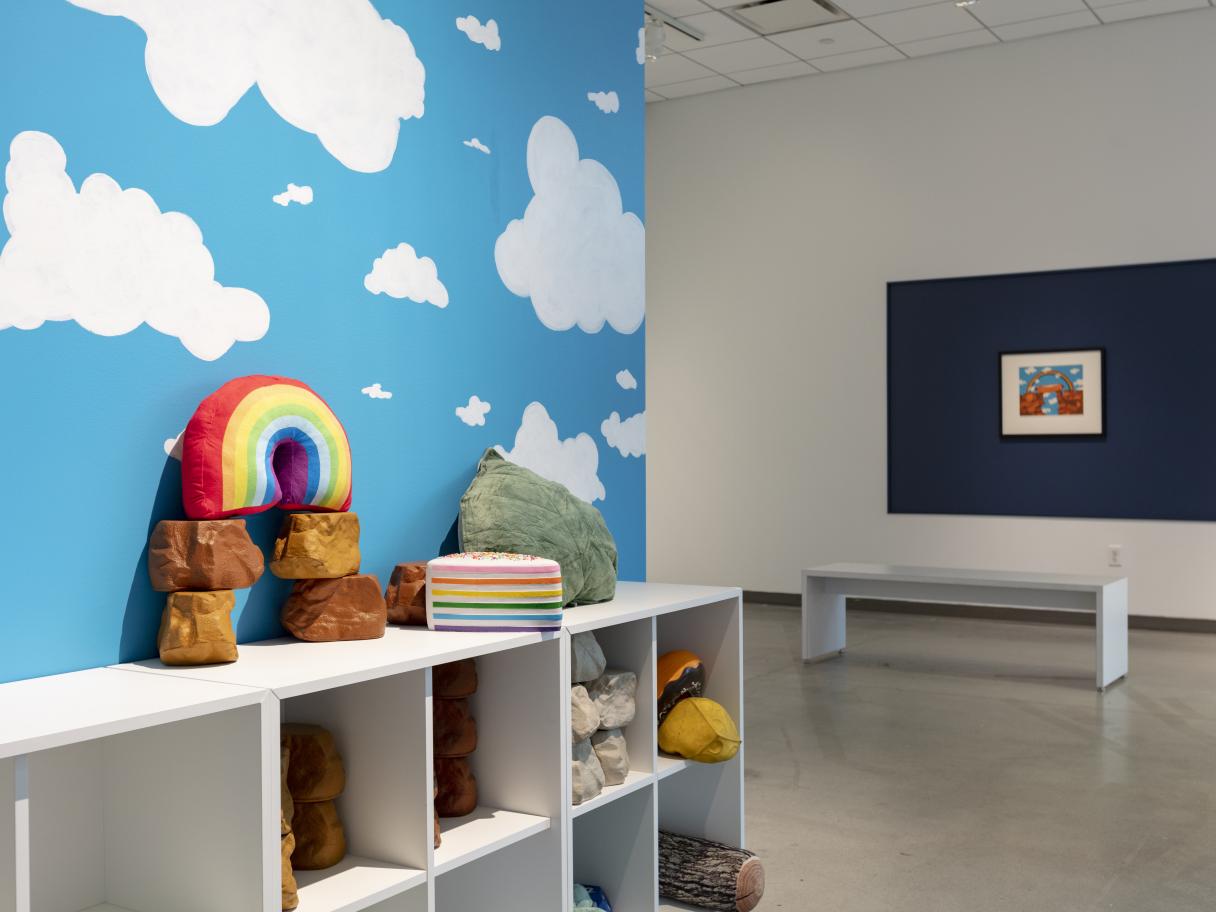 February 25, 2023 to October 27, 2023
What happens when you place a hot dog, a rainbow, and some red rocks together? Find out as we explore a single work of art from the UMFA's permanent collection: Hot Dog Bridge by Russell T. Gordon. This unique ACME Lab highlights the ways we might think about and understand multiple meanings within a seemingly simple image.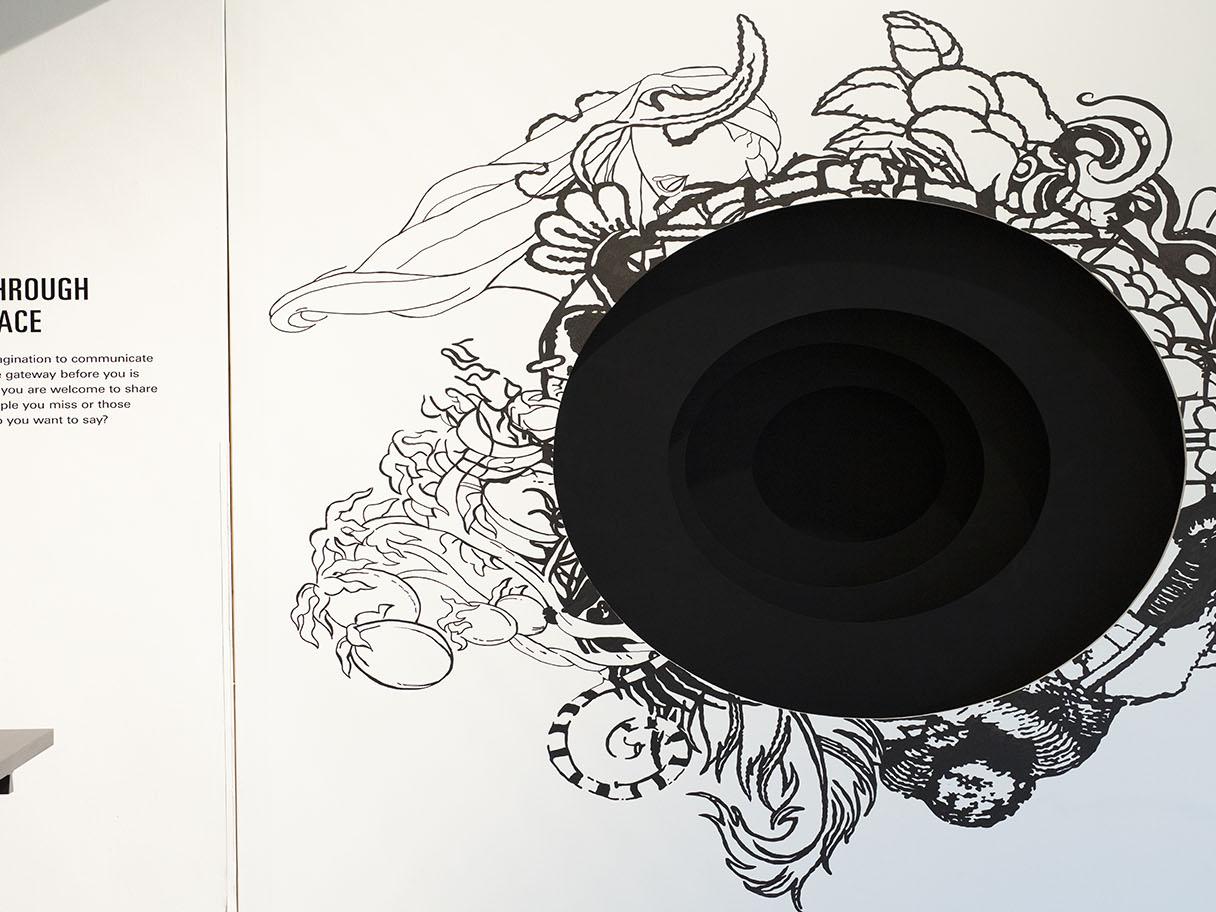 David Rios Ferreira: Transcending Time and Space
March 19, 2022 to December 4, 2022
with Work and Writing by Denae Shanidiin
Merging science fiction with cultural and spiritual traditions, Transcending Time and Space asks you to contemplate those you might've lost, those you miss across distances, and even those you have yet to meet. The artworks in this ACME Lab exhibition exist as imagined gateways, objects through which we may connect with those we cannot reach on this plane.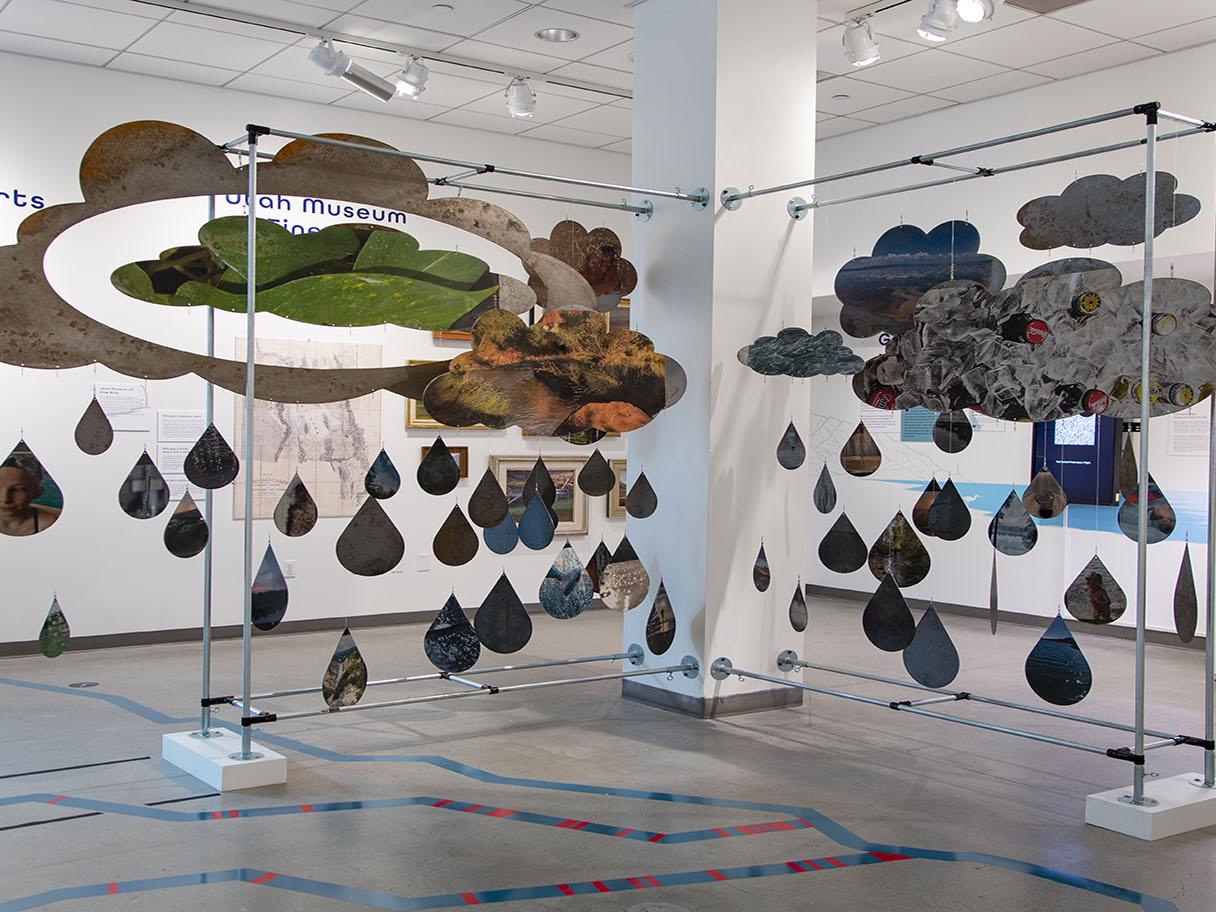 February 8, 2021 to December 4, 2021
Where does water in Salt Lake Valley come from? Where does it end up? In Confluence the Utah Museum of Fine Arts, in collaboration with six local organizations, explores this essential component of our daily life. From mountain streams to Great Salt Lake, the exhibition illuminates the idea of water—environmentally, culturally, and historically.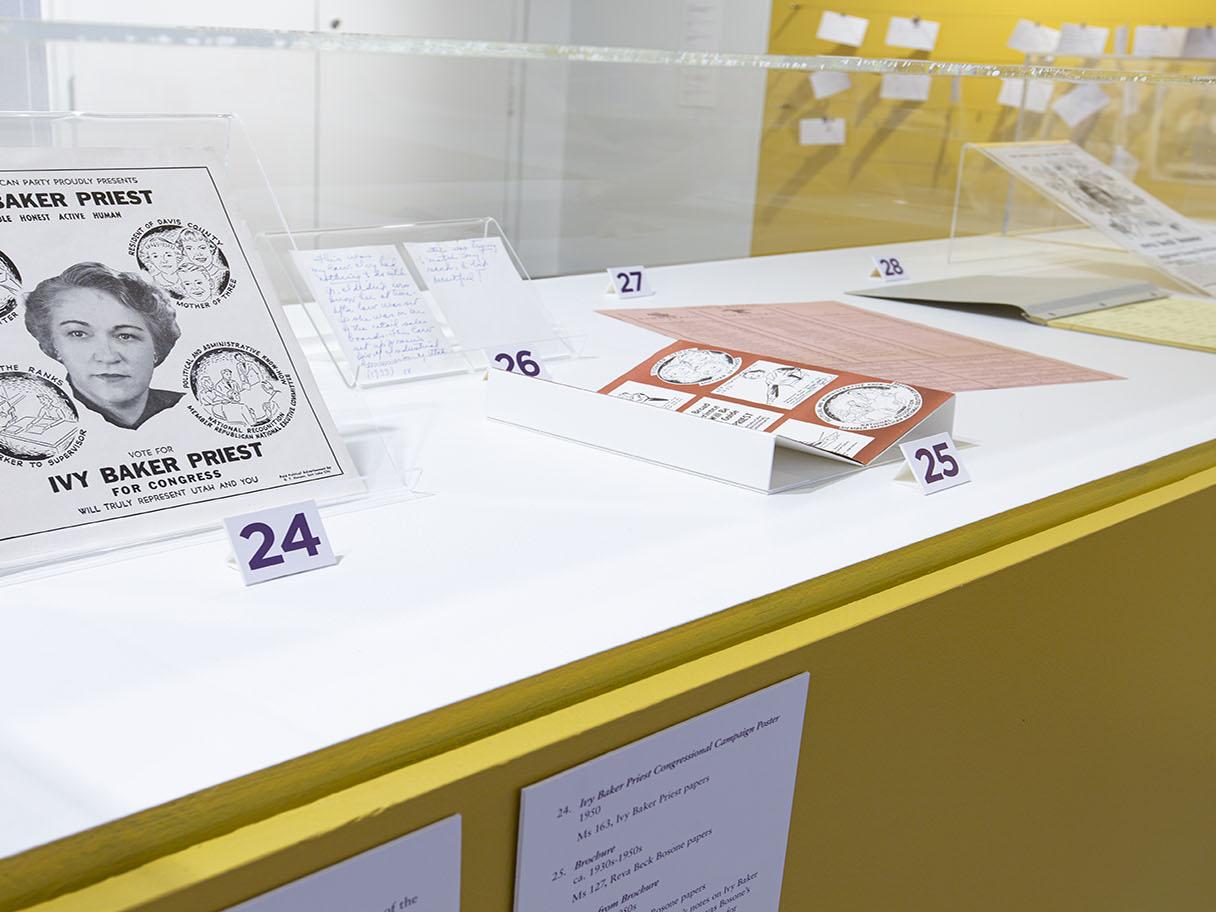 Utah Women Working for Better Days!
March 4, 2020 to December 4, 2020
The UMFA's new ACME Lab, Utah Women Working for Better Days!, celebrates a number of voting rights anniversaries in 2020, including the 150th anniversary of Utah as the first place where women voted in the modern nation. Organized in collaboration with Better Days 2020, an organization championing Utah women's history across the state, and drawing from materials in the J. Willard Marriott Library Special Collections, this exhibition is less a history lesson than it is a provocation: What do "better days" look like to you?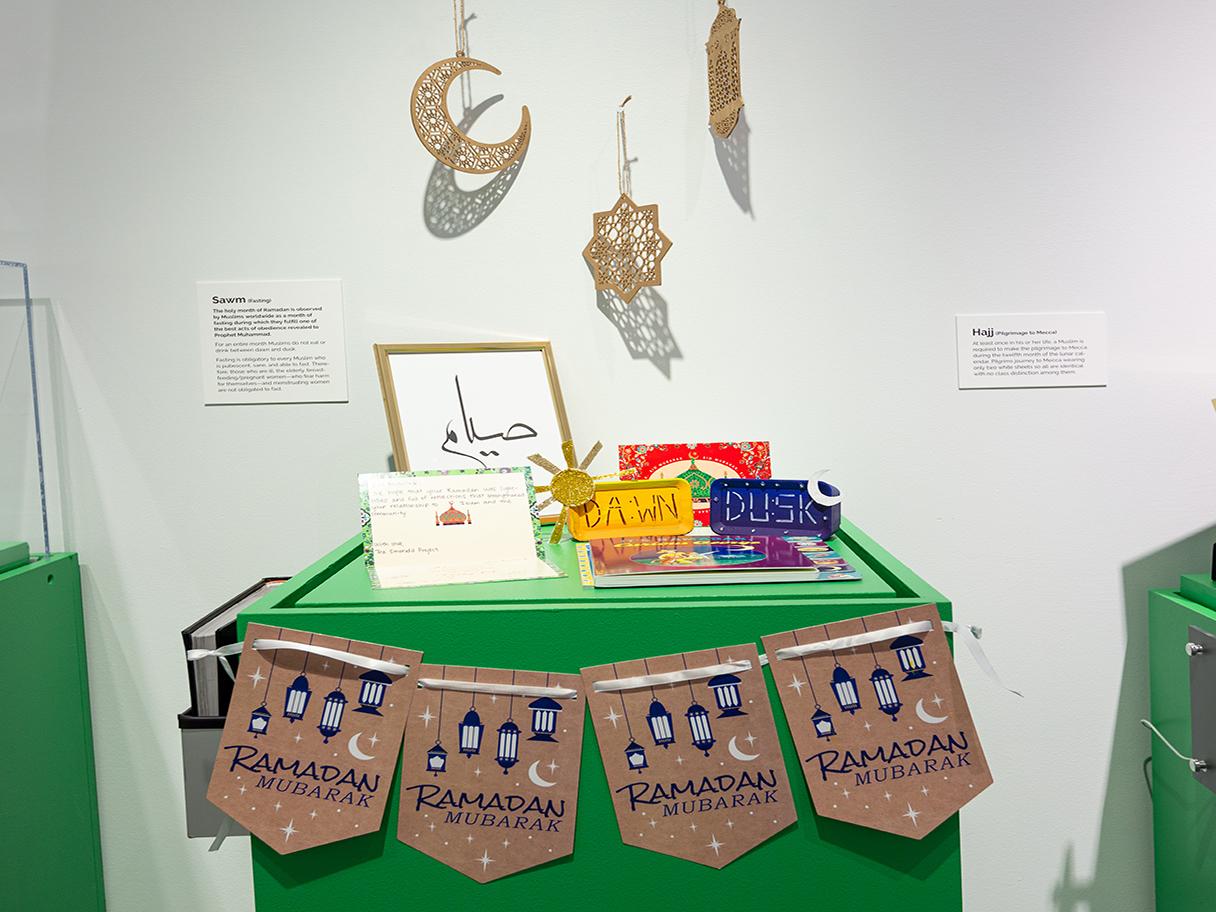 August 15,2019 to December 15, 2019
Ummah is a collaborative and community-focused installation dedicated to celebrating Utah's Muslim community and educating the public about the Islamic way of life. Ummah, the Arabic word for community, refers to a collective of Islamic peoples transcending the boundaries of nations and can also mean a community with any common history—a title that successfully reflects the intentions of this exhibition.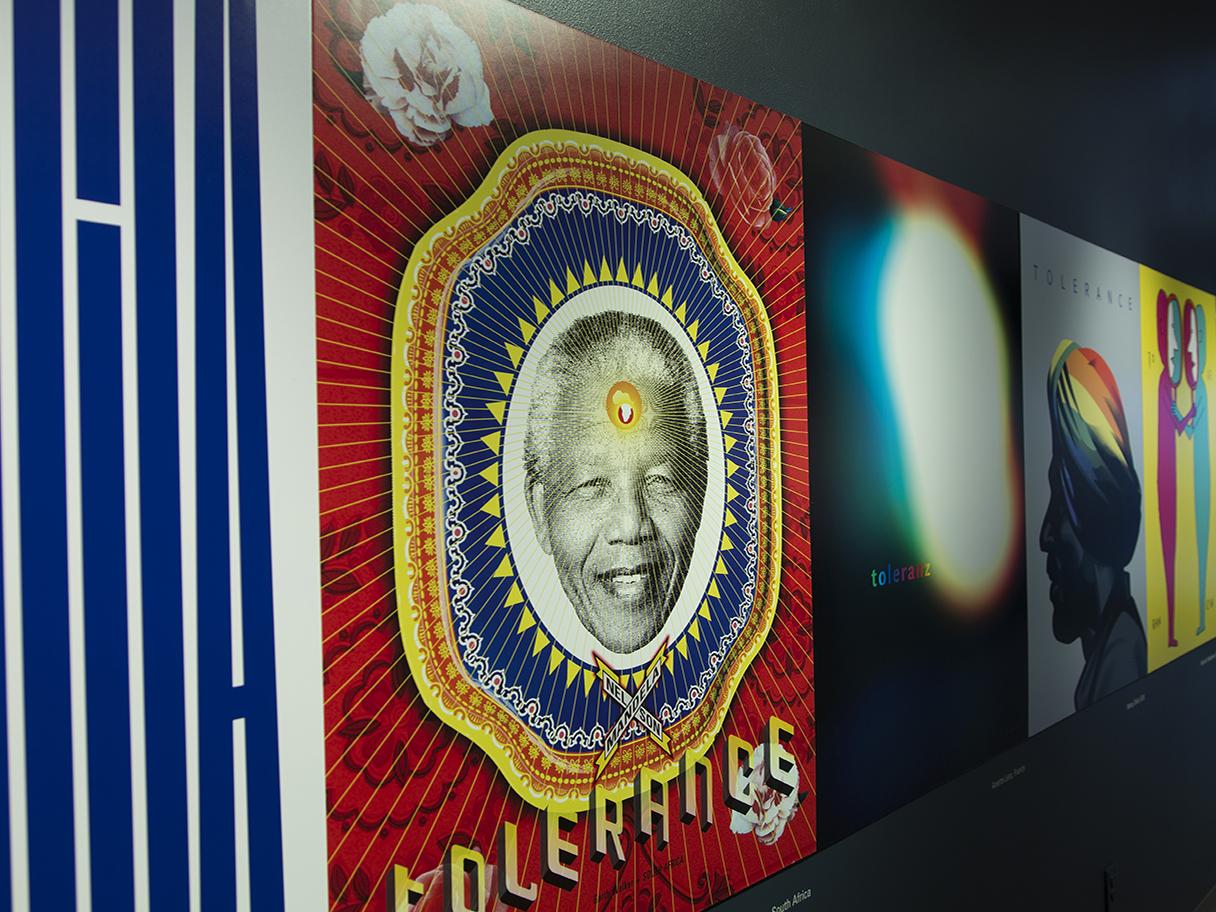 The International Tolerance Project: Promoting Dialogue Through Design
January 17, 2019 to June 23, 2019
The UMFA's fourth ACME Lab, The International Tolerance Project: Promoting Dialogue Through Design, features select works from a larger traveling poster exhibition, TOLERANCE. The UMFA ACME team thoughtfully chose more than twenty posters to include from TOLERANCE, a project originally comprised of more than one hundred works from artists around the world. The International Tolerance Project will illustrate the power of visual communication and encourage community dialogue around the unifying theme of tolerance.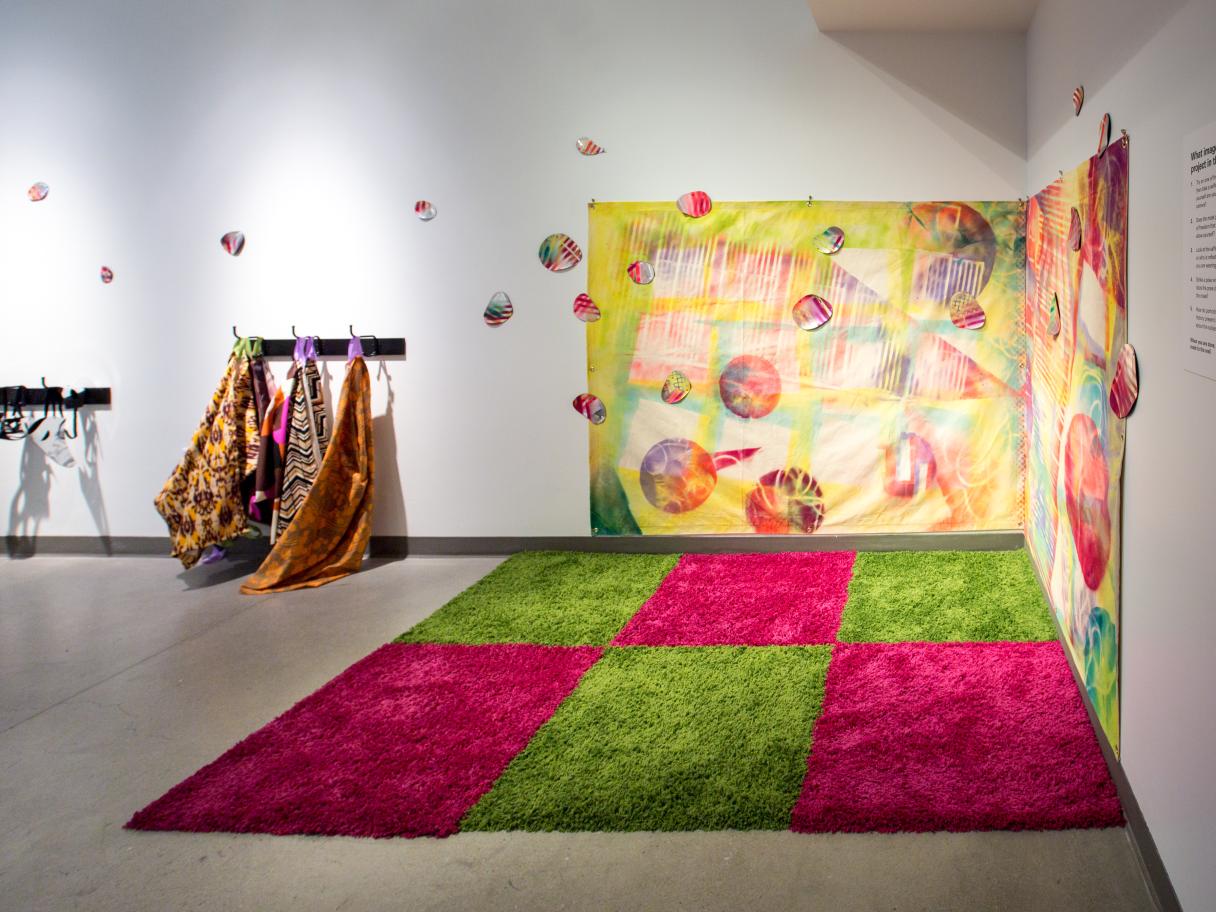 August 16, 2018 to December 9, 2018
MIRROR | MASK is a project by New York City-based artist Marisa Morán Jahn (Studio REV-) whose work uses mirrored masks to explore how we see ourselves reflected—or distorted—in others. It delves into ideas of identity, presentation, and self-reflection through an immersive exhibition in the ACME Lab as well as works juxtaposed with UMFA objects in the permanent galleries.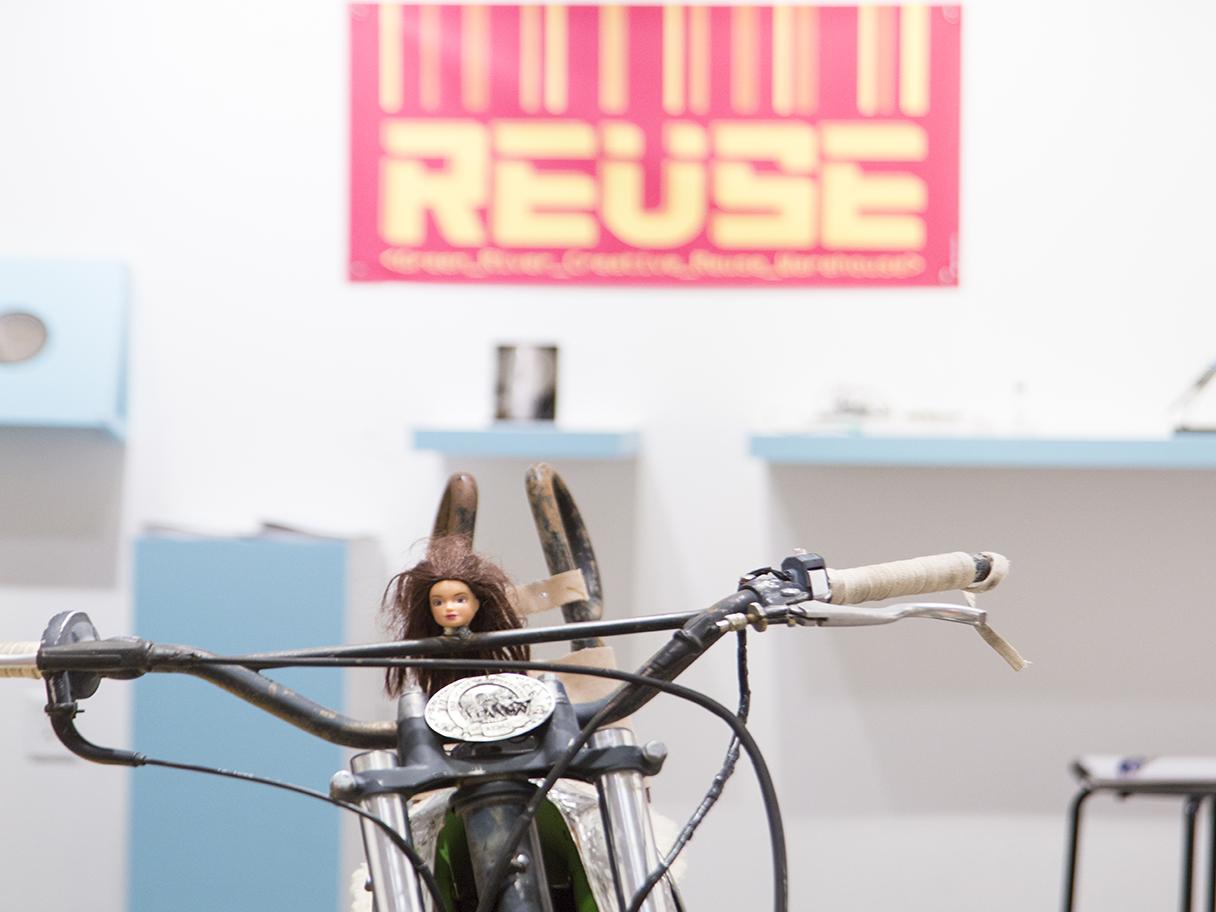 March 2, 2018 to July 8, 2018
In Epicenter's Our Futures ACME Lab, visitors are invited to "time travel" through this interactive, hands-on installation to explore possible futures for Green River. This fun, futuristic, and semi-fictional "case study" asks visitors to speculate the future of their own towns—and to examine the role they each play in creating it.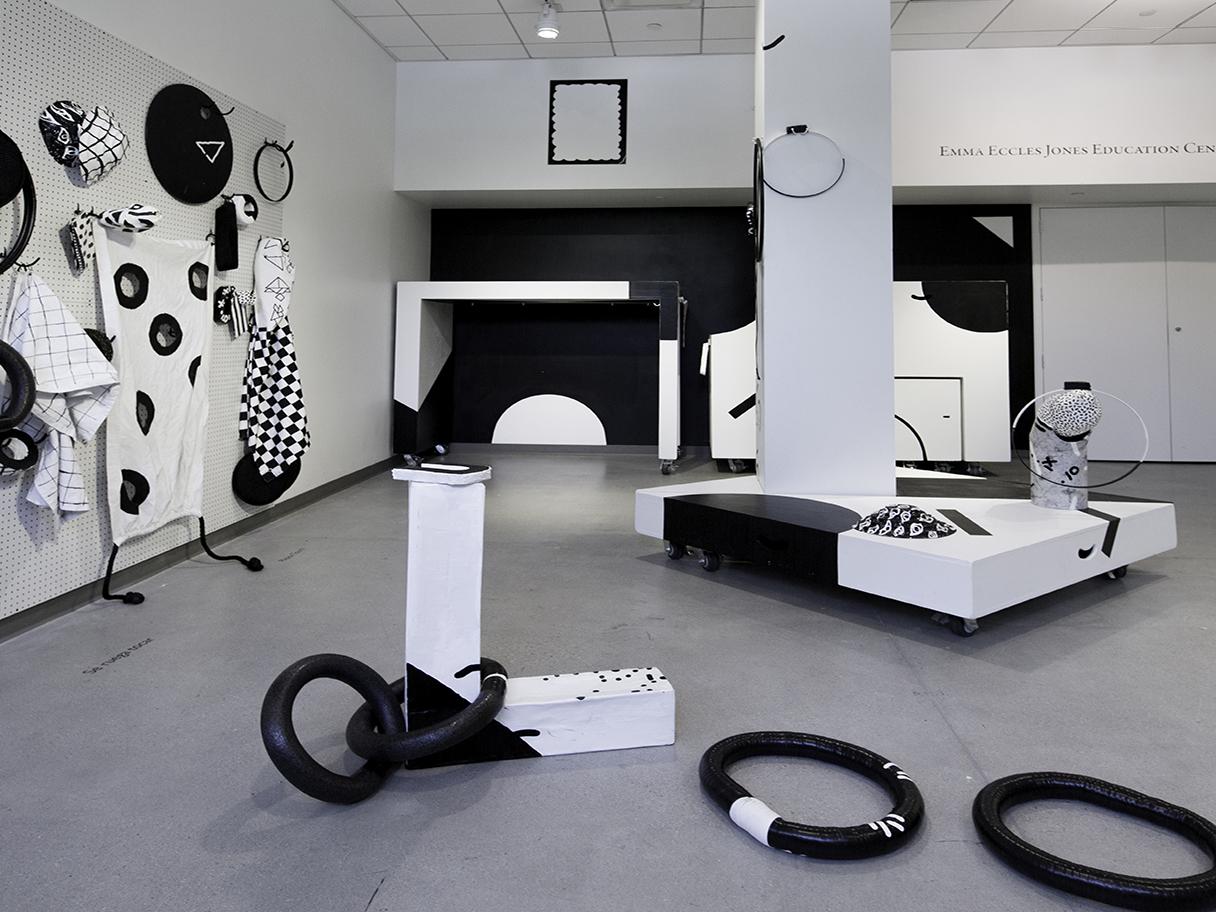 Las Hermanas Iglesias: HERE, HERE
August 26, 2017 to January 28, 2018
Join Las Hermanas Iglesias and the ACME Lab team to experience and collaborate on HERE, HERE—an interactive installation in which community members host actions, and participants contribute to a work in progress. At the core of the project is an invitation for creative experimentation.
These exhibitions and ACME Lab are made possible, in part, by a generous gift from The JoAnne L. Shrontz Family Foundation.
The UMFA periodically sends out information via e-mail regarding upcoming exhibitions, events, lectures, films, classes, and more.